Braiding hair has become a work of art with more beautiful designs coming up. Experimenting with different designs, color highlights hair types and even hair types to bring out the best. These designs are now not only used as a protective hairstyle but have also become the norm among many women.
To ensure your stay stylishly, this piece has a list of the 10 best braid and easy braided hairstyles, with a keen focus on braided hairstyles for black women and little girls.
Tips to Maintain Your Braided Updo Hairstyles
Follow your daily hair routine, just because braid hair eases your daily styling and combing hustle does not mean you forgo your regimen. Not following your hair regimen will only weaken and cause damage to your hair, subsequently to your braids.

The first step in ensuring you follow your hair routine is to wash your braided hair regularly, it is advisable to wash your hair once a week, after drying thoroughly, moisturize your braids from your roots.

Use your palms and fingers to massage the oils to all the hair strands evenly.

Finally, use a styling spray, for your braided hairstyle to last longer you will need to use a styling spray. The spray not only helps during styling but also helps to keep the hair neat and shiny.

Cover your hair when you sleep. Another important tip to follow to ensure your braided hair stays in good condition is to cover your hair before bed.

Covering your head ensures your hair does not tangle or get frizzy keeping the braids in good shape and preventing tight knots and tangling after undoing the braids.

Additionally, use silk bonnets to retain hair moisture.

Find a reputable and qualified hairstylist. Braiding hair is an art and for the best result, it is important to find a hairstylist with previous experience. Ask around your neighborhood for recommendations from friends or family.

But before getting your hair braided, it is important to find out exactly what hairstyle you want, there are countless braided hairstyles on Pinterest. Find out the best style for your hair type or even your sense of style.

Additionally, do not be afraid to ask questions. A good hairstylist will answer your concerns and offer the best advice to not only keep your braids neat but promote healthy hair growth and a healthy scalp.

Most importantly, have your stylist braid loosely; most people are tempted to tighten the braids which cause strain on the scalp. This, in turn, may lead to hair loss or hair follicle damage.
Now that you have a few essential pointers as well as how to maintain your braids here are 10 easy braided hairstyles
Braided Hairstyles for Long Hair
Crisscross braided cornrows
Also known as the goddess braids, the crisscross chunky braids are an ideal updo for people with long hair. The chunky crisscross cornrows are easy and quick to braid, protective hairstyle to keep your vacation easy, fun-filled, and stylish.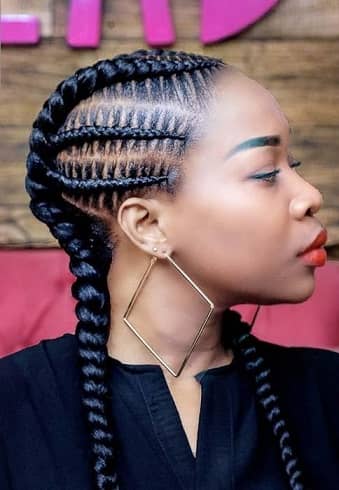 Side-swept cornrows
Braided hairstyles cornrows, will keep your hair protected for weeks. The side-swept cornrow is a perfect braided hairstyle for little girls; it is not only easy and fast but a great expression of oneself.
Braided ponytail
This braided hairstyle ponytail is a casual updo with a chic touch, there are two variations to the braided ponytail, one can have alternating thick and thin cornrows, held up in a ponytail or have even cornrows. Both variations are easy and fast to braid.
Braided Hairstyles for Short Hair
 Chunky Mohawk with twisted sides
If you have short hair, the braiding field has space for you, this braided hairstyle Mohawk is a perfect updo for short hair.
Tribal box bob
Another simple braid hairstyle for short hair is the tribal box bob, the braided hairstyles bob is lighter, easily accessorized with cuffs or braid strings.
Read Also – Weight loss diet plan: tips to lose weight
 Jumbo braids
If you do not enjoy sitting for hours having your hair braided, then the jumbo braid hairstyle is for you. Unlike the thin, normal braid size we are used to, the jumbo hairstyle is chunkier. Besides, it is also easy to style, and quick to fix.
The extra-long jumbo braids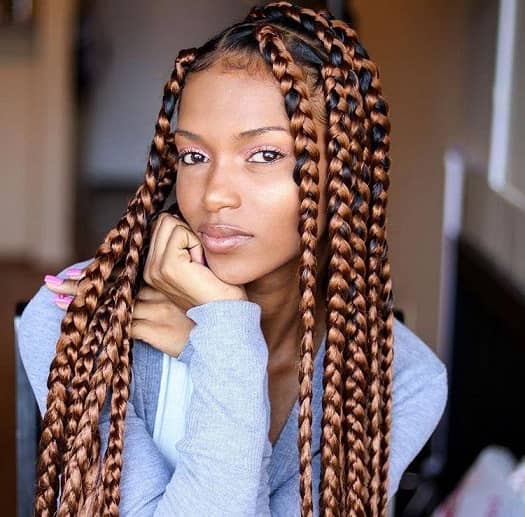 Braided Hairstyle Twis
Braided twist hairstyles, are popular and preferred due to the easy installation. The flat twists braids are stylish, and perfect for both long and short hair.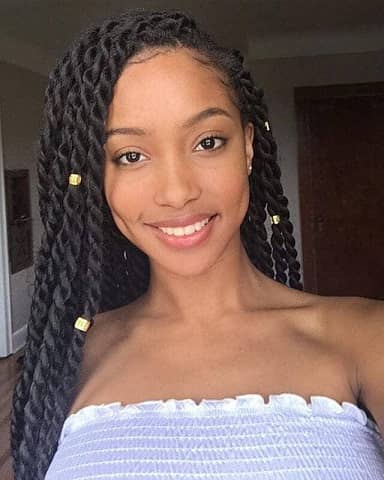 The Ghana cornrows with a bun
This is a bold hairstyle that is easy to maintain and compliments your facial features.
Braided bun
Ideal for older women, this jumbo cornrow bun is quick to fix, ideal for the everyday woman.
Bottom Line
Braided hairstyles have become the norm and with more designs, these updos have become acceptable in both formal and informal settings. They are a great expression of oneself and appreciation of the versatility in hair. And the best part is braided hairstyles suit all ages. And if anyone has any hair issue then the alternate way to try these hairstyles is by using virgin hair that also comes for braiding.