Everyone loves to be their own boss and be the king and queens of their world. As an entrepreneur, one can easily achieve this. But it requires a lot of hard work, determination, and perseverance. Success usually comes to those who are looking for it. So be one of them and start a successful career in business.
The Covid-19 pandemic has hooked up all our lives. Many lost their jobs, many not getting their salary, many having losses at their business, and most importantly many losing their precious lives. All are financially affected by this crisis. Everyone is staying at home and doing work from home. Many are thinking up of even new startups which can be carried forward as a home based business. So if you are one among them then here are some excellent ideas and tips for you on how to start a home-based business.
Before starting any business, first of all, understand your area of interest and potentials. Here are some tips for the same.
Tips to start a home-based business :
Before thinking of the business, first realize and understand your talents, interest, and potentials. Knowing yourself is very important as that will always help you to climb the ladder of success.
Without self-efficiency, you can reach nowhere. Self-efficiency is nothing but how well one can execute courses of action required to deal with prospective situations. Always believe in yourself and motivate yourself to bring the best out of you.
To become a successful entrepreneur one should be self-reliant. To be self-reliant means the need for each individual to avoid conformity and false consistency, and follow his or her own instincts and ideas. A good businessman always does what he or she believes is right instead of blindly following society.
A thirst for knowledge and an interest in gaining new information is very much required to be a successful person in life. Always keep on learning, may it be through the failures of our life or success. Just remember that all these add to the experience of your life.
Motivation towards achievement :
Always have the motivation in yourself to achieve success. As the need for success or the attainment of excellence will motivate you to be a successful person in your business carrier.
When you start a home-based business it would be really comfortable for you to start and do your work at your own pace. That is truly one of the benefits of a home-based business but there are other potential risks too. It is very important that one should be aware of all the possible risks that can occur before starting the business.
Skills can be a natural ability and can also be learned over time. One can gain or even expand one's skills with practice or training. Hence it is very important to examine your skills and understand your capabilities so that you can use the best of it and be successful.
Combine your skills and potentials to create business ideas :
Starting and running a business can really be a successful option for anyone but the most challenging task is to make sure that your idea is a match for your skills and potentials. Landing on an appropriate choice can be very challenging yet interesting as it will help you know better about yourself and help you grow in the field of your business.
Determine whether your ideas work as a home-based business :
You might have excellent ideas and strategy but it is very important to check on whether these ideas work as a home-based business. Your home itself will be your workplace so there are chances of facing some limitations. So it is very crucial and extremely important to determine whether your ideas work as a home-based business.
Determine the likely profit :
Before starting up any business it is very important to estimate the likely profit that is expected to gain out of it. By estimating the profit it will help you to understand where are the flaws and improvise those areas in order to gain more profit. All such strategic planning will help you become a successful businessman.
Always remember a goal without a plan is just a wish. So always have a good and a strategic business plan in order to obtain profits and lift up your business to the next level. When you create a proper business plan half the work would be done there itself. The rest of the success in your business depends on how smartly you execute your business plan. So plan your work and work your plan.
Research into your target market and competition :
It is very important to know and research your target market and the competition. If you lack in knowing about all this will lead you to end up problems in your business. Analyze your products, check out the competition, and even evaluate your decisions.
Your financial planning :
Financial planning is nothing but the task of determining how a business will afford to achieve its strategic goals and objectives. Planing is like bringing the future into the present so that you can do something about it now. So work on financial planning as it would be the base of any business you do. Financial planning is like navigation. If you know where you are and where you want to go, then navigation would not be such a great problem. So make correct decisions about financial planning as financial planning is a road map that shows us exactly how the choices we make today will affect our future.
A business plan without a marketing strategy would totally be a flop. A marketing strategy can be defined as the overall business game plan for reaching prospective consumers and turning them into customers of the products or services the business provides. Tactics without strategy are the noise before defeat. Good marketing makes the company look smart while great marketing makes the customers feel smart. So always remember to focus on the right message for the right people at the right time.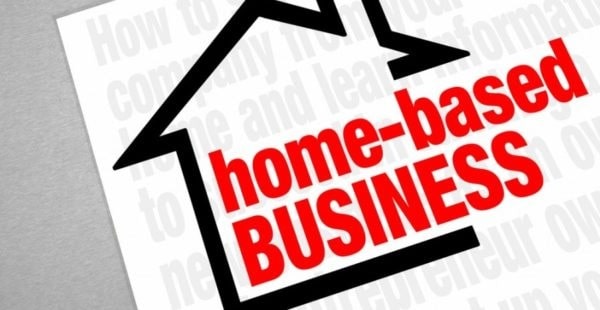 Some ideas to start a home-based business:
Home tutoring
Photography
Home bakery
Freelance writing
Social media specialist
Graphic Design
Personal computer training
Web-Design
Art buying consultant
Gift basket design
Flower Arranging
Sports coaching and training
Makeup consulting
Research or fact-checking
Baby/pet sitting
Speaking and presentation coaching
Party planing
Catering service
Car resale
Personal shopper
Craft creation
Podcasting
Antique refurbishment
Furniture making
Jewelry making
Scrapbooking
Soap and lotion making
Cataloguing art collection
Music/dance coaching
House cleaning
Must Read: Work From Home Jobs: 10 Amazing Ideas To Start With
There are many other business ideas which you can think of other than these. Explore and know your talents and potential to know the best which suits you. Always remember that business opportunities are like buses, there's always another one coming.
So never leave hope and grab the opportunities at the right time. Always have a never give up attitude, especially during this pandemic never lose hope and always believe the best will come. Today might be hard, tomorrow might be worse but the day after tomorrow might be a burst of sunshine, so never lose hope and keep on striving to be a successful businessman.
Take inspiration from successful business people. Try understanding their hardships and strategy which will help you move more forward. Dream big, stay focussed, and surround yourself with good people. Business is a combination of war and sport.
So it is very important that you always remain optimistic. As a beginner, you might face quite a number of challenges. But your smartness and achievement lie in how well you overcome them. Running a business is like riding a roller coaster. It would be fun and exciting, there would be many ups and downs, there would be times when you will feel scared and powerless, but never lose hope and push yourself forward through all these hardships.
The more you work, the more you learn, the more you experience, the more successful you will be. Most importantly don't fall for peer pressure and end up making a wrong choice. Always remember, if you love what you are doing then you will be successful.
There is no shortage of remarkable ideas, what's missing is the will to execute them. Also never develop a crooked or cheating attitude in yourself, as in the long run it would just affect and create losses to your business. Almost everything worthwhile carries with it some sort of risk, whether it is starting a new business or maybe something else. There may be thousands of people to criticize you, but never ever give up on what they say and trust in yourself and put your best foot forward in bringing the best out of you.
Risk more than others think is safe. Dream more than others think is practical. To be successful you have to have your heart in your business, and your business in your heart. And never forget the true entrepreneur is a doer, not a dreamer.