TWITTER ACCOUNT HACK
Dear readers, here is an informative news article for you.
This article highlights the bogus tweets of Barack Obama, Joe Biden, Jeff Bezos, Bill Gates, Warren Buffet, etc.

Besides these, twitter accounts of many other high profiled leaders like Mike Bloomberg, Elon Musk, Kanye West, Kim Kardashian have been hacked.
"No individual is immune to global challenges such as cybercrime, hacking and invasion of privacy".
Twitter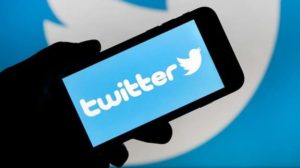 An American microblogging and social networking service.

It is a social media were users can post and interact with messages.

Posted messages -"tweets"

.
How the Twitter Account hack happened?
Fake tweets from cryptocurrency fraud accounts sent to a bitcoin address.

These tweets included offering to send two thousand dollars for every one thousand dollar.

FBI is aware of twitter's security breach.

An updated investigation is done by the San Francisco company.

Fast deletion of bogus tweets.

Wednesday-creation of bitcoin accounts fake tweets.

At the end of Wednesday, the fake tweet bitcoin account received 12.9 bitcoins(presently valued at more than 114,000 dollars).

During the day, nearly half the sum of bitcoins has been withdrawn from the bitcoin account.
Shock effects of twitter users due to twitter account hack
Normal users remain unaffected.

But, more than one hundred and sixty-six million normal users were unable to reset their passwords.

Identification of twitter accounts of high profile verified users with bitcoin scam hack on recent Thursday.

Official accounts sent tweets to dodge people for donating money in bitcoin cryptocurrency.

Twitter-shortly blocked access to all verified accounts with the current investigation.
Many high profile leaders of twitter account hack victims
Microsoft co-founder- Bill Gates.

Media tycoon- Mike Bloomberg.

Amazon CEO-Jeff Bezos.

Rapper-Kanye West and his wife Kim Kardashian.

Former US President Barack Obama.

Tesla CEO-Elon Musk.
Major Brands
Description-Actual happening of twitter hack
Marvelous tweets – marked by a message asking people to donate bitcoins.(promising to make double returns).

A post from Bill Gates account-"Everyone is asking me to give back. You send $1,000,I send you back$2,000".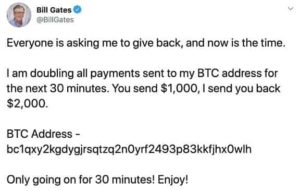 Another message posted from other essential accounts specified that the double return offer will last for only thirty minutes.

All tweets shared one of three bitcoin addresses that belong to an organization termed Crypto forHealth.

As per BBC report, web address were certain tweets redirected users to was registered by a cyber attacker.

Cyber attacker's email address-mkworth5@gmail.com.

Profile name-Anthony Elias.

Another suggestion of the report was that crypto for health is a registered Instagram handle.
Response and Investigation of Twitter 
Twitter is investigating an issue and is taking certain steps.

First step-Twitter shortly blocked access to all verified accounts internationally.

Later on, the same twitter revealed that most of the accounts have been restored.

Some of the compromised accounts are locked by Twitter.

Access restoration of original account owners with safe and secure things.
Revealed facts of twitters investigation
Twitter hack-a result of "integrated social engineering attack".

It mainly targeted its employees who had access to internal tools and systems.

Social media expressed the view that the total hijackers used this access to take control of many highly verified accounts.

The hijackers were indulging in other harmful activities to be conducted or information to be wrongly accessed.
Significant step taken by social media
During the investigation, limit access to internal systems and tools must be made.
Suggestion of the various reports
A suggestion of vice report-twitter was the main responsible source for hacking.

Twitter quoted a source insisting that a representative has been used.(to do this fraudulent work).

Another source stated that the representative performed the task to make money.

So, some other submitted reports stated that the twitter hacks took place because of making money.

BBC report also stated that in order to make legitimate scams, cybercriminals added the own funds into bitcoin wallets.

Checking of hacked tweets on Blockchain.com

The hacked tweet checks have revealed that hijackers have received nearly three hundred and seventy transactions(collecting 12.86252562 bitcoins roughly equal to Rs.89,00,000).

Bloomberg's report(citing a bitcoin tracing company-one half of the spoils have been transferred to bitcoin wallets.

Most of the money came from the users of United States, a quarter from Europe, and a reminder from Asian nations.
Twitter account hack of politicians, celebrities, major companies, and technical Moghuls
Wednesday Bitcoin scam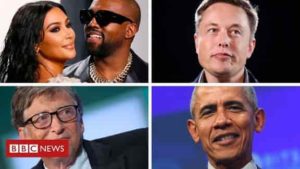 This bitcoin scam included bogus tweets from Joe Biden, Barack Obama, Bill Gates, Elon Musk, Mike Bloomberg, celebrities (Kayne West and Kim Kardashian)

Bogus tweets offered to send two thousand dollars for every one thousand dollar sent to a bitcoin address.

The associated press was able to capture the screenshots of fake tweets.

Twitter remarked that the incident was an integrated social engineering attack.

The company immediately locked down the affected accounts and removed the tweets posted by the cyber attackers.

Apart from targeting the politicians, the twitter hack was made to target democratic figures.

The intelligence agencies of United States remarked that Russia interferes with US elections(through social media tampering and various twitter hacks).

After news of the hack broke, twitter shares fell to the extent of three percent in the extended activities of trade.
Note:
The three richest men among the ten richest people in the world are Bill Gates, Elon Musk, and Jeff Bezos.

Half the sum in bitcoin-captured from these three famous world's renowned billionaires.

On Elon Musk's account, the same fake offer appeared two times.

Tesla didn't respond immediately to the request.

Bill Gates(the world's leading philanthropist as Microsoft CEO confirmed that the tweet was not from him).
From all such facts gathered, we come to know that technology has played a role of mischief(twitter account hack)in many of our lives.
Advisory Tips
Several attack on the servers of the system poses a heavy threat to all your data security and user's privacy. In order to protect your twitter accounts, follow the advisory steps given below.
How to prevent twitter account hacks?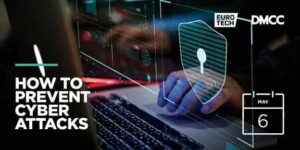 Open twitter on your android device.

Download a mobile security app.

Choose an account.

Tap the security.

Select the login verification.

Turn the login verification.

Select the mobile security app.

Enter your twitter password.

Tap the setup now.
Your twitter account will not be accessed and your messages on twitter will be safe and secure.
Dear readers hope this article was highly informative.
Thank You.
Stay Home! Beware of Twitter Hacks and Cyber Crime!