Indian restaurants play a smart role in offering delicious and tasty foods. Keeping in mind, the importance of health and hygienic factor, we can see that Indian foods are cooked on hygienic grounds. Many Indian restaurants have given due recognition to health and hygienic factors to prepare the Best Indian Foods to meet people's food needs. This article will help you to receive extra knowledge about the popular Best Indian Foods that tingle your taste buds.
"Food is the Ingredient that binds us together".
Fill your mind with Best Indian Foods through the list of tasty and delicious foods prepared and given below.
But here also we must be little alert by taking precautionary steps to select safe and hygienic Indian foods that will not damage our health.
See that you will spend some time to read this article and become aware of Best Indian Foods.
BEST INDIAN FOODS
MOUTHWATERING INDIAN DISHES
1)

Dum Aloo
It is a potato-based North Indian dish.

Prepared during festivals and celebrations.

A gravy with boiled and mashed potatoes cooked in the tomato puree with spices.

A dish served with Indian Bread and Parathas.
2)

Kerala Chicken Stew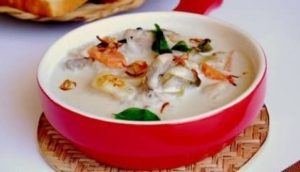 One of the Best Indian Food. A coconut flavored southern dish. It is the best comfort food. Prepared during weekends(Lazy Saturday or Sunday). Flavoured spices-cinnamon, elaichi, and cardamom with the tender leg of lamb, beef, and chicken. A delicious stew served with white appam or white bread slices. Vegetarians can prepare this stew with buttonhole mushrooms which are equally delicious than non-vegetarian items.
3)

Dosa
A South Indian dish heavily demanded by Indians and foreigners.

Main Ingredients-Fermented Batter(Rice and black gram).

One of the most famous Indian dishes.

Origin-South Indian state-Tamil Nadu.

Suitable for breakfast and dinner.

Prerequisite for soft dosa preparation-handful of soaked fenugreek seeds with rice and black gram batter.

Another method of preparing soft dosas is to add wheat flour, semolina, rice flour, and soy milk.

Availability-different parts of India.

Quick Snack- sold by street vendors.

Everyone irrespective of age prefers eating dosa.

Served with Sambar and Coconut Chutney.
3) Hyderabad Dum Biryani 

(Best Indian Food)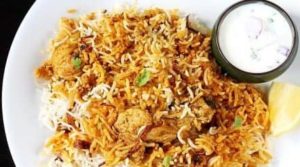 A south Indian dish consisting of Basmati rice, mutton, chicken, onions, yogurt, and saffron.

Dum Biryani-a smoked rice prepared with chicken herbs and spices.

A native of Hyderabad with vegetarians and non-vegetarians preparing their recipes to enjoy it.

There are two main varieties of dish-Pakki(cooked) and Kacchi(raw).

A unique feature is the richness of flavor that makes your mouth water.

Raw rice and raw meat are cooked together with spices to prepare Hyderabad Dum biryani.

The cooking style used is Dum.

It came from Persia during Mughal's reign.
4)

Chapati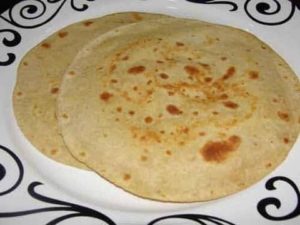 Flatbread made out of whole wheat flour, water, and salt.

A dough baked on a griddle.

It is very famous throughout India, Pakistan, and Africa.

Traditional food discovered at the end of the 19th century.

The word "flatbread" comes from the Hindi word"chapati"(to slap).
Why Chapathi signifies"to slap"???
A traditional method of preparing the dough by slapping the palms.

Various types of chapati-vegetable chapati, radish chapati, and paneer chapati.
5)

Pulihora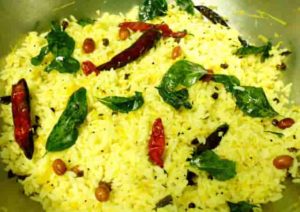 A popular south Indian dish prepared by the residents of Andhra Pradesh, Karnataka, and Tamil Nadu.

Ingredients used-rice, tamarind, curry leaves, coriander, turmeric, ginger, and green chilies.

To add rich flavors, to the roasted food, sesame seed powder, mustard seeds, and yellow lentils are used.

A yellow dish prepared during festivals by the Hindu community.

It is considered sacred.

Puli means sour.

With sour tamarind, spicy and salty flavors are also added to make it a well-balanced food.

It is called puli rice in Tamil Nadu.

Highly tasty and delicious food.
6)

Kichadi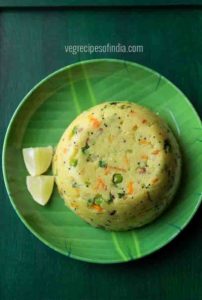 A South Indian dish prepared with rice and lentils.

It is a widely consumed food of comfort throughout India, Bangladesh, and Nepal.

It is the main meal and the first solid food consumed by infants.

To add flavor to Kichadi, many tasty spices like peppercorns, cloves, and cinnamon are used.

This dish was popularized by the Moguls.

Served with: various chutneys, Dahi yoghurt,  pickled mangoes, and lime.
7)

Stuffed Parathas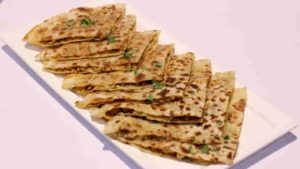 A Punjabi dish filled with onion, garlic, corn, cheese, potatoes, and vegetables.

Delicious breakfast served with pickles, chutneys, and yoghurt.
8)

Makki Roti and Sarson Saag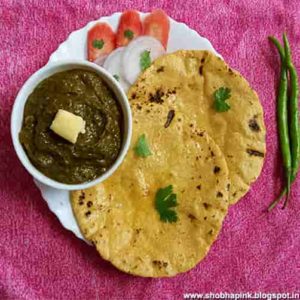 A high profile favourite winter recipe preferred by celebrities.

It is a Punjabi dish.

All good Indian restaurants serve this Punjabi delicious food from November to February.

Makki Roti is a tasty food prepared with cornmeal with tender prepared green mustard(Sarson Saag).

Normally flavoured by cumin.

It is a butter cooked food.

So, it is a very tasty and delicious food preferred by adults and youngsters,
9)

Aloo Gobi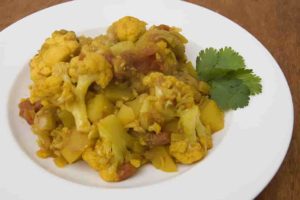 A deliciously prepared Punjabi dish.

Preferred by North Indians and South Indians.

This tasty curry is prepared with cauliflower and medium diced potatoes.

Aloo Gobi is seasoned with jeera,  garam masala powder, and chopped coriander.

It is served with rice and roti.
10)

Pongal
Sweet rice food which is eaten during special festivals or ceremonial occasions.

Pongal is a South Indian dish.

Derived word of Pongal-Thai Pongal (A festival celebrated on 14th January).

It is prepared by Tamilians residing in Srilanka and India.

A dish prepared in a clay pot over an open fire.

A  Tamilian belief is that when milk and water boils, the liquid spills over the pot to bring good luck and prosperity.

It is served on banana leaves.
11)

Palak Paneer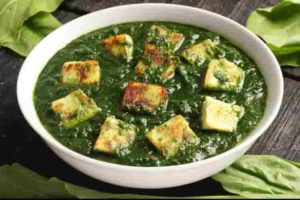 A popular Punjabi dish.

Cooked with paneer cheese in a rich sauce made of pureed spinach.

Mixed with tomatoes, garlic, and garam masala.

In Hindi, Palak means "Spinach".

Paneer means "cheese".

A highly, nutritious, delicious meal consumed for breakfast, lunch, and dinner.

Served with Indian flatbreads like Naan and Roti.
12)Kerala Appam
A popular Indian pancake made with a rice flour batter and coconut milk.

It is eaten for breakfast or dinner.

The most popular food variety in Kerala, Tamil Nadu, and Srilanka.

It is connected to Syrian Christians who bake the appam on a stone.

Origin-Jewish communities in India.

A famous street food.

Consumed as a snack.

Varieties of appam-Honey Hoppers and Palappam.
13)

Pani Puri
Origin-Uttar Pradesh.

Sold during festivals, exhibitions, and marriage ceremonies in India.

A street snack which is very popular in Nepal, India, and Bangladesh.

It is small in size.

Stuffed with a mixture of flavoured water called "Pani", chat masala, onion, hot chillies, potatoes, and chickpeas.

In North India, Pani Puri is called Golgappa.

Meaning of Gol-crispy shell; Meaning of Gappa-eating process.

It is a small snack.
14)

Samosa
Samosas-deep-fried triangular snacks.

Stuffed with ingredients like vegetables, meat, onions, peas, and potatoes.

A very popular golden-brown snack in India.

These triangle-shaped samosas are served hot with Indian mint, tamarind, tomato and coriander chutneys.

Sweet samosas ingredients-mango, pomegranate, and resins.

Samosas -sold by roadside street vendors with masala chai tea.
15)

Pulao
Rice is a common ingredient in making pulao.

Main Ingredients-meat, vegetables, and dried fruits.

All ingredients are simmered together in a flavoured broth.

Served with salad and yoghurt.

 One of the Best Indian Food.
16)

Vindaloo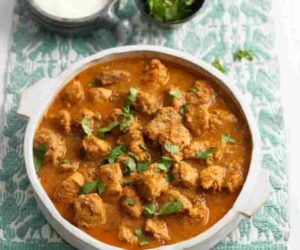 A flavorful curry dish popular in Goa, Konkan, and England.

Cooked with marinated pork.

Origin-Portugal.

Spices added- tamarind, cardamom, and cinnamon.

Anglo Indians prefer this dish.

Another name-"meat marinated in wine, vinegar, and garlic".
17)

Idly
A hygienic food to improve your health status,

A steamed rice cake.

Origin-Gujarat, Karnataka, and Indonesia.

An age-old Indian cake prepared by South Indians as a popular breakfast.

Needed Ingredients-fermented batter of rice and lentils.

The next stage is steaming.

Served with sambar or chutney.

Savoury cakes are popular in India.

This staple food is available in Indian kitchens.

Other Idly versions- Rava Idly, Malli Idly.
18)

Gulab Jamun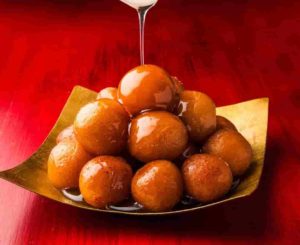 A desert-based on milk solids.

Prepare dough balls.

Fry them in ghee.

Soak the balls in sugar-coated syrup made out of saffron, rose water, and cardamom.

Derived word of Gulab Jamun-(Gulab-rose, Jamun-purple coloured Jamun berry fruit).

Origin-Arabia.

Prepared during festivals such as Diwali, Christmas, etc.
19)

Kheer(Payasam)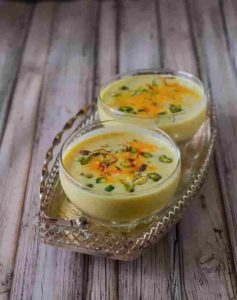 Origin-Lord Jagannath Temple, Orissa.

Payasam is a traditional Indian dessert.

It is creamy rice pudding.

A specially prepared dessert during Indian ceremonies, celebrations, and festivals.

Ingredients for Kheer or Payasam preparation-rice, tapioca, wheat, milk, and sugar.

Flavoured Ingredients-dried fruits, nuts, saffron, and cardamom.

We can find this dessert available in all the marriage ceremonies.
20)

Masala Chai
"A Cup of Tea makes everything better".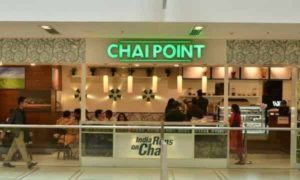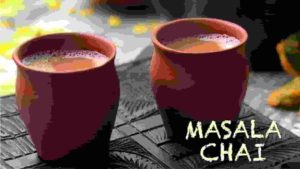 Masala Chai
Tea lovers enjoy this type of drink during winter and monsoon when the weather is cool and pleasant.

It warms your body.

Ingredients for Hot Masala Chai-tea leaves, sugar, milk, water, garlic, cardamom, etc.

Installation of tea stalls -every nook and corner of the Indian states.

This signifies that tea drinkers often search for such kind of tea stalls to refresh themselves.

People go to tea shops to discuss important social issues.
HEALTHY FOOD TIPS
Avoid junk foods-Pizza, Burger, etc.

Do not take fatty foods which will cause health disturbances.

Alert Warning for Tea and Coffee Drinkers: 

If you are a tea or a coffee addict, avoid cultivating that habit since it is not good for your health. Instead, you can drink tea or coffee once or twice per day.

To avoid obesity, take boiled foods.

Avoid fried items.

Don' overeat or undereat.

Stick on to a well-balanced diet.

Concentrate on the preparation of healthy food recipes every week.

During this world pandemic, you should avoid going to hotels and restaurants.

Wash your hands regularly and keep your kitchen clean.
Now it's up to you to make a rational decision of selecting the Best Indian Foods which will help you to stay fit and healthy.
I hope that you enjoy reading this article on Top 20 Best Indian Foods.
COOK, EAT, CLEAN, REPEAT!!!
Thank You!!!
Stay Home!!! Stay Fit!!!