Famous 7 Tourist Attraction in Azamgarh – Situated in the heart of Uttar Pradesh, Azamgarh attracts with its captivating charm. As the headquarters of Azamgarh division, comprising the districts of Ballia, Mau and Azamgarh, the city reflects the diverse essence of the region.
Situated on the picturesque banks of the Tamsa River (Tons), Azamgarh offers a calm and serene environment. Located 268 km (167 mi) east of the state capital Lucknow and 809 km from the national capital Delhi, Azamgarh serves as a peaceful haven away from the bustling city life. Immerse yourself in the rich culture, explore historical sites and enjoy the warm hospitality of the locals as you embark on an unforgettable journey through Azamgarh. Explore the Best Places to Visit in Azamgarh and create unforgettable memories.
Top 7 Tourist Places to Visit in Azamgarh
Azamgarh, a city in the Indian state of Uttar Pradesh, is known not only for its historical significance but also for its spiritual essence. Several holy places are situated within its boundaries which attract devotees seeking solace and divine blessings. Explore the list of Top Tourist Attraction near Azamgarh below and embark on a joyous journey of exploration.
Bhawar Nath Temple

DATTATREYA

GOVINDSAHAB

MUBARAKPUR ( Tehsil- Sadar, Block- Sathiaon)

MEHNAGAR (Tehsil- Mehnagar, Block- Mehnagar)

DURVASA

AVANTIKAPURI(Awank)
1. Bhawar Nath Temple
Bhawar Nath Temple Distance From Azamgarh: 2.6 km
Among the many Shiva Lingas found in the country and abroad, the Baba Bhannathnath Temple in Azamgarh has special significance. Devotees worship Baba Vishwanath of Kashi and Baba Pashupati Nath of Kathmandu as well as Baba Bhannathnath as deities of utmost importance. Located on the western outskirts of the city, this temple is believed to provide solace and blessings to its visitors. The people of Azamgarh hold a deep reverence for Baba Bhavannath and actively participate in Shiva worship ceremonies.
During Mahashivaratri and the month of Sawan, devotees visit the Baba Bhanathnath temple. There is a practice of performing Jalabhishek before departure for the devotees going on a pilgrimage to Baba Dham. Locals believe that worship of Lord Shiva is incomplete without worshiping all the Shiva Lingas built within the city limits. Baba Bhananath is regarded as a protector, who provides salvation and guidance to his disciples throughout the year.
On the auspicious occasion of Shivratri, a grand fair is held, and a traditional Shiva marriage ceremony takes place. There is an influx of devotees during the month of Sawan, a particularly large crowd is seen on Mondays. Devotees throng the doors of the four sanctum sanctorums of the temple and they wait patiently in long queues for hours to seek Baba's blessings. After receiving divine blessings, devotees offer the pot to Baba, and wish him happiness and prosperity throughout the year. While the exact origins of this ancient Shiva temple are shrouded in mystery, locals believe it to have deep historical significance.
Legend has it that centuries ago, a revered saint named Bhannathnath used to come to this place to graze his cow. During his time only a Shiva Linga was established here. As soon as he meditated on Shiva, his cow started grazing nearby, which eventually led to the name of the place as Bhannathnath. The foundation stone of the temple was reportedly laid on October 4, 1951 and was completed seven years later on December 13, 1958. The temple now provides all the necessary facilities to the worshippers. Baba's glory has spread far beyond the city, attracting devotees from all corners of the district who seek his divine blessings and guidance.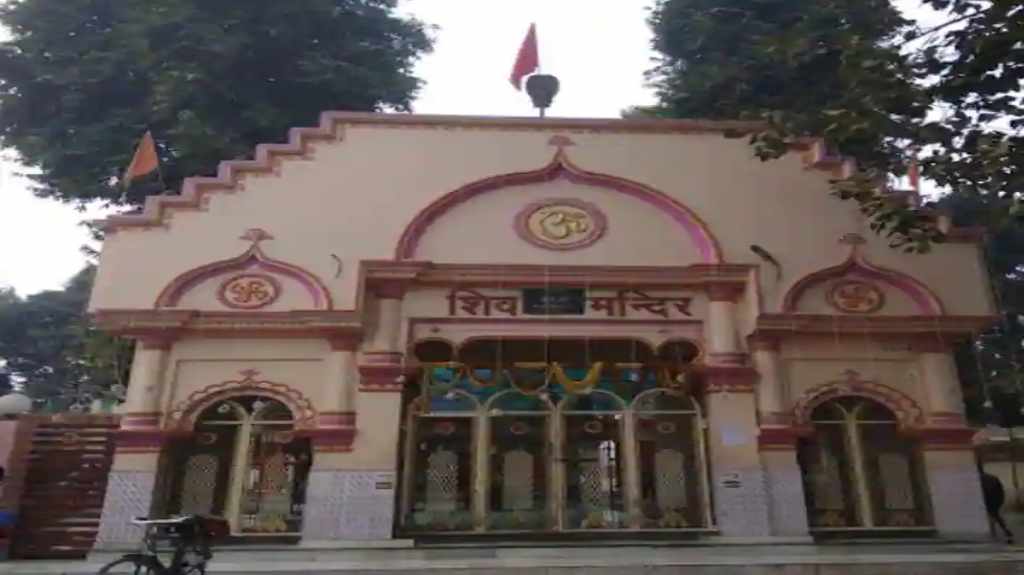 2. DATTATREYA
DATTATREYA Distance From Azamgarh: 18.5 km
Located just 3 kms south west of Nizamabad Tehsil Headquarters, this charming place offers a serene escape from the hustle and bustle of everyday life. Here, at the confluence of the Tons and Kunwar rivers, nature's melodrama unfolds in all its glory.
Amidst this picturesque setting, you'll find the Dattatreya Rishi Ashram, a spiritual haven where seekers of wisdom and inner peace have long sought solace. Immerse yourself in the serene atmosphere of the ashram, which is surrounded by the gentle whisper of flowing water and the lush greenery of the surrounding landscape.
As the auspicious day of Shivratri approaches, the atmosphere becomes alive with joy and celebration. A lively fair takes place, with people coming from far and wide to participate in the festivities. Experience the energy and enthusiasm as devotees gather to pay homage to Lord Shiva and enjoy the feeling of unity and devotion.
3. GOVINDSAHAB
GOVINDSAHEB Distance From Azamgarh: 47 km
This special place situated at a distance of just 6 kms from Atraulia block holds deep significance in the hearts of the devotees. It was here that Mahatma Govind Sahib, a revered spiritual figure, found solace and offered his prayers.
Every year on the auspicious day of Agahan Sudi Dashami, a grand fair is organized and the atmosphere is filled with enthusiasm. This vibrant event lasts for a month and attracts visitors from near and far. At the fair, a wide variety of livestock are bought and sold, including cows, buffaloes, bulls, horses, camels, donkeys and even elephants.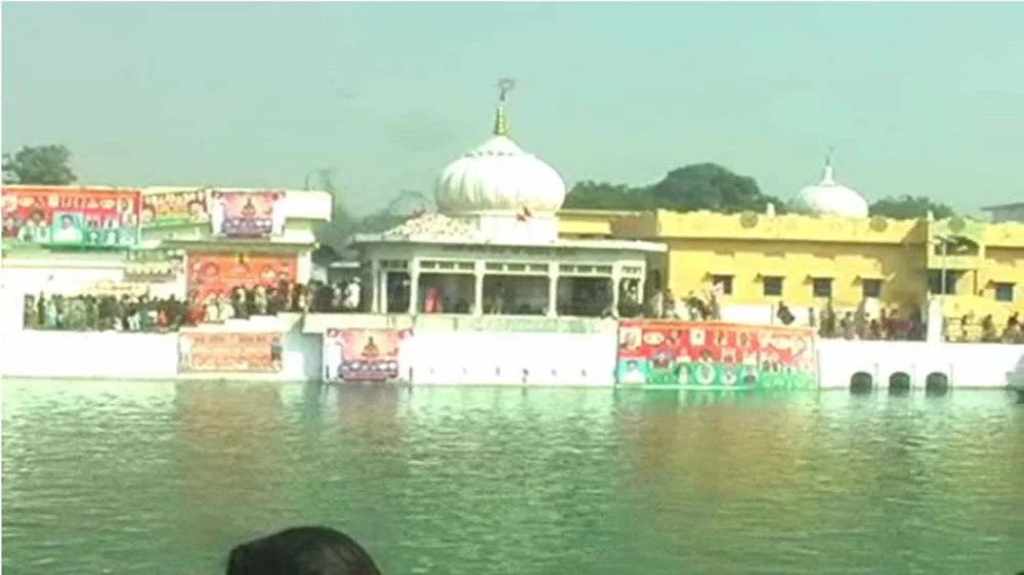 4. MUBARAKPUR ( Tehsil- Sadar, Block- Sathiaon)
MUBARAKPUR Distance From Azamgarh: 60 km
Mubarakpur, located just 13 km north east from the district headquarter, attracts with its enchanting charm. Situated at 26° 6° N latitude and 83° 18° E longitude, this picturesque city holds a rich historical heritage and cultural significance.
Originally known as Kasimabad, Mubarakpur saw a period of decline until it was rejuvenated and rehabilitated under the patronage of Raja Mubarak, a revered Sufi of Manikpur Kara. The name and revival of the city is on the name of this eminent Sheikh landholder.
Mubarakpur is famous for its excellent craftsmanship in the production of Banarasi sarees. These intricately woven sarees have gained global recognition and are loved by fashion lovers across the globe. The weavers of the city use their artistic expertise to create these timeless masterpieces.
Amidst the historical fabric of Mubarakpur, two notable sites can be found. The temple of Thakurji stands as a testimony to the spiritual heritage of the city, reflecting a sense of devotion and peace. Raja Saheb's Mosque, another architectural gem, showcases the city's cultural diversity and religious harmony.
5. MEHNAGAR (Tehsil- Mehnagar, Block- Mehnagar)
MEHNAGAR Distance From Azamgarh: 27.1 km
The enchanting land of Madilaha is situated just 36 kms east-south from the district headquarter. This picturesque destination is famous for its iconic fort, which was built by the glorious King Haribans. Standing as a testimony to the rich heritage of the region, the massive presence of the fort takes the visitors to a bygone era of valor and grandeur.
Once a year, Madilaha comes alive with vibrant festivities as a religious fair takes center stage on the banks of the spectacular Madilaha Ponds. Located at a distance of just 3 kms from the Tehsil headquarter, this holy assembly attracts pilgrims and devotees from near and far. The air is filled with chants of joy, fragrance of incense and scenes of colorful festivities, creating an atmosphere of spiritual devotion and unity.
6. DURVASA
DURVASA Distance From Azamgarh: 32 km
Phulpur, situated just 6 km north of the tehsil headquarter, is a serene and holy place where the Tons and Majhuee rivers meet. It is here that you will find the revered Durvasa Rishi Ashram, a place full of spiritual significance and wisdom.
Through the ages, this ashram has been a symbol of wisdom, attracting thousands of students eager to learn the teachings of the revered sage, Durvasa Rishi. The ashram serves as a center of learning, providing seekers with a deep understanding of ancient wisdom and spiritual practices.
But the journey does not end here. Every year, the ashram comes alive with vibrant festivities during the much-awaited fair held on the auspicious occasion of Kartik Poornima.
7. AVANTIKAPURI (Awank)
AVANTIKAPURI Distance From Azamgarh: 19.3 km
Situated within the Muhammadpur Vikas Khand, is a place full of ancient legends and spiritual significance. According to folklore, Raja Janmejai once conducted a grand yagya, a sacred fire ritual, to rid the world of all snakes. It is here that you will find an iconic temple and mesmerizing ponds that have mesmerized visitors for generations.
The temple is a testimony to the rich cultural heritage and deep-rooted beliefs of the region. It inspires visitors to find solace and pray amidst its serene surroundings. The serene ponds nearby hold a special charm, attracting devotees who participate in the holy ritual of taking a religious bath. The act is believed to purify the soul and blesses with spiritual growth and well-being.
Which is the best time to visit Azamgarh?
The beginning of June marks the peak of summer in Azamgarh, where the temperature soars and the weather can get quite hot. During this time, the mercury could reach above 107.4°F (41.9°C), leading to warm and sunny weather throughout the day. Even during the night, temperatures rarely drop below 83.8 °F (28.8 °C), ensuring that evenings will be relatively warm. When visiting Azamgarh during this period it is advised to prepare for the heat and take necessary precautions to stay cool and hydrated.
Reaching Azamgarh: Convenient Transport Options for Your Trip
Azamgarh is located about 300 km east of Lucknow, the capital of Uttar Pradesh. The city is well connected by two main highways: National Highway 24, which connects Gorakhpur (101 km) with Varanasi (110 km), and State Highway 34, which connects Ballia (120 km). Azamgarh is surrounded by neighboring districts, Mau in the east, Gorakhpur in the north, Jaunpur in the west and Ghazipur in the south. These roadways provide easy access to Azamgarh, making it a convenient destination for travelers coming from different directions.
If you want to go to Azamgarh by train, then let us tell you that Azamgarh railway station has been built, you can book a train from your city to Azamgarh. This station connects to Gorakhpur, Chhapra, Varanasi, Lucknow, New Delhi, Kolkata, Patna, Allahabad, Mumbai.
BEST Restaurants in Azamgarh
Hotel Raj Palace Azamgarh

Hotel Green Palace & Ujala Resturant

Hotel Deep Continental & Restaurant

Lazeez Hotel & family restaurant

Shri Sai Hotel

Maharaja Hotel & Restaurant
Read Also:- Top 8 Tourist Places in Purnia – Bihar
Best Hotel in Azamgarh
| | |
| --- | --- |
| Hotel Name | Hotel Address |
| Hotel Golden Fortune | Civil Lines Road Near Roadways Bus Stand, Azamgarh 276001 India |
| S.R. Grand | Rahul Nagar Marhaya, Azamgarh 276001 India |
| Tarun Inn | Near Gandhi Ashram Rahul Nagar, Azamgarh 276001 India |
| HOTEL DEEP CONTINENTAL | Civil Lines, Azamgarh |