Hello dear friends! If you are looking for Best Places for Couple to visit in Vadodara, you are at the right place. In this article, we have brought you complete details of the Top 15 Places to visit in Vadodara. From Laxmi Vilas Palace and Makarpura Place to Surya Narayan Temple and Jambughoda Wildlife Sanctuary and Vadodara Museum and Picture Gallery, we've got all the details you need. Also, we will share information about Candle Light Cafe and more exciting best places to visit in Vadodara. So, let's get to know about these amazing destinations!
Top 15 Best Places for Couple to visit in Vadodara
Sindhrot

Laxmi Vilas Palace

Kamati Baug

Candle Light Cafe

Ajwa Garden

Makarpura Place

Hathni Mata

Surya Narayan Temple

EME Temple

Vadodara Museum and Picture Gallery

Hazira Maqbara

Narmada Canal

Baps Shri Swaminarayan Temple

Maharaja Fatehsingh Muesum

Jambughoda Wildlife Sanctuary
1. Sindhrot
The Sindhrot Check Dam, positioned near Sindhrot Village and spanning the Mahi river, is renowned for its breathtaking sunrises, enchanting sunsets, and the wonders of nature. It's an idyllic spot to visit with your partner, where you can relish the refreshing waters, savor snacks from the local street food vendors, and bask in moments of pure relaxation.
Located approximately 14 kilometers away from Vadodara's city center, Sindhrot's roads leading to the dam are adorned with lush greenery, making the drive a delightful experience in itself. Without a doubt, Sindhrot is a must-visit destination for couples in Vadodara, offering a tranquil and picturesque getaway.
2. Laxmi Vilas Palace
Address:- J. N. Marg
Ticket Price:- Rs. 150 Per Person
Timings:- 9:30 am – 5:00 pm and Closed on Mondays & Govt. Holidays
If you and your partner have a penchant for heritage, the Laxmi Vilas Palace is an absolute gem worth exploring! This splendid palace served as the residence of Vadodara's royal family and was commissioned by Maharaja Sayajirao Gaekwad III back in 1890. It stands as a colossal architectural marvel, sprawling across 500 acres, which is four times larger than Buckingham Palace.
Inside, you'll be treated to a treasure trove of artistic wonders, including intricate artworks, mesmerizing mosaics, and magnificent chandeliers. The palace also houses an extensive collection of weaponry and art. Nearby, you can find the Moti Baug Palace and Banquets & Conventions.
Visiting Laxmi Vilas Palace not only makes for a romantic outing with your loved one but also offers a deep dive into Vadodara's rich heritage. It's undoubtedly one of the best places to explore for couples seeking a heritage-rich experience in Vadodara.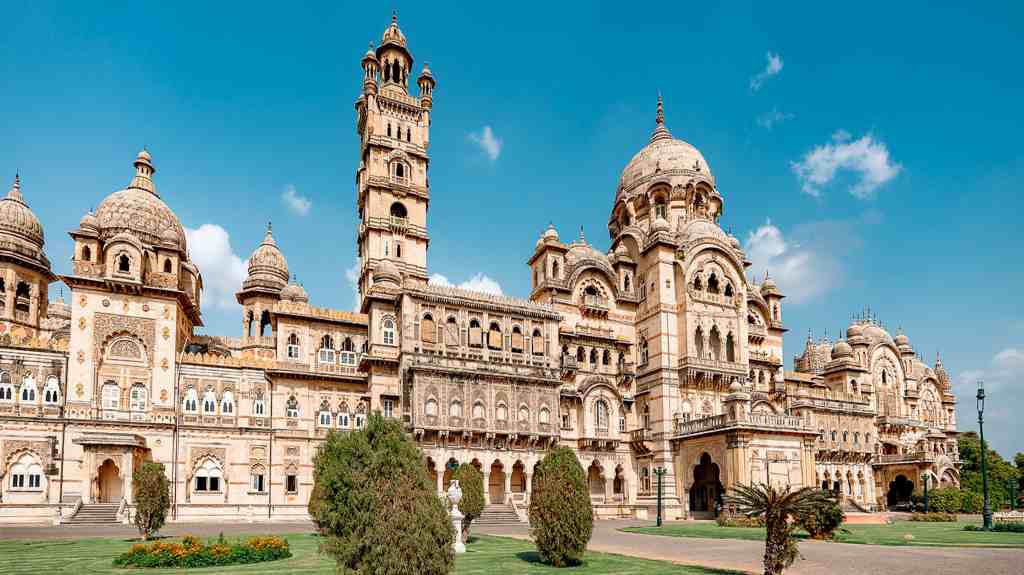 3. Kamati Baug
Address:- Vinoba Bhave Road, Sayajiganj
Ticket Price:- Free Entry (The attractions within the garden are Chargeable)
Timings:- 9:30 am – 6:00 pm
Kamati Baug, also referred to as Sayaji Baug, is a spr awling green oasis nestled in the heart of the city. Within its expansive grounds, you'll discover a host of attractions, including the Vadodara Museum and Picture Gallery, an aquarium, a zoo, a health museum, and even a planetarium.
While it tends to get crowded on holidays, there are secluded corners within the garden where you and your loved one can enjoy a peaceful stroll or a leisurely picnic. The best times to visit are early mornings and late evenings when the weather is most pleasant.
Just outside Kamati Baug, you'll find numerous tea and coffee vendors as well as street food stalls. Kamati Baug makes for an ideal green-themed date plan, don't you think?
4. Candle Light Cafe
Had your fill of outdoor venues? If you're seeking a quieter indoor setting for a romantic date, cafes are the perfect choice. Vadodara boasts numerous cafes and restaurants, but if you're yearning for a truly romantic ambiance, Candlelight Cafe comes highly recommended.
Situated on Gotri-Vasna Road, Candle Light Cafe not only offers a beautiful atmosphere but also serves delectable cuisine. They go the extra mile to customize the setup for you, incorporating decorations, candlelit settings, and music to create a truly special experience for your partner. It's the perfect way to make your loved one feel cherished and unique!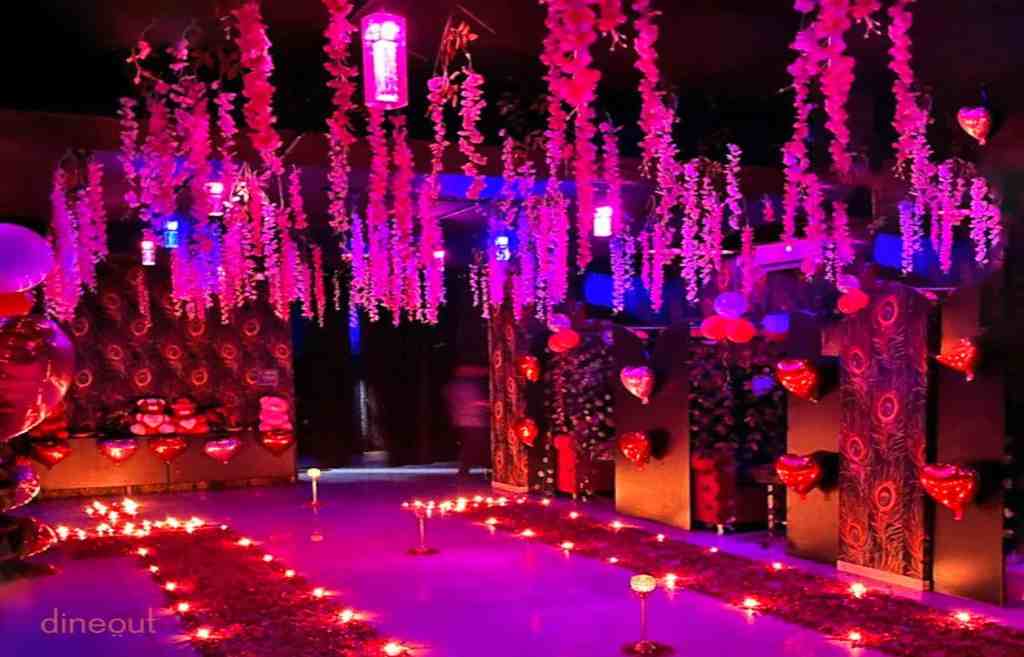 5. Ajwa Garden
Address:-

Ajwa

Ticket Price:-

Free entry below 5 years, 15 Rs. per person (From 5 to 12 years), 20 Rs. per person (Above 12 years)

Timings:-

10:00 am – 6:00 pm

Distance from Vadodara City:-

23 Km Approx
Ajwa Gardens is situated approximately 23 kilometers away from Vadodara Railway Station. Spanning across 130 acres, this garden is a haven of lush, well-maintained lawns and towering palm trees. The highlight of the garden is its mesmerizing musical fountains, extending over 100 meters, which captivate visitors with their water displays set against a backdrop of vibrant colors. It's advisable to check the timings for the musical fountain before your visit.
If you're looking for some summer fun, the Ajwa waterpark is conveniently located nearby. Additionally, you'll find a variety of resorts and picnic spots in close proximity to Ajwa, making it a versatile destination for a day out.
6. Makarpura Place
Address:- Himmat Nagar, Makarpura
Ticket Price:- Rs 125 Per Person
Timings:- 9:30 am – 6:00 pm
Makarpura Palace, situated in Vadodara, Gujarat, India, holds a regal history as the former residence of the Gaekwads of the Baroda State. This majestic palace was constructed in 1870, drawing inspiration from Italian architectural styles. Initially, it served as a summer retreat and hunting lodge for the royal family.
The palace's creation is credited to Maharaja Khende Rao, who commissioned its construction during his reign. However, historical accounts suggest that a portion of the palace met its demise at the hands of Malhar Rao Gaekwad, the brother of Khanderao II Gaekwad, who ruled Baroda from 1856 to 1870.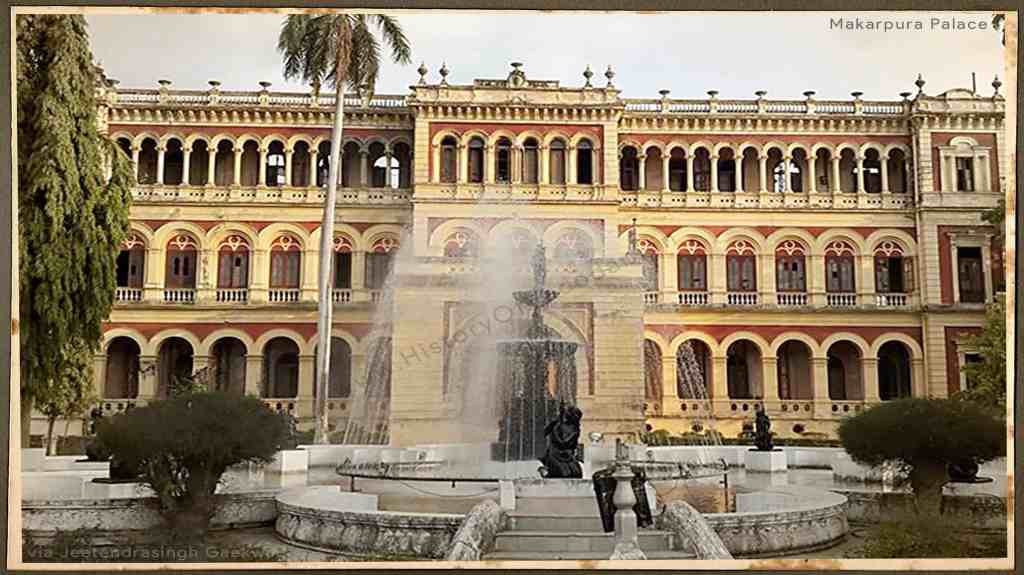 7. Hathni Mata
Address:- Sarasava, Poyali, Gujarat
Ticket Price:- Free Entry
Distance from Vadodara City:- 80 Km Approx
Hathni Mata is a revered temple located in Vadodara, Gujarat, India. This sacred site is dedicated to Goddess Hathni, a manifestation of the divine mother. The temple is perched atop a picturesque hill, providing a serene and spiritual atmosphere.
Devotees visit Hathni Mata to seek blessings, offer prayers, and partake in religious rituals. The temple's scenic location offers panoramic views of the surrounding landscapes, adding to its charm.
Hathni Mata is not only a place of worship but also a place of natural beauty and tranquility, making it a unique destination for both religious and nature-loving visitors in Vadodara.
8. Surya Narayan Temple
Address:- Jambubet
Ticket Price:- Free Entry
Timings:- 7:00 am – 7:00 pm
Just across the street from the General Post Office, you'll find the Surya Narayan temple, a place of devotion to the Sun God. This temple, with a history of over two centuries, was commissioned during the rule of Govindrao Gaekwad by the then Diwan, Raoji Appaji Fanse.
Surrounded by lush gardens and tall trees, the temple and its garden are elevated above the nearby road. This elevation creates a sense of seclusion and tranquility amidst the bustling city. For more than two centuries, the temple has quietly graced this corner of the city, upholding the unwavering faith of its devotees in the Sun God.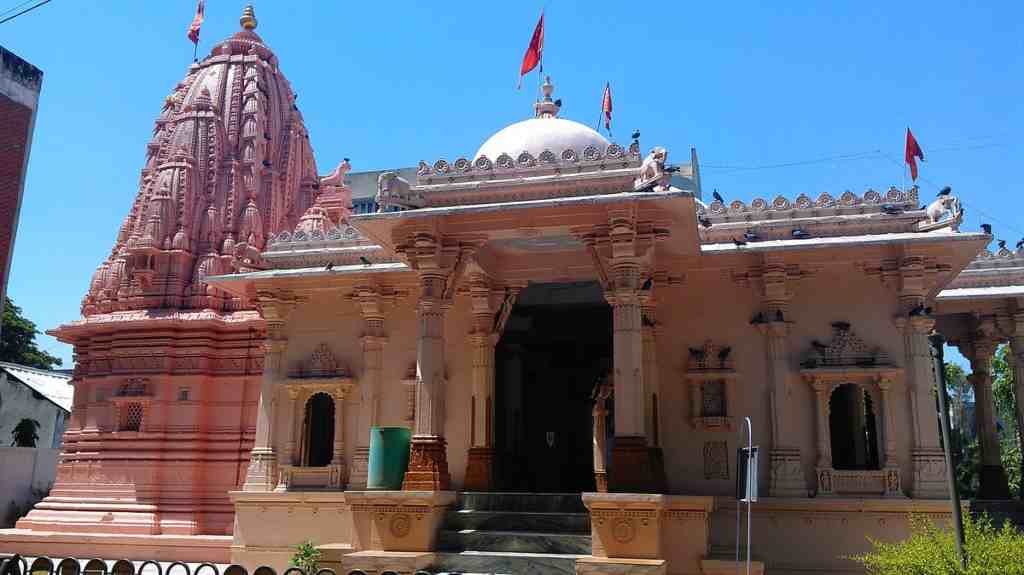 9. EME Temple
Address:- Fatehginj
Ticket Price:- Free Entry
Timings:- 6:30 am – 8:30 pm (Closed on Sundays)
The EME Temple, also known as the "Dakshinamurthy Temple," is a special shrine dedicated to Lord Shiva. It was constructed in 1966 and is overseen by the Indian Army authorities in Vadodara, Gujarat, located in Western India. This temple is truly exceptional, not only in its purpose but also in its innovative design.
The temple's distinctive geodesic structure, covered in aluminum sheets, has earned praise from archaeologists. It was skillfully crafted by the Indian Army Corps of EME. The credit for the temple's unique concept and design goes to माधव आचवल a renowned Marathi writer and architect.
The EME Temple is a significant attraction that draws both tourists and devotees alike. It stands as a one-of-a-kind architectural marvel in the world, making it a must-visit destination.
10. Baroda Museum and Picture Gallery
Address:- Sayaji Garden
Ticket Price:- Rs. 10 for Indians and Rs 200 for foreign Nationals
Timings:- 10:30 am – 5:00 pm (Closed on Govt. Holidays)
The museum is situated within Kamatibaug, Dak Bungalow, Sayajiganj, Vadodara, Gujarat. It came into existence during the rule of the Gaekwad dynasty in the Baroda State. The building's design is a masterpiece of genuine Indo-Saracenic architecture, crafted through the collaborative efforts of Major Mant and R. F. Chisholm, who refined Mant's exceptional works. The museum complex spans an impressive 113 acres.
Known as the Baroda Museum & Picture Gallery, it serves as an archaeological and natural history museum in Vadodara, Gujarat, India. Its construction dates back to 1894, drawing inspiration from the renowned Victoria & Albert Museum and the Science Museum of London. It stands as a cultural treasure, offering a glimpse into history and natural wonders.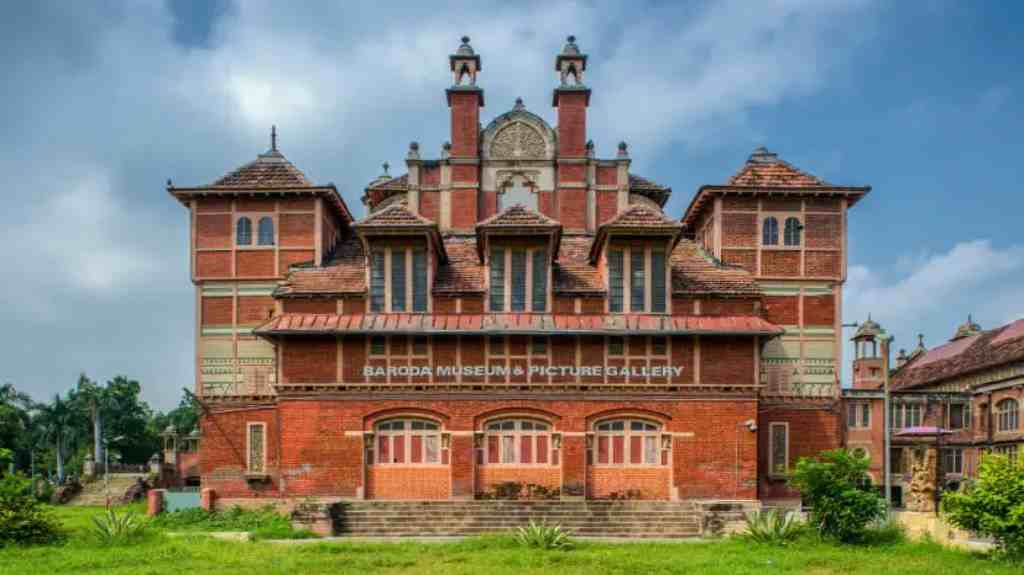 11. Hazira Maqbara
Address:- Danteshwar
Ticket Price:- Free Entry
Timings:- 8:00 am – 6:30 pm
The Hazira mausoleum in Vadodara, Gujarat, India, is a significant historical site. It houses the tombs of two notable individuals: Qutb-ud-din Muhammad Khan, who served as the tutor to Salim, the son and successor of Akbar, and his son Naurang Khan, who held important positions in Gujarat during Akbar's reign.
Qutb-ud-din was also the uncle of Mirza Aziz Koka, a foster brother of Akbar and the thrice-appointed Governor of Gujarat between 1573 AD and 1583 AD. Tragically, in 1583, he met his demise at the hands of Muzaffar Shah III, the final ruler of the Gujarat Sultanate.
12. Narmada Canal
Address:- Kevadia, Narmada district, Gujarat, India
Ticket Price:- Free Entry
The Narmada Canal is a vital waterway in Western India that transports water from the Sardar Sarovar Dam to the states of Gujarat and Rajasthan. This extensive canal stretches over 532 kilometers, with 458 kilometers within Gujarat and an additional 74 kilometers in Rajasthan. It ranks as the second-longest canal in India, following the Indira Gandhi Canal, and boasts the highest water-carrying capacity, starting at 40,000 cusecs at its source.
The primary canal is linked to 42 subsidiary canals, collectively irrigating a vast expanse of farmland spanning 2,129,000 hectares. This agricultural land comprises approximately 18 lakh hectares in Gujarat and an additional 2.5 lakh hectares in Rajasthan, playing a crucial role in supporting regional agriculture.
13. Baps Shri Swaminarayan Temple
Address:- Atladara
Ticket Price:- Free Entry
Timings:- 6:00 am – 8:30 pm
The Baps Shri Swaminarayan Temple in Vadodara is a place of worship and spirituality. This grand and magnificent temple is dedicated to Lord Swaminarayan, a revered figure in the Swaminarayan Akshardham tradition.
The temple's architecture is a blend of traditional Indian design and intricate craftsmanship, making it a visual delight. It serves as a spiritual haven for devotees and visitors alike, offering a serene environment for prayer and reflection.
Located in Vadodara, Gujarat, this temple is not only a place of religious significance but also a cultural gem. It welcomes people from all walks of life to experience its beauty and the sense of peace it offers.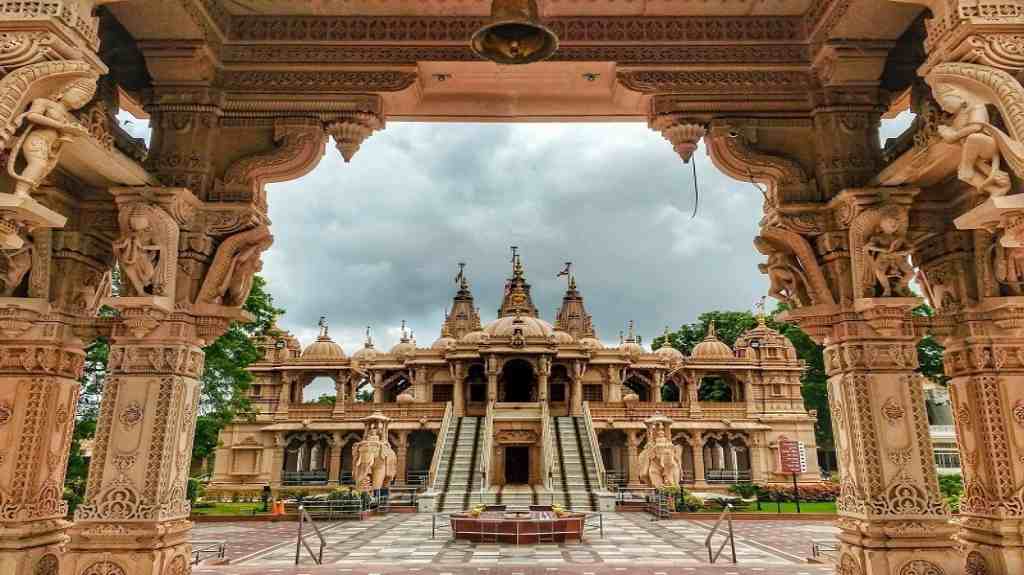 14. Maharaja Fatehsingh Muesum
Address:- Laxmi Vilas Palace Estate
Ticket Price:- Rs 60 Per Person
Timings:- 10:00 am – 5:30 pm
Inside the museum, you'll find an oriental gallery that showcases a fascinating collection of Japanese and Chinese sculptures and artworks. These treasures were amassed by the Maharaja during his travels to these nations. Among the highlights are stunning sculptures crafted from both marble and bronze.
The collection features not only remarkable copies of masterpieces in bronze, specially commissioned by the Maharaja, but also original works by acclaimed artists. One such artist, the Italian sculptor Fellicci, created captivating pieces that not only adorn the museum but also grace the Lakshmi Vilas Palace. In addition, you can spot some of Fellici's masterpieces in the public park, locally known as Sayaji Garden or Kamati Baug.
15. Jambughoda Wildlife Sanctuary
Address:- Jambughoda, Panchmahal, Gujarat, India
Timings:- 6:00 am – 7:00 pm 
Distance from Vadodara City:- 80 Km Approx
Jambughoda Wildlife Sanctuary is a natural haven tucked away in the Jambughoda Tehsil, within the heart of South-Central Gujarat. This sanctuary finds its home in the Khathiar-Gir dry deciduous forests' ecoregion, adding to its ecological significance. Positioned just 70 kilometers from Vadodara, it lies in close proximity to other popular tourist destinations like Pawagadh and Champaner, making it easily accessible for nature enthusiasts and travelers seeking adventure.
Best Time to Visit in Vadodara
The best time to visit Vadodara is during the winter months, from October to March. During this period, the weather is pleasant with cooler temperatures, making it ideal for exploring the city's attractions and outdoor activities. The daytime temperatures range from 15°C to 25°C (59°F to 77°F), and the evenings are comfortably cool.
How to Reach Vadodara
By Road
Vadodara has a well-maintained road network and can be easily reached by road. You can drive to Vadodara or hire a taxi from nearby cities like Ahmedabad, Surat, and Mumbai. National Highway 48 (NH48) connects Vadodara to major cities like Ahmedabad and Mumbai.
By Train
Vadodara Junction (also known as Baroda Railway Station) is a major railway station in Gujarat and is well-connected to cities across India. You can book train tickets to Vadodara from various parts of the country. Several important trains like the Shatabdi Express, Rajdhani Express, and other superfast trains halt at Vadodara Junction.
By Air
Vadodara Airport (Maharaja Fateh Singh Airport) is the city's own airport, located about 8 kilometers from the city center. It has regular domestic flights from major Indian cities like Mumbai, Delhi, Bangalore, Chennai, and Kolkata. You can book a flight to Vadodara and then use local transportation to reach your destination within the city.
Read Also:- 10 Best Places to Visit in Borivali for Couples