Hello dear friends! If you are looking for best places to visit in Ajmer in one day, you are at the right place. In this article, we have brought you complete details of the top 10 tourist places in Ajmer. From Dargah Shariff and Ana Sagar Lake to Adhai-Din Ka Jhonpra and Taragarh Fort and Durga Bag Gardens, we've got all the details you need. Also, we will share information about Pushkar and more exciting Best places to visit in Ajmer for couples. So, let's get to know about these amazing destinations!
What is the famous thing of Ajmer
Located in the heart of Rajasthan, Ajmer is a city that whispers tales of history, spirituality, and vibrant culture. It's a place where ancient traditions coexist harmoniously with modern life.
At the center of Ajmer lies the revered Dargah Shariff, a Sufi shrine that draws people from all faiths to seek blessings and inner peace. The city's rich tapestry of temples, mosques, and Jain sites reflects its inclusivity and historical significance.
Ajmer's tranquil Ana Sagar Lake and the regal Ajmer Sharif Dargah offer a respite from the bustling streets. The Adhai-Din Ka Jhonpra, with its intriguing history, stands as a testament to the city's architectural richness.
As you explore Ajmer, you'll encounter colorful bazaars, where the aroma of traditional Rajasthani cuisine fills the air. The city's handicrafts and textiles are a delight for shoppers.
Best Places to Visit in Ajmer
Dargah Shariff

Adhai-Din Ka Jhonpra

Ana Sagar Lake

Nasiyan Jain Temple

Taragarh Fort

Akbar's Palace & Museum

Durga Bag Gardens

Buland Darwaza

Baradari

Rangji Temple
1. Dargah Shariff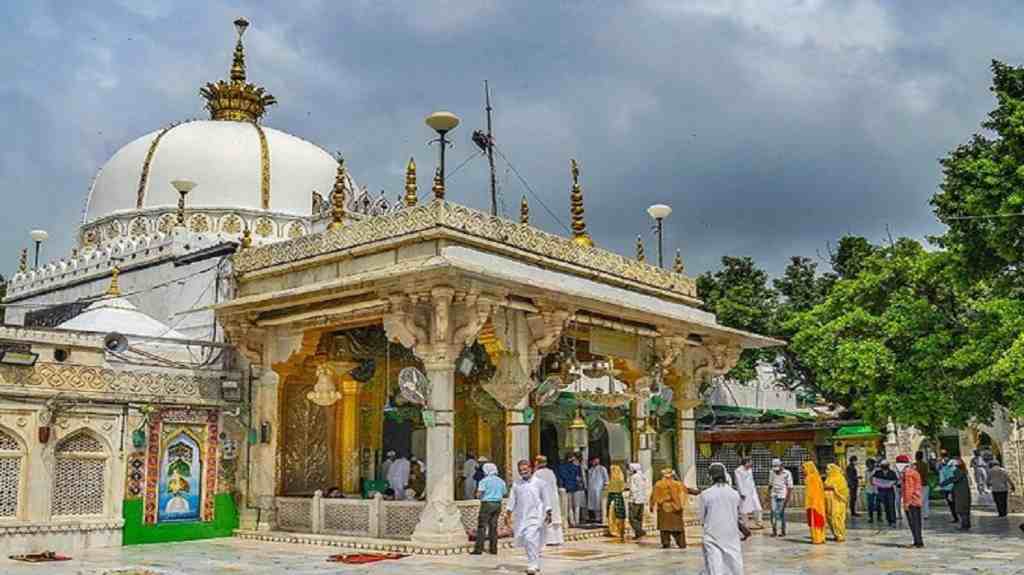 Location:- Situated at the foot of a small and barren hill in Ajmer and can be accessed by road.
Timings:- Opened daily from 5 AM to 7 PM.
In the heart of Ajmer, Rajasthan, the Dargah Shariff is a sacred place that holds deep significance for people of various faiths. This shrine is dedicated to the Sufi saint Khwaja Moinuddin Chishti, a revered figure known for his teachings of love, unity, and spiritual harmony.
The Dargah Shariff is not just a place of worship; it's a symbol of inclusivity. People from all walks of life, irrespective of their religion, come to pay their respects and seek blessings at this holy site. The shrine's white marble structure and intricately designed interiors exude an air of serenity and devotion.
One of the unique features of the Dargah Shariff is the offering of rose and jasmine flowers, which symbolize love and purity. The fragrance of these flowers mingles with the prayers and chants, creating a truly enchanting atmosphere.
2. Adhai-Din Ka Jhonpra
Location:- Andere Kota Road 
Timings:- Opened daily from 4:30 AM to 8:30 PM
Located in the city of Ajmer, Rajasthan, the Adhai-Din Ka Jhonpra is an architectural marvel that tells a tale of history and transformation. This remarkable structure, with a name that means "shed of two-and-a-half days," is an intriguing blend of Indo-Islamic architecture.
The Adhai-Din Ka Jhonpra began as a Sanskrit college, but it was transformed into a mosque by Sultan Ghori in just two and a half days, hence the name. This mosque is an embodiment of intricate architecture, with stunning arches, pillars, and detailed inscriptions.
Visitors to the site are often struck by the beauty of the architectural design, which is a fusion of Hindu and Islamic artistic styles. The facade is adorned with ornate calligraphy, geometric patterns, and exquisite details.
3. Ana Sagar Lake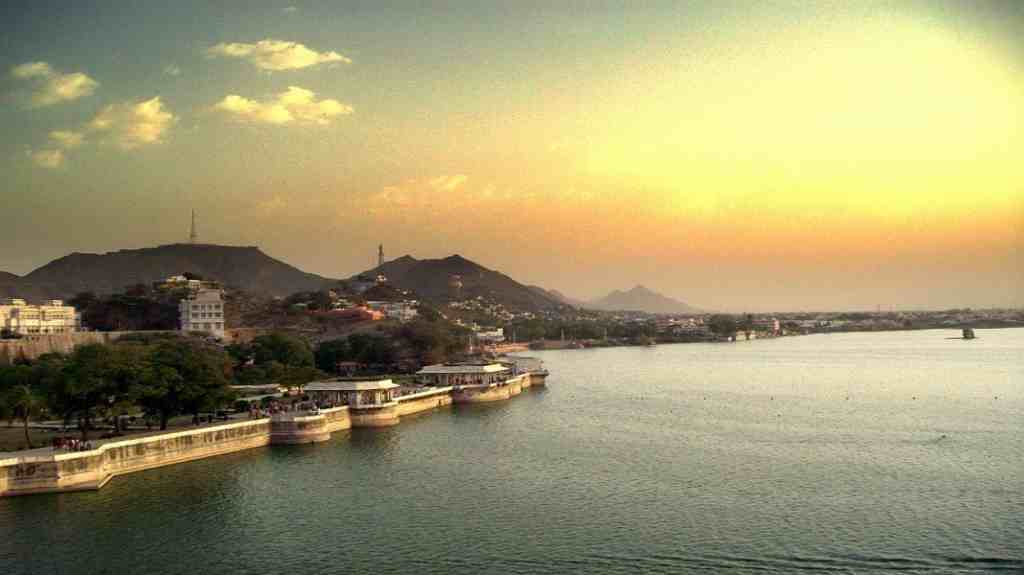 Location:- Ajmer, Rajasthan, India
Located in the heart of Ajmer, Rajasthan, Ana Sagar Lake is a tranquil oasis that beckons travelers seeking a serene escape. This beautiful artificial lake, commissioned by Anaji Chauhan, has been a source of respite and inspiration for centuries.
The Ana Sagar Lake is a place of serenity and natural beauty. It's surrounded by lush gardens, providing a perfect setting for leisurely walks and picnics. The well-maintained Daulat Bagh garden, with its marble pavilions and fountains, adds to the charm of the lake's surroundings.
One of the unique features of Ana Sagar Lake is the series of marble pavilions, known as "baradaris," that grace its banks. These structures are not only aesthetically pleasing but also offer a place to relax and enjoy the views.
Boating on the lake is a popular activity, allowing visitors to appreciate the tranquil waters and the picturesque view of the city. The lake also offers a glimpse into the local way of life, as you can often see people washing clothes by the ghats and engaging in other daily activities.
4. Nasiyan Jain Temple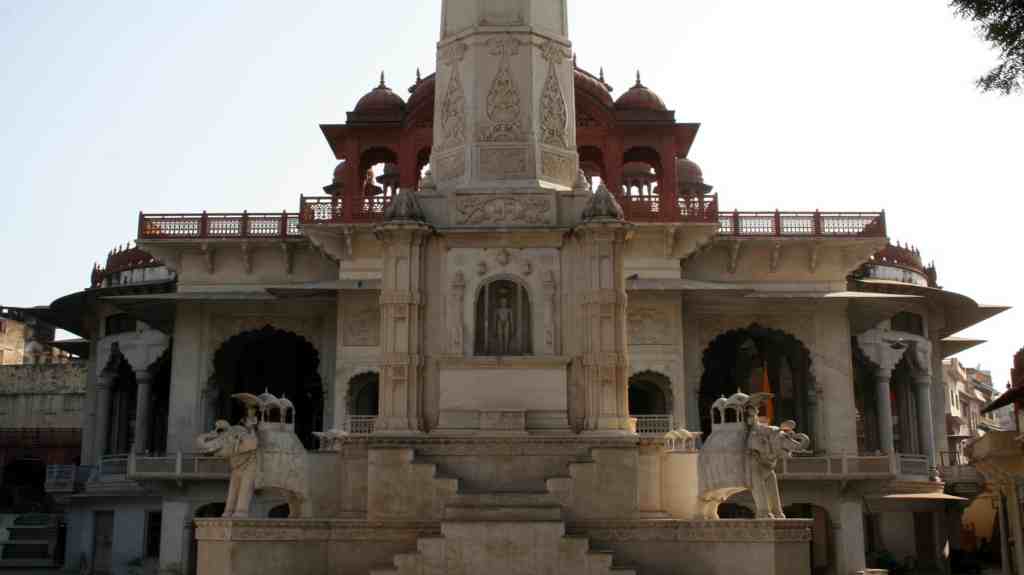 Location:- Prithivi Raj Marg, Dumada, Dargah Bazar, Ajmer, Rajasthan
Timings:- Opened daily from 7 AM to 7 PM
In the heart of Ajmer, Rajasthan, the Nasiyan Jain Temple is a remarkable testament to architectural elegance and spiritual significance. This magnificent temple, also known as the Soniji Ki Nasiyan, is a sacred place for the Jain community.
The Nasiyan Jain Temple is divided into two parts. The main temple, called the Swarna Nagari (City of Gold), is a visual marvel adorned with intricate architecture and golden ornamentation. It's dedicated to Lord Adinath, the first Jain Tirthankara. The temple's inner chamber houses an impressive collection of intricate, gold-plated wooden figures and scenes that depict various aspects of Jain philosophy and mythology.
The other section, known as the Sheesh Mahal (Hall of Mirrors), is equally enchanting. It is embellished with exquisite glasswork, intricate paintings, and detailed depictions of Jain teachings and legends.
Visitors to the Nasiyan Jain Temple are often captivated by the temple's beauty and the serenity it exudes. It's not just a place of worship; it's a cultural and artistic marvel that offers insight into the Jain faith and India's rich heritage.
5. Taragarh Fort
Location:- Taragarh Fort, Taragarh Rd, Taragarh, Ajmer, Rajasthan
Timings:- 08.00AM-07.00PM on all days of the week
In the heart of Ajmer, Rajasthan, the Taragarh Fort, also known as the "Star Fort," stands as a magnificent sentinel of history. This ancient fort, perched atop a hill, offers a journey back in time and panoramic views of the city.
The Taragarh Fort was built in the 12th century and is one of the oldest hill forts in India. Its rugged terrain, massive walls, and intricate architecture make it a compelling destination for history enthusiasts and adventure seekers.
As you ascend towards the fort, you'll be rewarded with breathtaking vistas of Ajmer, including the Ana Sagar Lake and the surrounding Aravalli hills. The fort's impressive gateways and structures reflect the grandeur of the bygone era.
Exploring the Taragarh Fort takes you through a labyrinth of passages, reservoirs, and palaces, each narrating tales of valor and historical significance. The Bhim Burj and Garbha Gunjan are notable attractions within the fort.
6. Akbar's Palace & Museum
Location:- Naya Bazar, Naya Bazaar, Ajmer, Rajasthan
Timings:- Opened daily from 10 AM to 4:45 PM
In Ajmer, Rajasthan, Akbar's Palace & Museum stands as a historical treasure that unfolds the stories of the Mughal Empire. This palace, also known as the "Rana Kumbha Palace," showcases a blend of Mughal and Rajput architectural styles.
The palace, once a royal residence, has been transformed into a museum that houses a remarkable collection of artifacts. Here, you can explore a diverse array of exhibits, including sculptures, weapons, miniature paintings, and archaeological discoveries that offer insights into the region's history and cultural heritage.
One of the standout features of Akbar's Palace is the grand courtyard, where you can admire the intricate details of the architecture and the stunning views of Ajmer. The palace's layout and design provide a sense of the regal lifestyle of the past.
7. Durga Bag Gardens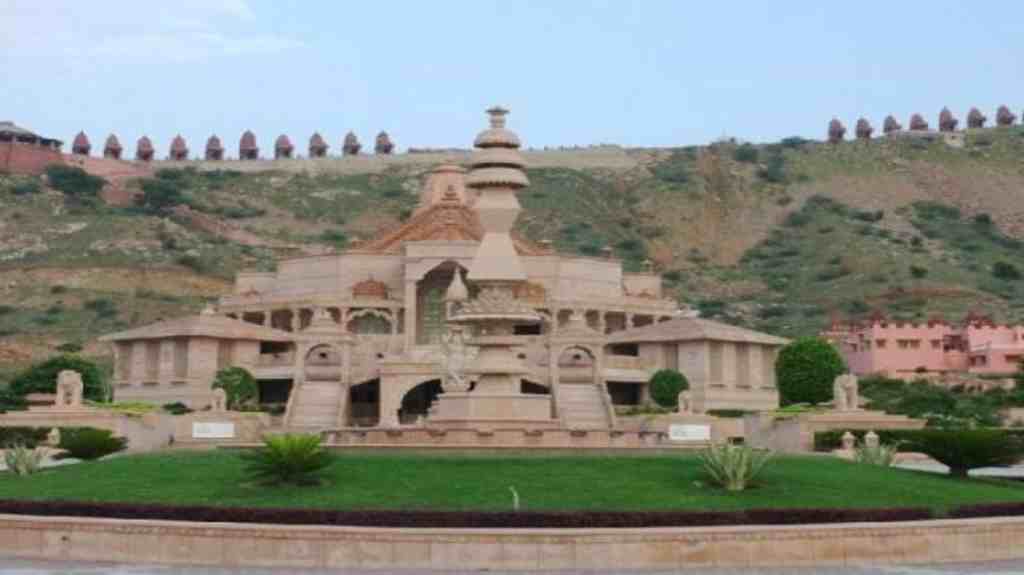 Location:- Near Ana Sagar Lake, Ajmer, Rajasthan
Timings:- 09.00AM-06.00PM on all days of the week
In the heart of Ajmer, Rajasthan, Durga Bag Gardens is a serene haven where nature's beauty meets tranquility. These gardens, also known as the "Durga Bagh," offer a peaceful escape from the city's bustle.
The Durga Bag Gardens are a well-maintained expanse of greenery, adorned with a variety of trees, flowering plants, and manicured lawns. The symphony of birdsong and the gentle rustling of leaves create a calming ambiance, making it an ideal place for a leisurely stroll, a family picnic, or simply unwinding.
One of the notable features of these gardens is the Durga Bagh Temple, a place of worship that adds a spiritual touch to the natural surroundings. The temple's architecture and serenity make it a point of interest for both visitors and devotees.
8. Buland Darwaza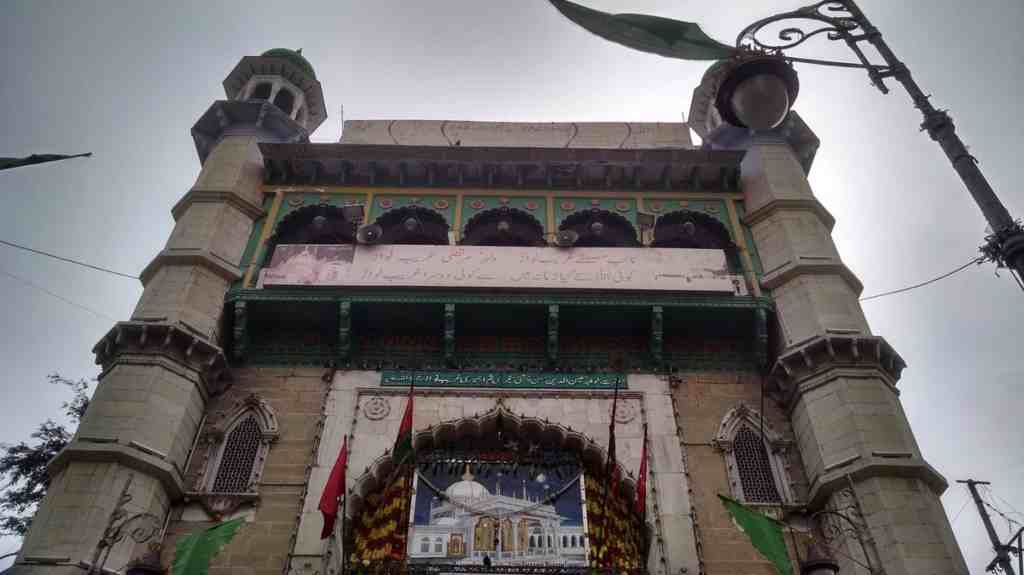 Location:- Ajmer, Rajasthan
Timings:- Opened daily from 5 AM to 7 PM
In the heart of Ajmer, Rajasthan, the Buland Darwaza stands as a grand testament to the city's architectural splendor. This monumental gateway, known as the "Gate of Magnificence," is a symbol of grandeur and historical significance.
Built in the 16th century, the Buland Darwaza is a majestic example of Mughal architecture. It was constructed to commemorate Emperor Akbar's victory over the state of Gujarat and stands as a tribute to the strength and prosperity of the Mughal Empire.
The gateway's imposing structure, made of red sandstone and adorned with intricate carvings, is a sight to behold. It's not just an architectural marvel but also a place that holds stories of valor and triumph.
Visitors to the Buland Darwaza are often struck by its grandeur and the sense of history it exudes. The view from the top of the gateway offers panoramic vistas of Ajmer, making it a must-visit for history enthusiasts and anyone captivated by the blend of art and heritage.
9. Baradari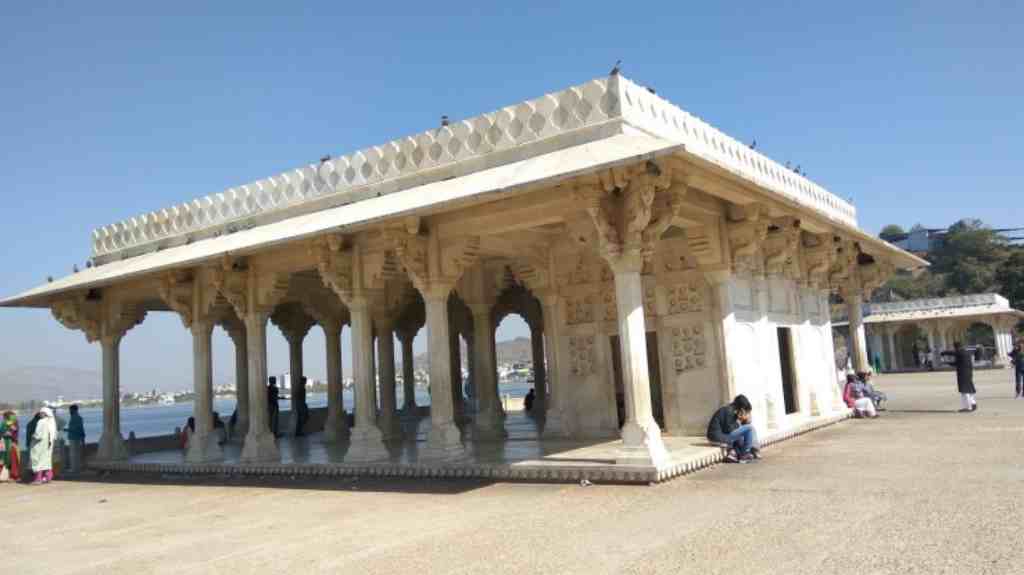 Location:- Ana Sagar lake embankment
Timings:- Open 24 hours
In the heart of Ajmer, Rajasthan, the Baradari is a captivating architectural masterpiece that tells a tale of elegance and history. This charming structure, with a name that means "12-door pavilion," is a symbol of regal opulence.
The Baradari was built by Maharaja Jai Singh II in the 18th century as a pleasure pavilion. Its architecture reflects the fusion of Mughal and Rajasthani styles, featuring twelve arched doorways that offer enchanting views of the surrounding landscape.
Visitors to the Baradari are often mesmerized by its ornate details and the serene ambiance it offers. The garden surrounding the pavilion adds to its charm, making it a popular spot for picnics, leisurely walks, and photography.
10. Rangji Temple
Location:- Chote Basti, Ajmer, Rajasthan
Timings:- Opened daily from 5 AM to 7 PM
In the heart of Ajmer, Rajasthan, the Rangji Temple is a vibrant oasis of spirituality and architecture. This temple, dedicated to Lord Rangji, combines various architectural styles, creating a unique and enchanting place of worship.
The Rangji Temple is a harmonious blend of South Indian and Rajput architectural elements, making it a distinctive sight in Ajmer. The temple's high gopuram (entrance tower), ornate pillars, and intricate carvings reflect the cultural fusion that has occurred over centuries.
Visitors to the temple are often captivated by its vibrant and colorful facade, adorned with depictions of Hindu deities. The courtyard is a serene space where devotees and tourists can soak in the spiritual ambiance.
One of the highlights of the Rangji Temple is its annual chariot festival, during which the deity's idol is taken on a grand procession through the city's streets, attracting a jubilant crowd.
Best Time to Visit in Ajmer
The best time to visit in Ajmer is in the winter, spanning from October to March. This season gifts you with comfortably cool weather, creating the perfect conditions for taking in the sights and enjoying outdoor adventures.
How to Reach Ajmer
By Road
Ajmer is well-connected by road. You can reach Ajmer by bus from nearby cities like Jaipur, Jodhpur, and Udaipur. The road journey offers picturesque views of the Rajasthan landscape. You can also opt for a taxi or self-drive if you prefer a more flexible travel schedule.
By Train
Ajmer Junction is a major railway station and is well-connected to various cities in India. Trains from Delhi, Jaipur, Mumbai, and other major cities regularly serve this station. The train journey offers scenic views of the Aravalli Hills and is a convenient way to reach Ajmer.
By Air
The nearest airport to Ajmer is the Kishangarh Airport, which is around 27 kilometers away. You can take a domestic flight to Kishangarh from major cities like Delhi. Alternatively, you can fly to Jaipur International Airport, which is approximately 135 kilometers from Ajmer, and then continue your journey by road.
Read Also:- Top 8 Tourist Places in Purnia