Bibi Ka Maqbara – Bibi Ka Maqbara stands majestically in Chhatrapati Sambhajinagar, Maharashtra, India. This magnificent mausoleum was revived in 1660 by Prince Azim Shah, son of the Mughal emperor Aurangzeb, to honor the memory of his beloved mother, Dilras Banu Begum (also known as Rabia-ul-Durrani). Interestingly, it shares a captivating resemblance with the iconic Taj Mahal, the resting place of Aurangzeb's mother Mumtaz Mahal. Despite his limited interest in architecture, Aurangzeb mastered it, as seen in Delhi's beautiful Pearl Mosque. Bibi Ka Maqbara is one of his notable creations, which is the second largest mosque after the Badshahi Mosque. It is a tribute that beautifully echoes the grandeur of the Taj Mahal, with a legacy of love and architectural prowess.
Nestled in breathtaking beauty, Bibi Ka Maqbara exhibits an irresistible charm. Like the famous Taj Mahal, intricate and exquisite carvings adorn its architecture. While the Taj Mahal is resplendent made of pure marble, the Bibi Ka Maqbara presents a unique blend of marble and stucco craftsmanship. Surprisingly, while the construction of the Taj Mahal required a huge investment of Rs 2.5 crore, this beautiful mausoleum was revived for a mere Rs 7 lakh. Such brilliant artistry within such modest means is truly extraordinary. So, my dear friends, let us embark on this journey through our article uncovering the interesting story of Bibi Ka Maqbara.
Bibi Ka Maqbara History
Hello friends! Did you know that the iconic Taj Mahal in Agra was actually built by Aurangzeb's father Shah Jahan? It is no wonder that Aurangzeb, following in his father's footsteps, decided to honor his beloved wife, Dilras Banu Begum, with a magnificent mausoleum. In 1658, Aurangzeb took over the reins of leadership, and right then, tragedy struck – his wife, Dilras Banu Begum, died on 8 October 1657 at the age of 35 due to severe fever. To pay tribute to his memory, Aurangzeb envisioned a mausoleum that would reflect the grandeur of the Taj Mahal.
He chose Aurangabad in Maharashtra as the site for this monument, as it held deep significance for his wife. To make this masterpiece, marble was brought from Rajasthan. The construction work started in 1657 with the death of his wife and was finally completed around 1662.
What makes this mausoleum really interesting is the unique twist in its construction journey. The supply of marble was unexpectedly cut off during the construction process, requiring plaster to be used for the remaining parts. When you step into the mausoleum, you can literally feel the transformation – the marble at the base, gradually turning into stucco as you look upwards. While time has taken its toll on stucco, you may still be surprised at its beauty and importance.
Architecture of Bibi Ka Maqbara
Bibi Ka Maqbara is spread over a vast area of ​​27 acres, which includes both the main mausoleum and the beautiful minarets, which covers an area of ​​about 3094 square metres. Aurangzeb's ambition was to build a masterpiece to rival the Taj Mahal, yet today, while the Taj Mahal stands strong, the Bibi Ka Maqbara has aged over time. Some people even jokingly call it a copy of the Taj Mahal.
Exquisite stucco carvings adorn the surfaces of this mausoleum, mirroring the architecture of the Taj Mahal. As soon as you enter, a grand arch decorated with intricate carvings welcomes you both inside and outside.
A stone path encircles the tomb, leading to its entrance and the surrounding garden. In front of the mausoleum, an attractive fountain enhances the landscape, and other fountains also grace the area.
The dome of this mausoleum boasts of a structure of pure marble, which has been procured from Jaipur, Rajasthan. Atullah, whose father had overseen the construction of the Taj Mahal, was entrusted with its construction. Although Aurangzeb allocated limited funds, preventing it from achieving the grandeur of the Taj Mahal, the mausoleum still displays its unique charm.
Where is Bibi Ka Maqbara?
Bibi Ka Maqbara is situated in the charming city of Aurangabad, Maharashtra, India. It stands as a magnificent monument, often referred to as the "Taj of the Deccan", showcasing excellent Mughal architecture. If you are visiting Aurangabad, this beautiful mausoleum is a must-see, adding a touch of historical beauty to the landscape of the city.
Who built Bibi Ka Maqbara?
In the year 1660, Emperor Aurangzeb built a beautiful mausoleum in Aurangabad in honor of his beloved wife Dilras, giving us the alluring Bibi Ka Maqbara, now known as the "Tomb of the Lady". Here, Dilras was posthumously buried under the title of 'Rabia-ud-Daurani' ("Rabia of the Age"). In later years, his tomb was repaired by his son Azam Shah under the orders of Aurangzeb. Bibi Ka Maqbara was Aurangzeb's largest structure and is very similar to the Taj Mahal, the tomb of Dilras's mother-in-law, Empress Mumtaz Mahal, who herself died in childbirth. Aurangzeb himself is buried a few kilometers away from his tomb in Khuldabad.
Which is the place worth seeing in Bibi Ka Maqbara?
Hello friends! Are you ready to know the main features of this amazing tomb? If you're headed to Bibi's resting place, don't miss these 10 fabulous attractions. Let's dive in and make the most of your trip!
Main Mausoleum

Entrance Gate

Garden

Paved Pathways

Water Channels & Fountains

Four Minarets

Tomb Chamber

Fine Workmanship

Mosque

Museum
1. Main Mausoleum
If you are planning a visit to Bibi Ka Maqbara, do not miss out on the main tomb. It is located right in the center of the complex, but you can only see it from above. The samadhi (resting place) has been covered with a sheet, and who knows? You can see some coins left by the visitors. It's like a treasure hunt with a twist!
2. Entrance Gate
Guess what, they recreated the entrance to the Taj Mahal right here! The carvings on the walls match exactly, but they are made of plaster, so they have worn away over the years. Yet, you can still feel the incredible craftsmanship and dedication of the artisans working on it.
3. Garden
The tomb is surrounded by a beautiful garden filled with various trees and plants, with mango trees being the most common. The entire garden is covered with lush green grass – a real gift for nature lovers! If you like to be surrounded by greenery, then this is the right place. It is the perfect place to sit back, relax and have a wonderful, relaxing time.
4. Paved Pathways
You will find well-built walkways around the mausoleum, which have entrances from all four sides. Caused roads connect the mausoleum to these gateways, which are made of durable stone that has kept them in good condition over time.
5. Water Channels & Fountains
Beautiful fountains grace the place, as well as a well-maintained water system to keep them flowing. Although some of these fountains are out of date, you will also see modern replacements. Nevertheless, the charm of the old fountains at Bibi Ka Maqbara still remains.
6. Four Minarets
Like the Taj Mahal, beautiful minarets surround the mausoleum here too. These four minarets are indeed exquisite, sloping gently outwards. This clever design ensures that if one of the minarets collapses, the mausoleum will be safe.
7. Tomb Chamber
Step inside the mausoleum, and you'll find a separate chamber for the actual tomb. While the tomb is slightly below ground, it is not accessible to visitors. The main door remains closed, yet you can see the tomb from above. The chamber of the tomb has exquisite and intricate carvings, which add to its beauty. Upstairs, there is a seating area where security personnel were stationed, with windows and doors that allow fresh air in from outside.
8. Fine Workmanship
Get ready to be amazed by the intricate craftsmanship that adorns every inch of the tomb. The entire mausoleum, its outer doors and minarets display astonishing artistry. The dome and various elements at the top are crafted of pristine white marble, while most of the walls have intricate plasterwork. It's a visual delight from every angle!
9. Mosque
Right next to the mausoleum, you will find a mosque that has been elegantly integrated into the complex. Interestingly, this mosque was added to the site many years after the original construction of the mausoleum.
10. Museum
Don't forget to check out the museum located here! Inside, you can explore a wide range of artifacts related to the mausoleum's rich history. You will find many interesting relics that provide a deeper insight into the mausoleum and mosque, offering a fascinating glimpse into their past.
Bibi Ka Maqbara Entry Fee and Visiting Timings
For Indian visitors, the entry fee is just ₹25, while for our international friends, it is ₹250. You are welcome to visit the campus from 6:00 AM to 10:00 PM, as entry is not permitted before 6:00 AM or after 10:00 PM.
Top 10 Best Places to Visit Near Bibi Ka Maqbara
Ajanta Caves

Daulatabad Fort

Ellora Caves

Panchakki

Grishneshwar Temple

Siddharth Garden and Zoo

Aurangabad Caves

Bhadra Maruti Mandir

Lonar Crater Lake

Jayakwadi Dam
1. Ajanta Caves
The Ajanta Caves, located about 100 km from Bibi Ka Maqbara, hold their own magic. These ancient Buddhist caves were carved out during the 2nd century CE, each with separate chambers for meditation, rest and meals.
2. Daulatabad Fort
Just 15 kilometers from Aurangabad is the magnificent Daulatabad Fort. A testimony to rich history and architectural marvels, this fort weaves tales of the past within its walls. Its grandeur and beauty is truly mesmerizing, inviting you to explore the ingenious measures taken to protect it from invaders. A visit here promises to be a fascinating journey through time.
3. Ellora Caves
The mesmerizing Ellora caves are around 30 km from Aurangabad. These caves, protected by UNESCO, are a rich mix of Buddhist, Hindu and Jain sanctuaries. The intricate texture and exquisite carvings inside them are truly mesmerizing. Each cave boasts of its own unique charm, with various chambers thoughtfully designed.
4. Panchakki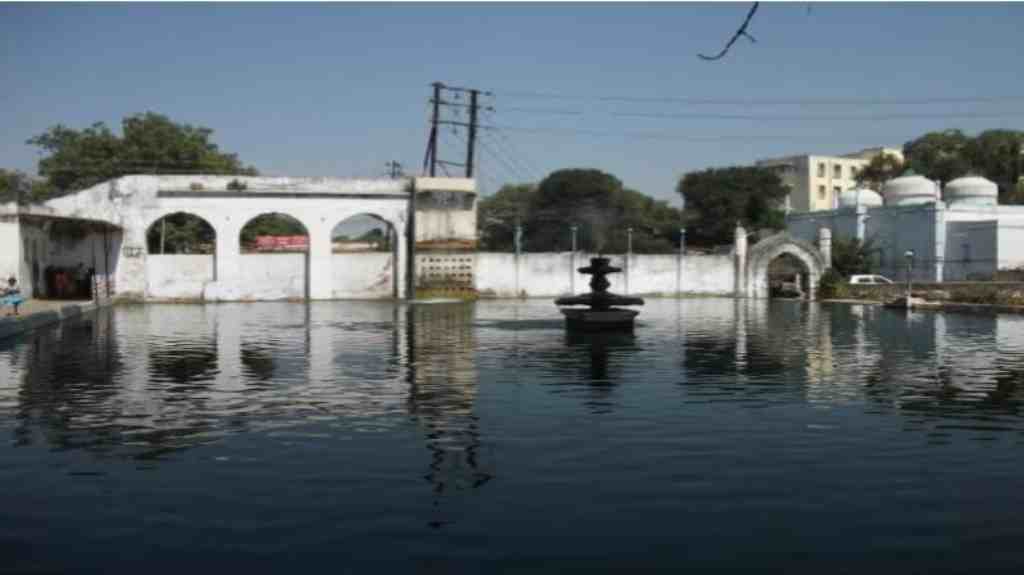 A few kilometers from Aurangabad, you'll find a truly enchanting 17th-century gem – Panchakki. This marvel is a unique Panchakki that was used to grind rice and perform other functions, all powered by running water. The picturesque setting and historical significance of the Panchakki make it a delightful place to visit and learn about the ingenious engineering of the past.
5. Grishneshwar Temple
Just a short journey of 30 kms from Aurangabad, you will find a holy place – a temple dedicated to Lord Shiva. This divine site holds a special place as the 12th among the 12 Jyotirlingas revered across India. It is a great opportunity to connect with spirituality and explore the rich heritage of our country.
6. Siddharth Garden and Zoo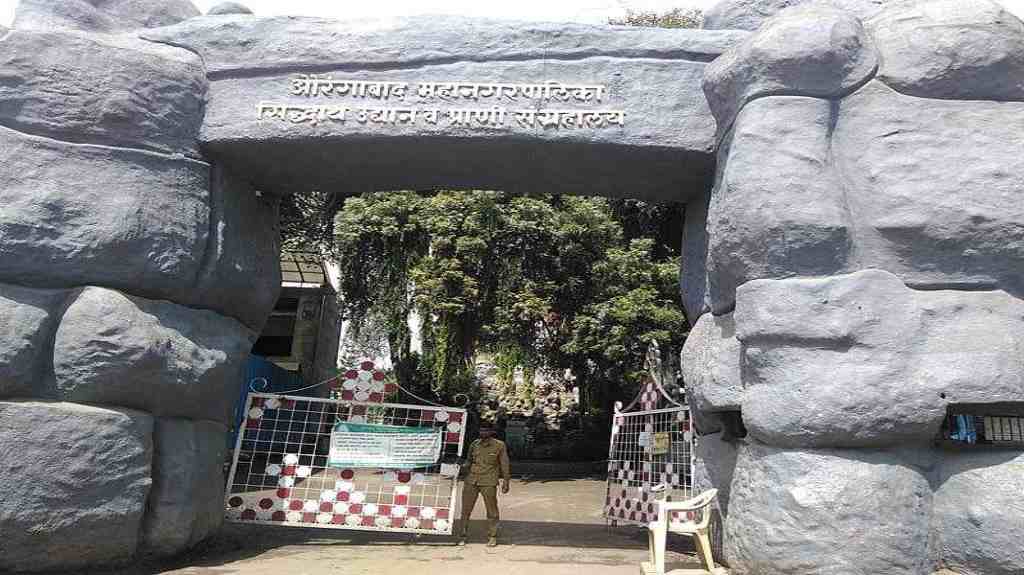 Siddharth Bagh is truly a lovely garden and zoo that remains to be explored. For all you animal lovers, this is a must-see place within the city of Aurangabad. The surroundings are serene and clean, providing a serene environment for your visit. Be prepared to encounter a captivating array of fauna, making it an ideal place to enjoy the beauty of nature and wildlife.
7. Aurangabad Caves
A short walk from Bibi ka Maqbara you will find Buddhist caves built during the 6th and 7th centuries. These caves boast of the same beauty as Ajanta and Ellora, which are inhabited by Hindu, Buddhist and Jain monks. It is a captivating testimony to the ancient ways of living and spirituality.
8. Bhadra Maruti Mandir
Located just 20 km from Aurangabad, this attractive temple is dedicated to Lord Hanuman. Its exquisite beauty is matched by its importance in Hinduism. It is a must-see place for anyone exploring the spiritual heritage of the region.
9. Lonar Crater Lake
A beautiful natural lake located 150 km from Aurangabad, this serene place is famous for its mesmerizing beauty. The area is surrounded by lush greenery, and you can also spot a variety of excellent birds around. It is a wonderful place to experience the peace of nature.
10. Jayakwadi Dam
Just 50 kilometers from Aurangabad, you will find this fascinating dam. The view around it is truly mesmerizing, providing a delightful sightseeing experience. It is a great place to take a walk and enjoy the surroundings.
Best Restaurants Near Bibi Ka Maqbara
Green Leaf Veg cuisine

Great Sagar Restaurant

Pawan's Bikaner Bhujiwala

Bhoj Restaurant

Mini Taj Family Restaurant

That Baat

Tara Pan Centre

Spice Veg Restaurant

Sugardough bakery cafe

Rama International
How to Reach Bibi Ka Maqbara
Aurangabad boasts of excellent connectivity with various cities of Maharashtra, making it easily accessible. Well-connected highways provide a smooth passage to reach Aurangabad by road. The railway station serves as a hub connecting Aurangabad to major cities across India. Arriving at Aurangabad station, you can easily reach Bibi Ka Maqbara, located a short distance away. For air travel, the Aurangabad airport is the nearest option, located just 10 kilometers from Bibi Ka Maqbara. This airport ensures convenient access to Aurangabad from any corner of India.
Read Also:- Top 8 Tourist Places in Ghazipur – Uttar Pradesh