Hello dear friends! If you are looking for Best places to visit in Guwahati for couples, you are at the right place. In this article, we have brought you complete details of the Top 12 Places to visit in Guwahati for couples. From Kamakhya Temple and Guwahati Planetarium to Brahmaputra River Cruise and Navagraha Temple and Guwahati War Cemetery, we've got all the details you need. Also, we will share information about Dighalipukhuri Park and more exciting best places to visit in Guwahati for couples. So, let's get to know about these amazing destinations!
Located on the banks of the mighty Brahmaputra River in Northeast India, Guwahati is a vibrant city known for its cultural richness and natural beauty. The city, often called the gateway to the Northeast, is a blend of ancient traditions and modern development. Tourists can visit the famous Kamakhya Temple located on top of Neelachal Hill, or take a boat ride to Umananda Island for tranquil relaxation.
Guwahati has picturesque parks like Nehru Park and historical sites like Saraighat Bridge. The Brahmaputra River flowing through the heart of the city adds to the natural charm, and couples can enjoy romantic river cruises during the evening. With its warm hospitality, diverse cuisine and its blend of spirituality and adventure, Guwahati offers a unique and memorable experience to travelers.
12 Best Places to visit in Guwahati for couples
Kamakhya Temple

Umananda Island

Guwahati Planetarium

Assam State Zoo and Botanical Garden

Nehru Park

Brahmaputra River Cruise

Srimanta Sankardev Kalakshetra

Dighalipukhuri Park

Navagraha Temple

Saraighat Bridge

Pobitora Wildlife Sanctuary

Guwahati War Cemetery
1. Kamakhya Temple
Address:- QC7V+WV5, Narol, Rajasthan 301412
Google Review:- Click Here
Kamakhya Temple is a sacred and ancient Hindu temple dedicated to Goddess Kamakhya. Perched atop Nilachal Hill, the temple holds significant religious importance and attracts devotees and tourists alike. The unique feature of this temple is the absence of an idol; instead, it houses a natural rock formation symbolizing the goddess's yoni (female reproductive organ).
The temple complex is a vibrant site during the Ambubachi Mela, an annual fertility festival. Visitors can ascend the hill to witness panoramic views of the Brahmaputra River and the city below. With its spiritual ambiance and architectural beauty, Kamakhya Temple stands as a cultural and religious landmark in Guwahati.
2. Umananda Island
Umanand Island, situated on the Brahmaputra River in Guwahati, is an attractive and serene place. Reachable by a short boat ride, the island is known for its serene environment and the Umananda Temple dedicated to Lord Shiva. Surrounded by lush greenery, the island offers a peaceful escape from the bustling city life. Apart from the spiritual experience at the temple, visitors can enjoy the natural beauty and see different species of flora and fauna. The island offers an ideal location for nature lovers and those looking for a serene and picturesque holiday in the middle of the Brahmaputra River.
3. Guwahati Planetarium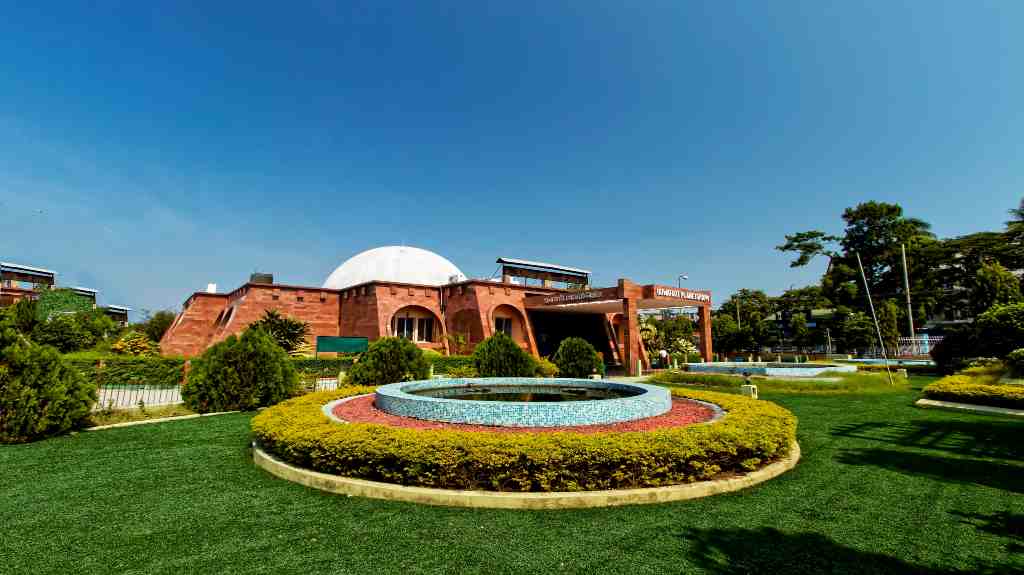 Address:- 5QR2+HQ8, MG Rd, Latasil, Uzan Bazar, Guwahati, Assam 781001
Timings:- 11 am–4 pm
Phone:- 0361 254 7102
Google Review:- Click Here
Guwahati Planetarium is a fascinating destination in Guwahati, offering a celestial journey to visitors of all ages. Located near Nehru Park, the planetarium features educational shows and interactive sessions that reveal the mysteries of the universe. With its state-of-the-art features, it offers a unique and immersive experience, making complex astronomical concepts easily understood.
The dome-shaped structure hosts mesmerizing star shows, giving visitors a chance to explore the wonders of the night sky. The Guwahati Planetarium serves as an excellent place for both learning and entertainment, making it a popular choice for families, students and anyone interested in the wonders of space.
4. Assam State Zoo and Botanical Garden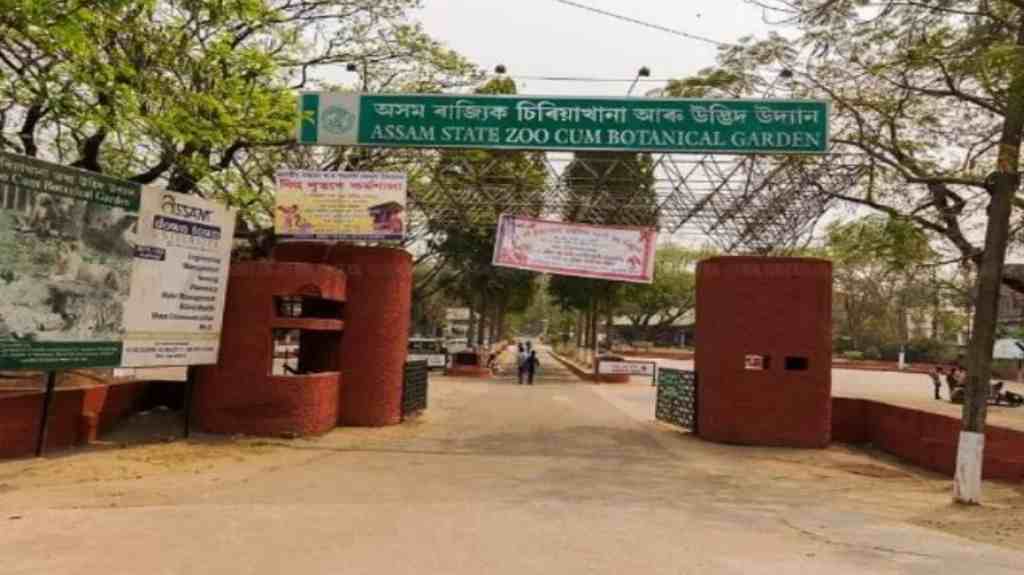 Address:- RG Baruah Rd, Guwahati, Assam 781005
Timings:- 8 am–4 pm
Phone:- 087218 57919
Google Review:- Click Here
Assam State Zoo and Botanical Garden, located in Guwahati, is a delightful haven for nature and wildlife lovers. Spread across lush green expanses, the zoo is home to a variety of animals including rare and endangered species. Tourists can marvel at the sight of majestic elephants, playful tigers and various other fascinating creatures.
Apart from the zoo, the botanical garden within the complex displays a rich diversity of plant species, providing a tranquil environment for a leisurely stroll. The zoo's commitment towards wildlife conservation and education makes it not only a recreational destination but also a place of awareness about the importance of biodiversity and environmental conservation.
5. Nehru Park
Address:- Cotton University Rd, Pan Bazaar, Guwahati, Assam 781001
Timings:- 10 am–8 pm
Google Review:- Click Here
Nehru Park, located in the heart of Guwahati, is a charming green oasis that provides a complete escape from the hustle and bustle of the city. With its well-manicured lawns, vibrant flower beds and a tranquil lake, the park offers a peaceful environment for relaxation and recreation. Visitors can enjoy a leisurely walk on the winding paths, engage in outdoor activities, or simply relax amidst nature.
The strategic location of the park near the Brahmaputra River adds to its picturesque charm. Whether you are looking for a tranquil retreat, a family picnic spot or a place to enjoy the beauty of nature, Nehru Park in Guwahati is a delight for locals and tourists.
6. Brahmaputra River Cruise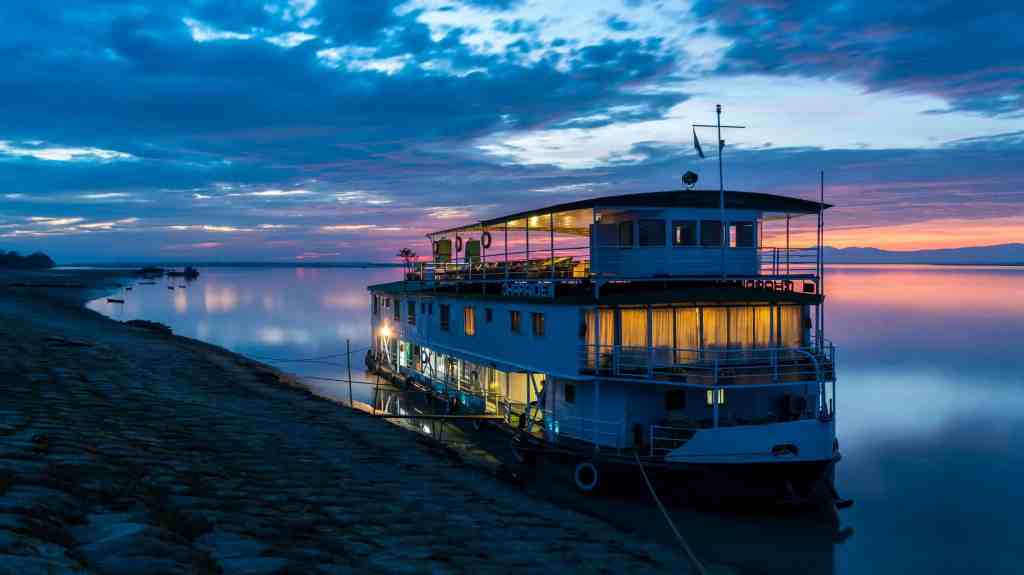 Embarking on a Brahmaputra River Cruise in Guwahati is a journey of peace and natural beauty. The mighty Brahmaputra, one of the largest rivers in the world, flows through the heart of the city. A river cruise offers a unique perspective of Guwahati's landscape, showcasing lush greenery, ancient temples and bustling waterfront activity.
Particularly mesmerizing during the golden hues of sunrise or sunset, the cruise offers a peaceful relaxation, allowing passengers to relax on deck and enjoy the serene atmosphere. The experience is not just about the boat ride; It is an opportunity to witness the cultural richness and natural grandeur that the Brahmaputra River gracefully unfolds along its course.
7. Srimanta Sankardev Kalakshetra
Address:- Panjabari Rd, Batahguli, Guwahati, Assam 781037
Timings:- 10 am–7 pm
Phone:- 0361 233 2665
Google Review:- Click Here
Srimanta Sankardev Kalakshetra in Guwahati is a cultural complex that stands as a living tribute to Assamese art, culture and heritage. Named after the revered saint-scholar Srimanta Sankardeva, Kalakshetra showcases various aspects of the rich cultural tapestry of Assam.
Visitors can explore traditional dance forms, music and art exhibitions, providing comprehensive information about the cultural heritage of the state. The complex includes a museum, an open-air amphitheater and replicas of traditional Assamese houses. The serene atmosphere and emphasis on preservation and promotion of Assamese culture makes Srimanta Sankardeva Kalakshetra an important cultural center in Guwahati.
8. Dighalipukhuri Park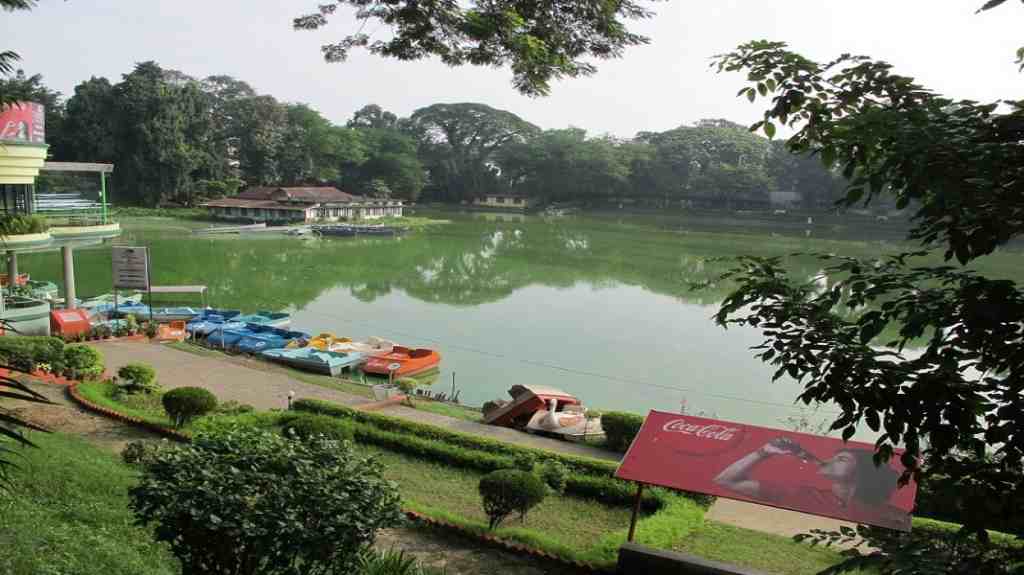 Address:- Dighalipukhuri, Guwahati, Assam 781001
Timings:- 5:30–8 am, 9 am–8 pm
Phone:- 0361 254 7102
Google Review:- Click Here
Dighlipukhuri Park in Guwahati is a serene and picturesque place located in the heart of the city. The park is centered around the historic Dighlipukhuri Tank, which adds to its attraction. Visitors can enjoy a leisurely stroll along the well-maintained paths, relax on the lush lawns, or simply enjoy the tranquil ambiance near the water. Boating facilities on the tank provide an additional recreational option. Surrounded by trees and lined with benches, Dighlipukhuri Park offers a peaceful escape, making it a favorite spot for locals and tourists looking for a calm and rejuvenating spot amidst the urban landscape of Guwahati.
9. Navagraha Temple
The Navagrah Temple in Guwahati is a unique and sacred site dedicated to the nine celestial bodies of Hindu astrology. Situated on the Chitrachal hill, this temple complex consists of nine separate temples, each representing a specific planet. Pilgrims and visitors often come here to seek blessings and perform rituals associated with various planetary deities. This temple not only holds religious importance but also provides a panoramic view of Guwahati and the Brahmaputra river. The Navagraha Temple provides a spiritual haven for those who want to connect with Hindu astrology and experience the peace of its hill location.
10. Saraighat Bridge
The Saraighat Bridge in Guwahati is an important landmark that spans the majestic Brahmaputra river, connecting the northern and southern banks of the city. Inaugurated in 1962, the bridge not only serves as an important transport link but also offers breathtaking views of the river and surrounding landscape. Its strategic location makes it a popular spot, especially during the evening when the sun casts its warm glow on the water. Whether you are crossing the bridge or admiring it from a distance, Saraighat Bridge stands as an iconic structure that symbolizes connectivity and provides a picturesque setting for locals and visitors.
11. Pobitora Wildlife Sanctuary
Address:- Dighalipukhuri, Guwahati, Assam 78100163J4+827, Morigaon, Assam 782105
Timings:- 6:30 am–12 pm, 1–3:30 pm
Phone:- 0361 254 7102
Google Review:- Click Here
Pobitora Wildlife Sanctuary located near Guwahati is a paradise for wildlife lovers. Home to a high density of the Indian one-horned rhinoceros, Pobitora is an important conservation area. The sanctuary, with its grasslands and wetlands, provides a rich habitat for various species of flora and fauna. Apart from the one-horned rhinoceros, tourists can spot wild boar, Asian buffalo and innumerable bird species. Safari tours offer a close encounter with the rich biodiversity, making Pobitora Wildlife Sanctuary a must-visit spot for those wishing to have a glimpse of the natural wonders of Assam.
12. Guwahati War Cemetery
Address:- 5QQ7+6M6, Nabagraha Road Silpukhuri, Silphukuri, Navagraha Hills, Guwahati, Assam 781003
Timings:- 9 am–4 pm
Phone:- 0162 863 4221
Google Review:- Click Here
The Guwahati War Cemetery is a memorial dedicated to the soldiers who sacrificed their lives during World War II. Located in the heart of Guwahati, this cemetery is a poignant reminder of the sacrifices made by soldiers during the war. The well-maintained grounds contain rows of white gravestones, each representing a life lost in the line of duty. Surrounded by serene greenery, the cemetery provides a peaceful environment for contemplation and remembrance. It stands as a tribute to the bravery and valor of those who served, providing a place for visitors to pay their respects and honor the memory of the fallen heroes.
Best Time to Visit in Guwahati
The best time to visit Guwahati is during the winter months, from October to March.
How to Reach Guwahati
By Air
The popular Gopinath Bordoloi International Airport (GAU) in Guwahati is the primary airport serving the region. It has regular flights connecting to major cities across India. Taxis and other transportation options are available from the airport to reach different parts of the city.
By Train
Guwahati Junction is a major railway station, well connected to major cities of India. Regular trains connect Guwahati to places like Delhi, Mumbai, Kolkata etc. The station is located in the heart of the city, making it convenient for passengers to reach their desired destination.
By Road
Guwahati has a well-developed road network, and National Highway 27 connects it to other major cities in the region. Buses and private vehicles ply on these roads, making road travel a viable option. Additionally, there are also interstate bus services that connect Guwahati to neighboring states.
Read Also:- 10 Best Places to visit in Chandigarh for Couples