It's your date today? This article will help you with makeup for first date.
The first dates are like the first impression and you need to look perfect. You have to keep it casual and yet look fabulous. These 10 steps will help you look beautiful and perfect.
Keeping it casual simply means not overdoing it. Guys tend to like subtle makeup look.
Before we go into detail about those 10 steps of makeup for first date consider the time, venue, and other factors so that you will have an idea about how you want to dress and keep your makeup look.
10 simple steps for makeup for first date
 Prepare your skin
The first step towards makeup for first date is preparing your skin. Take shower, feel fresh and prep your skin with some moisturizer so that when you can have that moist soft skin. You can go for serum if you want your makeup to set perfectly, also can apply primer before you to the next step.
All these products are used for prepping your skin before putting any makeup so that it won't have direct contact with your skin and keep your skin healthy. Select all these products according to your skin type if you have oily, dry, acne-prone, or sensitive skin go for such products that will suit your skin type.
Apply foundation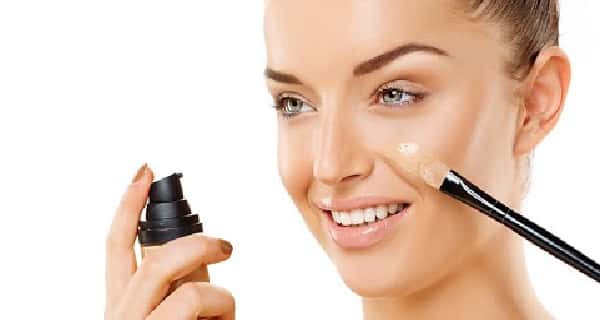 After preparing your skin now it's time for foundation. Foundation is used to make your face complexion look even and for that, you have to select the perfect shade. This is difficult because there are tones of shades and to select one which will go with your skin is hard to find.
You can use a liquid or cream foundation. You can also mix two similar kinds of shades and apply that will go with your skin tone. When you have your perfect shade apply it on your face and blend it with a beauty blender or you can use a brush whichever you are comfortable with. The foundation will help your face redness to go away and make your skin look even.
Apply concealer
After you are done with the foundation apply some concealer. Now concealer is like a color corrector which helps you in covering the dark circles, age spots and large pores. It is as same as a foundation but thicker and used to hide such marks and cover the part which looks uneven.
Now the process is as same as the foundation you have to go with perfect shade if not then your skin will look patchy. Apply the concealer and then after blending it set it with some translucent powder or compact powder whichever you use.
Contour your face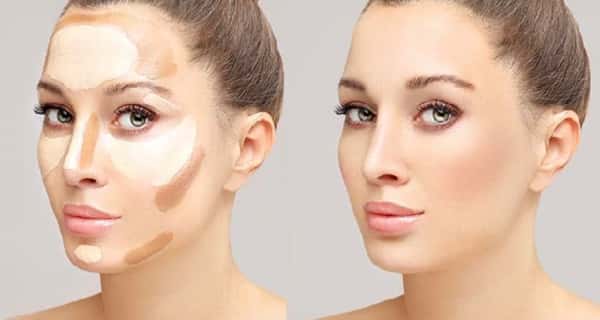 Now, this step in your makeup for first date is important as it gives a properly sculpted look to your face and defines your features beautifully. To contour your face you can use the contouring palette or the contour stick. Again we have shades in this to bring that sculpted look go for a darker shade but you should also compare it with your normal skin tone.
Now while contouring focus on your cheeks, nose and jawline. When you are done with contouring you can see the difference instantly as it defines your face. You can also add some highlighter for that shinny glowy look. Nowadays highlighters are obsessions and they make you look attractive.
Do your eyebrows
Now before you begin with your eyebrow, a day before you can go to a professional and get your eyebrows done. After that, you can use an eyebrow pencil to fill your eyebrows. There is a proper kit for doing your eyebrow, it is one of the features which defines women.  If you already have bushy eyebrows you can simply comb them and leave them as it is.
But in case you are doing your eyebrows go for such eyebrow pencil which matches your hair because it should not look different.
Apply some eyeshadow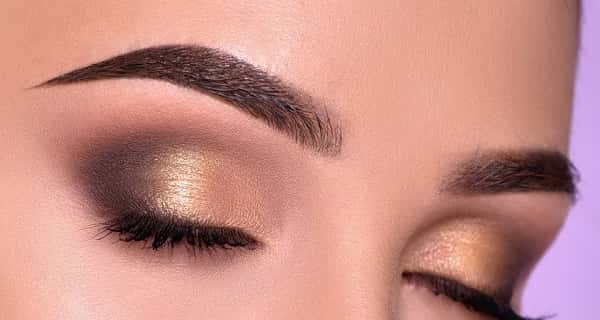 Now, this is the part where the real makeup for first date begins. If it's day date or date night accordingly your makeup look and attire will change. It also depends upon the venue where you are going.
For a day date, you can always keep it a casual and bright look which will bring out your best. Go for bright color but not sparkly keep it subtle, for this, you can go for one light color on your eyelids and another little darker shade on the edge, and on your inner corner you can always put some highlighter. You can also put some eyeshadow on lower lashes. This subtle look is pleasing.
For date night the go-to look is smokey eyes which will make you look attractive. You can put some highlighter on your brow bone which will make your look complete and flaunty.
Apply eyeliner
Now, this is optional but when you are done with your eyeshadow you can define it more by applying eyeliner. There are different colors of eyeliner available but the makeup for first date should not be blingy and colorful keep it simple and therefore go for black eyeliner. It's not a compulsion you can always go for another color but black goes with everything.
You can simply put straight stroke or go for a wing liner whichever you are comfortable with but do not mess it up by overdoing it.
Do your eyelashes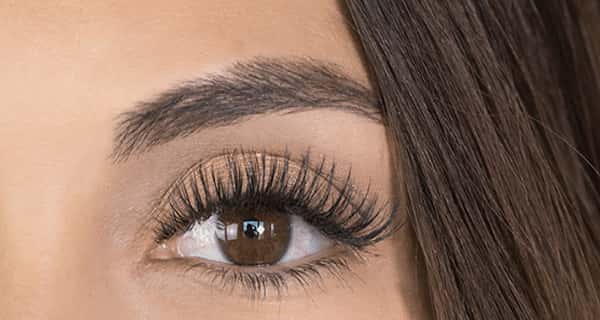 Once you are done with your eye makeup the last thing is your lashes. Never do your lashes before your eyeshadow or liner, keep it last. Use an eyelash curler to curl your lashes. Now it's on you whether you want to go for fake lashes or not. If you already have long lashes there is no need for fake ones.
Along with mascara, a wax comes which helps the lashes to become thicker and longer. After applying the wax with the brush apply mascara on it and they will look long and curled. If you are going with fake lashes first put the fake lashes on then apply the mascara so that the fake one blends with the real ones.
You can apply more than one 0r two coats to keep it pop and more defining.
Apply some blush
To add a little bit of color on your face you can add blush. Pink or red color blush looks cute. Put some blush on your cheeks and slide it over to your cheekbones. This will give you a natural and cute look altogether. Don't overdo your blush you will end up looking like a joker.
Apply lipstick
As this article is for makeup for first date and on your first date you should keep your makeup casual. So never go for dark or bold shade. Instead, you can pick a light shade for example pink which will make you look gorgeous and will keep it casual at the same time. If you don't want your lips painted in pink you can always go for nude shades which are subtle and make you look pretty.
When your whole makeup for first date is done you can end it with setting spray so that it settles the makeup and stays for a longer time.
There is another article on 15 steps for your first date. It not only includes makeup but also other factors that are important for the first date.
Mistakes to avoid
It's your first date and it is obvious to worry about how you look. But don't stress over, this article will help you with the best makeup for first date and also help you to avoid the mistakes.
There are so many options and it's confusing which look to choose. Going overboard or keeping it subtle. Apart from this makeup look, there are other questions that can bother you. What if the makeup doesn't stay for a long time, what if the lashes come off or any other makeup malfunction takes place.
This is quite embarrassing and it's natural to worry about such things. But the important part is loving the way you look regardless of what kind of makeup you have done because at the end of the day you have to impress yourself. Wear such makeup which will make you feel comfortable and confident. This does not mean you will ignore the mistakes. By correcting those mistakes you will feel a little more confident and worry less.
Enjoy the look
Enjoying the look doesn't mean going overboard. As we mentioned before makeup for first date means the first impression. Now you clearly don't want to portray yourself as something you are not because that will lead you or the guy in the wrong direction.
Be true to yourself and do your makeup which will define you as the person. If you are comfortable with your makeup for first date you will feel confident and the date will go smoothly. So go for such makeup look which will show your true personality and also have fun. Find the balance and go for the look which will help you go through your date and enjoy your date.
Stick to the basics
Not trying to contradict: having fun is important but first dates can be awkward and weird at the start so try and keep it basic. Experimenting is not wrong but you don't want to end up looking like a monkey by using some new product for the first time.
It's safe that you use your basic regular products which you know how turns out. Now this will not only help you in not having double thoughts but also will make you feel confident because you are familiar with such a look. Now if you are trying new foundation or perfume at first you will love it but as the time passes you might notice that your face is becoming patchy. This is because the shade or the pigmentation of the foundation is not going well with your skin or the perfume which you are wearing is smells alluring but it's not you.
To avoid such a situation it's better that you stick to your basics.
Don't keep it raw or fresh
Don't keep it raw simply means don't do your facial or any other prep at the end. These things take time to settle. For example, when you do your facial your pimples or other pores tend to become red and plums up. It takes time to settle it down and then shows the glowy, soft and bright skin. So you can do your facial or plucking of blackheads or whiteheads 3-4 days before your date. So when the date day arrives you will have clean and soft skin.
But in some areas, you have to do things at the end for example waxing, bleaching, or upper lips. These things tend to grow fast and therefore keep these things at the end.
Never go for glossy lips
You might think that glossy lips make you look attractive and will help you to impress the guy. But you are wrong. Glossy lips sure do look sexy and attractive but they are kind of a turn-off to guys when they think about kissing you.
It's your first date and if you both get comfortable and the guy is thinking about kissing you and watches your glossy lips he will shut that idea right there and then. So it's better to go for a light or nude shade lipstick rather than a glossy one. As the meetings increase and you both get comfortable then glossy lips will not be an issue, but for the first day keep it casual.
Concluding,
All the 10 best steps for makeup for first date will help you all feel confident throughout your date and will also keep your skin healthy because using so many products randomly can damage your face but if you follow these steps it won't harm your skin
If you prep your skin properly and use other products according to your skin type it will keep your skin nourished. Also keeping it casual yet that pretty look will make you feel good and you will enjoy your date. Apart from the do's we also tried to mention some don'ts which will help you all in avoiding the embarrassment and also will make you feel more comfortable about yourself and the makeup that you are wearing.
Last but not least carry yourself confidently, make your first impression the best one.