Today, we are going to see how important it is for us to maintain our hair healthily. Good appearance -beautiful, and thick hair. For a smart and good look, it is essential to develop good habits of hair care. Many sources are available for us to get the adequate right type of information about the best hair care tips.
Hair is a tool to give you a smart and attractive appearance. Hair acts as a centre of attraction and beauty. To improve your personality, you have to give special attention to a proper hairstyle so that you will look decent and neat.
The following tips will help you to stick on to a proper hairstyle to be admired and appreciated by everyone once you step out of your house.
Here are the top 15 Best Hair Care Tips to maintain your hair diligently.
"Invest in your hair. It is your permanent crown on your head".
 Best Tips to maintain  your hair
1)Know the quality of your hair and buy a suitable shampoo and conditioner
You must know the type of your hair(thin hair, thick hair, wavy or curly hair).

Buy a shampoo and a conditioner according to the type of your hair.

If you have greasy hair, learn to be gentle and use your conditioner and shampoo in a  way to remove the grease.
2)

Warm Water Treatment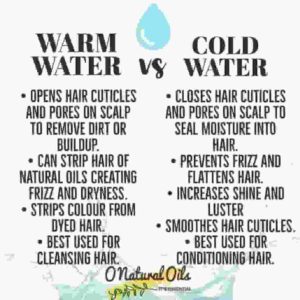 To give a soft water treatment, first wash your hair with warm water.

Avoid the feeling of dry and dull maintenance by not using hot water.

Hot water removes all the oils that are essential for the growth of your hair.

Don't overwash your hair.

Your hair becomes stronger by using a  shampoo and a conditioner.
Note: People with greasy hair should undergo cold water treatment.
3)Proper conditioning of hair
It is necessary for applying the conditioner after shampooing.

Conditioning-Repair breakage of hair and restores oils that are secreted naturally from your hair.

People with oily hair can use hair conditioners.

Apply conditioner from the mid-length to ends of your hair(strands).

Avoid the application of conditioner near the root of your hair.

Use a good comb to apply the conditioner on your hair.

Use moisturizing shampoo and conditioner

Examples: Amway Satinique Shampoo, Amway Satinique conditioner, etc.
Natural ways of conditioning your hair: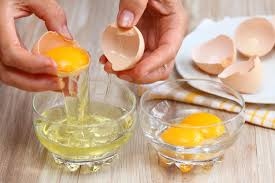 Egg conditioner-Egg plays a major role in conditioning your hair.

If u have dry hair, use the white layer of egg.

An egg is loaded with minerals and proteins that will enrich your hair.

Collect half cup of the egg mixture.

Apply the mixture to pure wet hair.

Soak it for 20 minutes and rinse it twice with water.
4)Give a thorough rinsing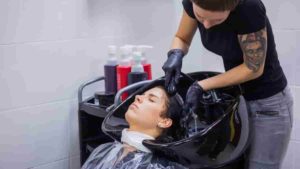 Before you are ready to get out of the shower, do another rinsing to remove all the remainings of shampoo and conditioner products you are using at present.
5)Don't dry your hair by using a towel
Normally after going for a hair wash, we use a towel to remove extra water.

It is not the best method of drying your hair.

Instead of drying your hair with a towel, squeeze the extra water and dry your hair with an old cotton T-shirt which is more soft and gentle than a towel.
6)Safeguard your hair before heat styling
You must be very alert in styling your hair by heating.

Before heat styling, you must apply a protective product first.

Eg: Spritz- a heat protectant.

Avoid using electric dryers which causes hair breakage.

If you have decided to use an electric dryer to dry your hair, keep the temperature at a low level.
7)Use a Brush for blow-drying your hair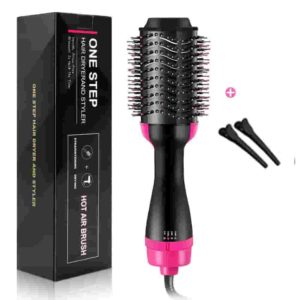 Use a round brush to blow dry your hair.

Brush your hair in the same direction as you are blow-drying.

Using a brush gives a smooth and straight hair.
Note:
Do not use a brush on wet hair.

Wet hair is weak and leads to hair breakage.
8)Straighten and curl up the dry hair
When your strands are little damp, don't use a hair straightener or curling iron.

It is worthful for you to be a little patient and wait for your hair to become completely dry by using a blow dryer.

Use a blow dryer or hot roller(artificial mode of drying technology).
Also Read: Skincare for humid climate
9)Give a break from ponytails and use hairsprays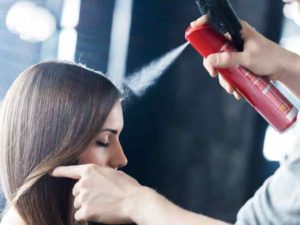 Pulling your hair up creates unnecessary strains and stresses.

After drying your hair, put lower and looser ponytails with soft hair bands or hair clips that will not be harmful to you.

To give a  proper look and appear good, try to use hairsprays.

It will give a finishing touch.

For an everlasting hairstyle, use strong weather control hair spray.

L'oreal Paris Advanced Hairstyle is an example of a weather control hairspray.
10)Care your scalp by sleeping on a silk pillowcase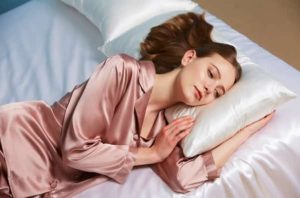 Your scalp is also considered to be a part of your skin.

Like the rest of your skin, your scalp also requires regular exfoliating.

A regular build-up of dead skin cells, oil build-up, and leftover product make your scalp overloaded and unhealthy.

For a good scrubbing of the scalp, use ever-fresh exfoliating scrubs once or twice a month.

Don't use cotton pillowcases which rudely hurts your hair strands.

Use a silk or satin pillowcase to enjoy a beautiful, peaceful sleep as well as it is good for your hair growth too.
11)Trim hair to prevent split ends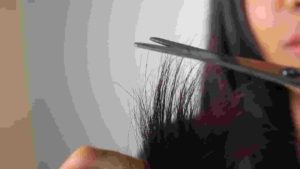 Split ends do not allow your hair to grow properly.

It causes hair breakage.

To avoid dry split ends, use a hair trimmer regularly.

You can also go for a light hair cut to avoid split ends.

Have an appointment with your beautician/hairdresser to avoid the problem of split ends.
12)Hydrate your hair strands
To keep your hair healthy, use a hair cream.

Hair cream creates healthy hair strands.

To make your hair look healthy, strong, beautiful, and attractive see that you will always hydrate your hair strands.
Note: People with varied types of hair can use hair creams.
13)Good diet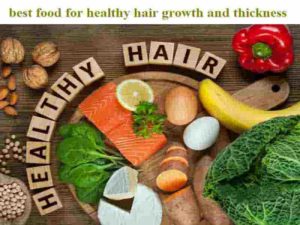 Drink a lot of water and consume a balanced healthy diet of fruits and vegetables.

The best effective home treatment for hair care is a healthy diet.

So what you eat and how your body is fed is a very important fact to be noted for hair maintenance.
14)Cleanliness plays a major role in maintaining healthy hair.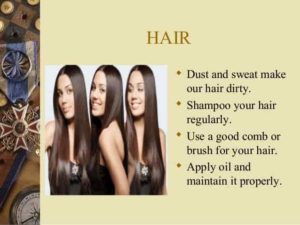 Many people are suffering from hair fall.

Hair fall is caused due to scratchy scalp and dandruff.

So, learn to be spic and span to fulfil your desire of maintaining beautiful, healthy hair.
15)Protect your hair strands from ultraviolet rays
Are you aware of another source that causes hair damage?
It is nothing but the emission of ultraviolet rays of the sun.
Generally, doctors and physicians remark that it is necessary to wear a hat or cap when you are leaving your house and going out for a longer period.

Hats or caps- Best perfect tools to protect your hair from the sun.
NATURAL HEALTHY TIPS FOR YOUR HAIR
Rice water is very good for the growth of healthy hair.

Use curry leaves, herbal oil, herbal shampoo, and herbal serum instead of using shampoo and conditioners that contain chemicals.

Use soapnut, green gram, shoe flower, shoe flower leaves, fenugreek, vetiver grass root, and avaram flower to make a soap nut powder to avoid hair loss.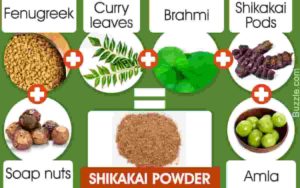 Soapnut powder, ( a traditional method) to grow black, thick, and healthy hair for both men and women.
Natural hair gives you the freedom to express your smart attitude.
I hope this article about Best Hair Care Tips was useful.
Thank You.
Stay Home !! Protect Your Hair!! Stay Healthy!!