Well, who doesn't love playing with their long, short, wavy, curly, silky, straight, kinky, and beautiful hair? You are on the correct page well I am going to tell you about the Top 10 Best Hairstyles for the woman which you can try in your quarantine days.
This quarantine a little more care, a little more love, and little more attention are enough for you to stand tall with great confidence.
Best Hairstyles for Woman-Wear your crown with pride.!!
Generally, all human beings admire their hair a lot and especially women love their hair more than anything in the world. Hair is our crowning glory. It's a fact that we look good when we take a head bath. Nowadays we can find many styling tools to make our hair look great. There's no doubt that we have thousands of styling tools available in the market we can use for hair.
Hairstyle varies from long hair to short hair.
Generally, long hair is admired the most since ancient days during the times of "Ramayan  Mahabharat" whereas Shorthair has now become a trend among youths. Most of the college-going girls would love to have short hair cause it's easy to maintain and manage short hair and you can set your hair free whenever you want to, with minimal styling tools whereas long hair is more prone to damage and breakage. In our day to day life, we need to pay attention to our hair, skin, diet, and our mental health as well.
The top ten hairstyles which I recommend to all the ladies out there are listed below:
Simple Bun
Braids
Simple Pony Tail
French Braid
Dutch
Waterfall
Fishtail
Braided Ponytail
Three Strand
Pigtails
These are the easiest hairstyle you can go with.
Simple Bun
My all-time favorite hairstyle is simple bun which is the easiest of all and you can easily put it with a clip or clutch or simple hairband. If you feel that your long hair is irritating you and you want to avoid that then you can choose to put a bun which is the most comfortable among all but putting bun for a long time can degrade your hair growth because the tension can cause strands to break where they are being held by our elastic or pull out at the root.
Braids
Braids are the most comfortable to go with. Braid looks great when you are in a traditional outfit with a small bindi(a bindi is a colored dot worn on the center of the forehead) and you ready to rock the dance floor. Braiding our hair while sleeping can enhance the growth of your hair with a more stable structure.
Simple Pony Tail
The simple ponytail is still trending in our daily lives no matter whether our hair is short or long. Comb your hair and put it in a simple ponytail with little hair serum and you are good to go.
It looks great when your hair is well trimmed with no split ends. And it looks more attractive when the volume of hair is more. You are lucky if your hair is straight, silky, soft, and smooth ponytail looks flawless.
The best hairstyle for a woman is her confidence when she carries her simple ponytail gracefully.
French Braid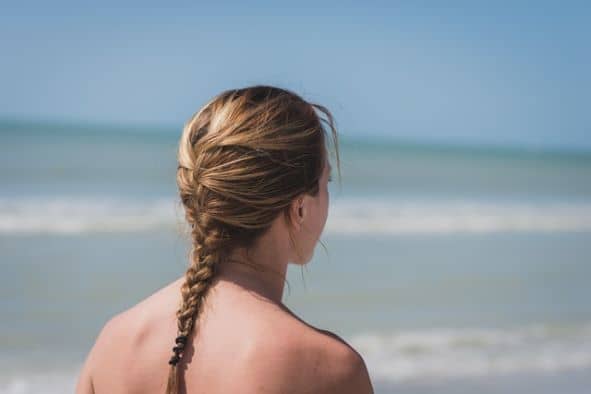 Everybody knows about the french kiss but french braid is trendy and girls nowadays love to put french braids particularly when they are wearing a saree or some indo-western outfit. A french braid is also called as French plait or Oklahoma braid. It is easy to learn. The three-strand gathered plait includes three sections of hair that are braided together from the crown of the head to the nape of the neck.
Dutch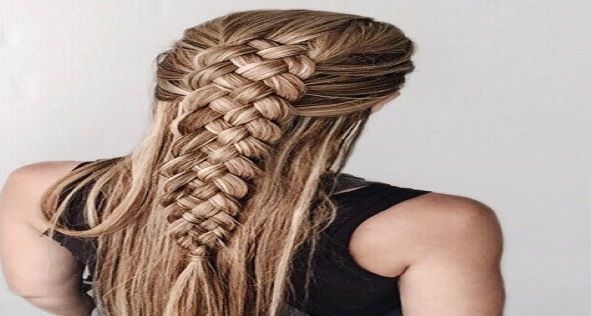 Dutch and french braids are quite similar but not the same. They look identical though. The dutch braid is a plait that's created by adding in strands while you braid. Instead of crossing new hair over, you 'll be passing it from side to side underneath. It may sound complicated but once you watch a tutorial and concentrate on that you 'll learn more faster.
Waterfall
A waterfall braid is nothing but a half french braid in which part of the hair is braided and the rest is left to cascade down which looks like a waterfall. girls with short hair can try this hairstyle as it is more suitable for short hair. You can go to a party or date with this hairstyle and I am sure you will be complemented by many.
Fishtail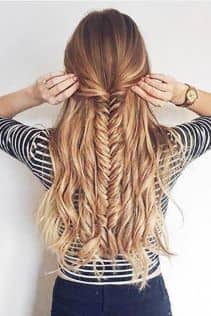 A fishtail is a type of hairstyle that involves weaving strands of hair together to create an intricate appearance. Fishtail braids have two main strands alternately pinching small bits of hair from the outside of the two strands alternating. If you love wearing long dresses with cute earrings then you should try out this hairstyle and I am sure you won't be disappointed.
Braided Ponytail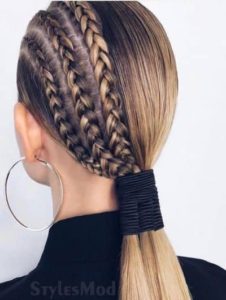 This is for you if you are bored with the high or low ponytail then you should try out this new hairstyle braided ponytail. Braid can upgrade this basic hairstyle and make it unique. It looks more classy compared to the usual ponytail and it will highlight your appearance better.
Three Strand
The three-strand hairstyle is for If you are bored with all the hairstyles and want to give some rest to your scalp then you should go with three-strand hairstyles. style your hair the way you want. Braid it lose or you can braid it tightly. I prefer loose braid cause it helps my scalp to relax. You can even try four-strand or five strands but make sure that you are comfortable with it.
Pigtails
Pigtails are also known as twin-tail. These are tightly braided or plaited by doing the middle partition of the hair on both sides. But you can upgrade your pigtail look by braiding them tightly and allow them to hang and much more.
The best hairstyles for a woman is the one in which she feels the most comfortable.
The only way to have " Best Hairstyles for a Woman" is to do as many trials as we want.
Invest in your hair, cause life isn't perfect but your hair can be.
Thank you for spending your time reading this article I hope that you might have enjoyed it. And try out all those hairstyles and admire your hair, it is our crown which we never take off. Give attention to your hair they deserve some love from us.