Chomu Palace, located in Rajasthan, is a splendid heritage hotel that reflects the grandeur of Rajasthan's regal past. This historical palace, built in the 18th century, exudes architectural elegance and showcases the opulence of Rajputana. It offers guests a chance to experience royal living with its ornate interiors, courtyards, and luxurious amenities.
The palace is a living testament to Rajasthan's rich culture and provides an enchanting backdrop for visitors looking to immerse themselves in the grandeur of a bygone era. Chomu Palace is a destination where history, architecture, and regal charm come together to create an unforgettable experience.
9 Best Place to Visit near Chomu Palace
Samode Palace

Samode Bagh

Chomu

Bala Quila (Alwar Fort)

Jai Mahal Palace, Jaipur

Narayani Mata Temple

Nahargarh Fort

Hawa Mahal

Jal Mahal
1. Samode Palace
Samode Palace, a splendid heritage hotel located near Jaipur in Rajasthan, India, is a treasure trove of history and grandeur. Located around 40 kilometers from Chomu Palace, Samode Palace is renowned for its Indo-Saracenic architecture, frescoes, and luxurious ambiance. This 19th-century palace showcases the opulence of Rajput and Mughal architecture.
With its intricately decorated interiors, charming courtyards, and lush gardens, the palace offers a glimpse into the regal past of Rajasthan. Guests can experience the royal lifestyle with a stay in beautifully adorned rooms and enjoy the on-site amenities, including a sparkling swimming pool and fine dining. Samode Palace is not only a luxurious retreat but also an embodiment of India's rich cultural heritage.
2. Samode Bagh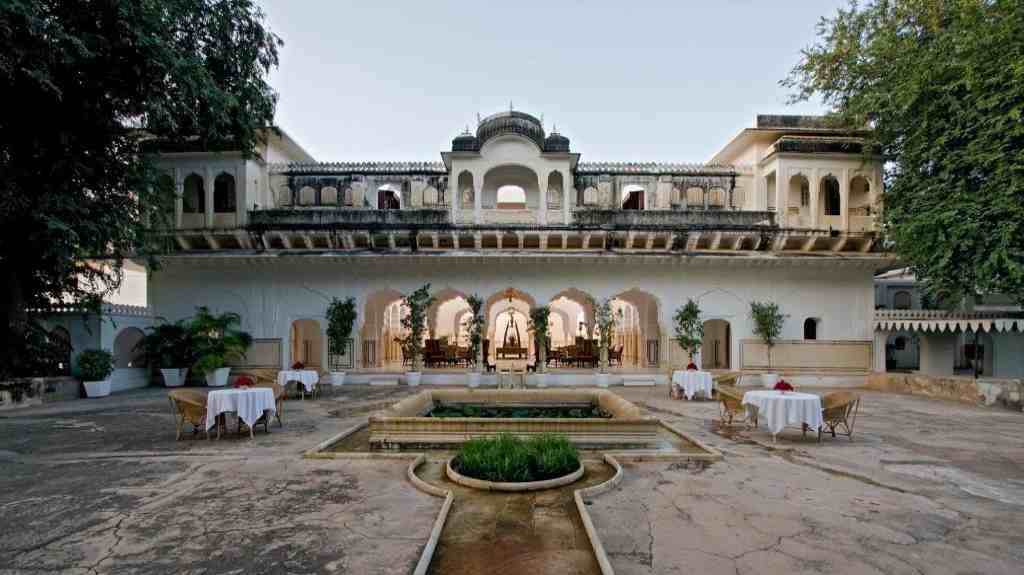 Samode Bagh, located in the serene outskirts of Jaipur, Rajasthan, is a picturesque garden paradise that transports visitors to a bygone era. This meticulously landscaped garden is a delightful oasis filled with fragrant flowers, shady trees, and sparkling fountains. The Bagh, or garden, exudes a sense of tranquility and luxury that invites travelers to relax and enjoy nature's beauty.
As part of the Samode Palace heritage, this garden offers a unique experience, combining regal charm with a peaceful escape from the bustle of city life. It's an ideal spot for leisurely strolls, picnics, or simply unwinding amidst the lush surroundings.
3. Chomu
Chomu, a charming town in the heart of Rajasthan, is a hidden gem waiting to be explored. This historic town is a testament to the region's rich cultural heritage, boasting splendid havelis, ancient temples, and intricate architecture that reflects the grandeur of a bygone era.
Chomu offers travelers a glimpse into Rajasthan's royal past, with its regal palaces and quaint streets lined with bustling markets. It's a place where traditional craftsmanship thrives, and you can witness artisans at work creating beautiful handicrafts. Chomu's warm and welcoming atmosphere makes it an enchanting destination for those seeking an authentic Rajasthani experience.
4. Bala Quila (Alwar Fort)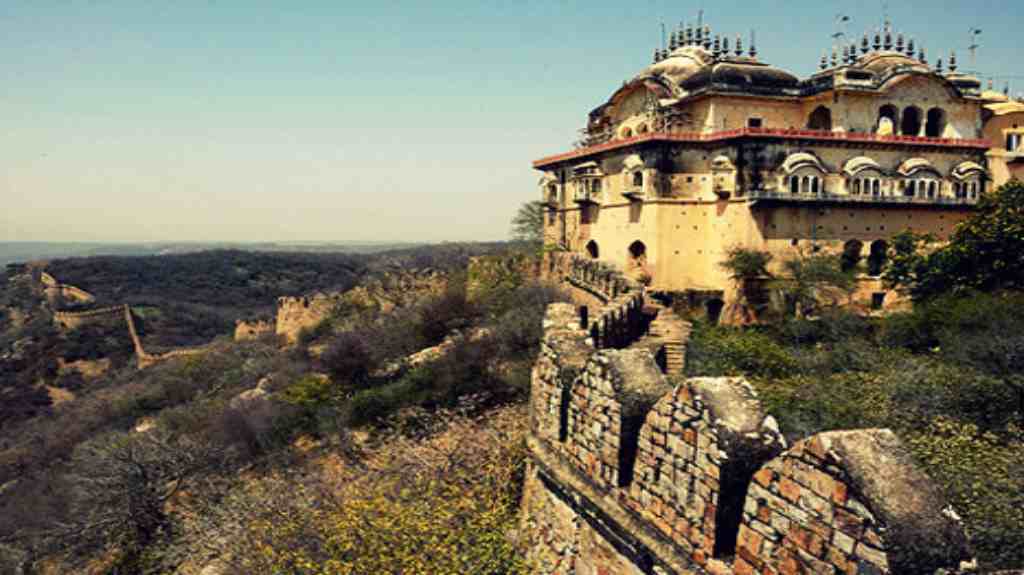 Bala Quila (Alwar Fort) Approximately 90 kilometers from Chomu, Alwar Fort is a majestic hill fort in Alwar. Bala Quila, also known as Alwar Fort, stands as a formidable sentinel in the city of Alwar, Rajasthan. This ancient fort is perched atop a steep hill and offers a captivating blend of history and architectural splendor.
With its massive walls and intricate design, the fort provides a glimpse into the region's rich heritage. From the ramparts, you can marvel at panoramic views of Alwar city and the surrounding landscapes. Bala Quila serves as a testament to the valor and grandeur of the past, making it a must-visit destination for history enthusiasts and travelers seeking a taste of Rajasthan's regal history.
5. Jai Mahal Palace, Jaipur
Jai Mahal Palace Located about 30 kilometers from Chomu, this royal palace in Jaipur offers a glimpse into the grandeur of Rajasthan's royalty. Jai Mahal Palace in Jaipur is a regal masterpiece that captures the essence of Rajasthan's royal heritage. This enchanting palace, surrounded by lush gardens, offers a glimpse into the opulent lifestyle of the maharajas.
With its exquisite architecture, intricate décor, and luxurious accommodations, Jai Mahal Palace is a haven of elegance and charm. It's not just a hotel; it's a living museum of history and grandeur. Whether you're a history buff or someone seeking a taste of royalty, a visit to Jai Mahal Palace promises an unforgettable experience in the heart of the Pink City.
6. Narayani Mata Temple
Narayani Mata Temple in Jaipur is a spiritual gem nestled in the Aravalli hills. Narayani Mata Temple is located in the town of Alwar, approximately 90 kilometers from Chomu. This serene and sacred place of worship is dedicated to the Hindu goddess Narayani. The temple's stunning architecture and scenic location make it a peaceful retreat from the bustling city.
Visitors are not only drawn to its religious significance but also to the breathtaking panoramic views it offers. Whether you're seeking spiritual solace or just a quiet escape, a visit to Narayani Mata Temple allows you to connect with divinity and nature in perfect harmony.
7. Nahargarh Fort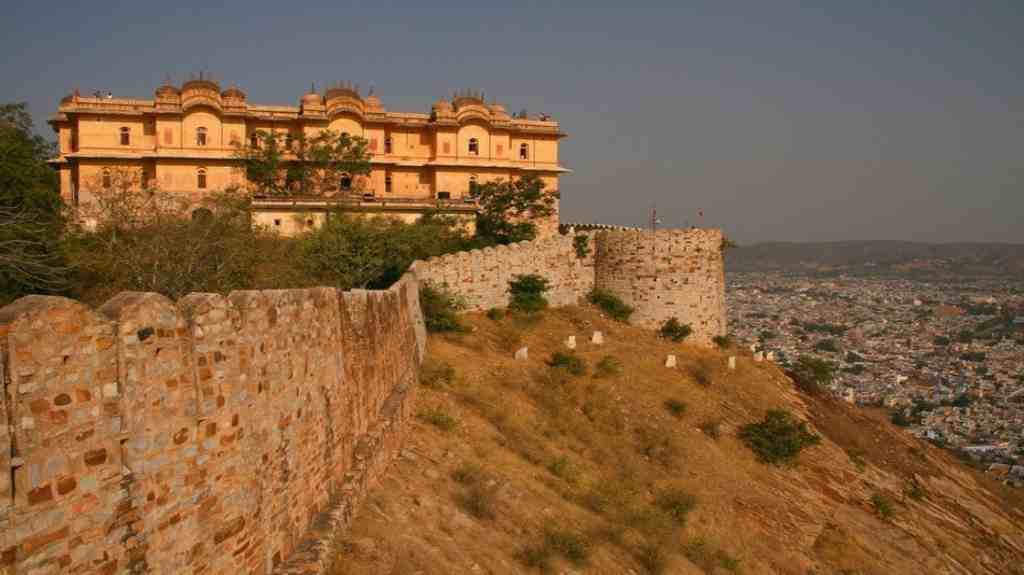 Nahargarh Fort, perched atop the Aravalli hills, is a majestic historical site in Jaipur, Rajasthan. Built in 1734 by Maharaja Sawai Jai Singh II, this fort offers not only a glimpse into the past but also breathtaking panoramic views of the Pink City.
The fort's impressive architecture, characterized by its robust walls and intricate decorations, beckons history enthusiasts and casual tourists alike. Whether you're exploring the intriguing step wells, enjoying the scenic drive up the hills, or simply savoring the sweeping vistas, Nahargarh Fort is a must-visit destination that seamlessly blends history and natural beauty.
8. Hawa Mahal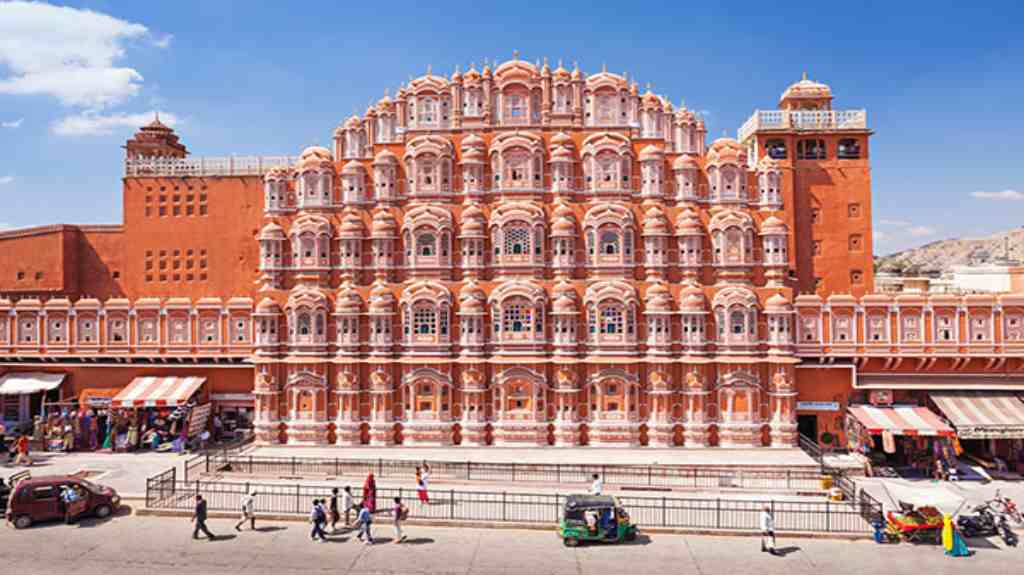 Hawa Mahal, also known as the "Palace of Winds," is a remarkable architectural gem in the heart of Jaipur, Rajasthan. Constructed in 1799 by Maharaja Sawai Pratap Singh, this unique five-story palace is a testament to the ingenuity of Rajput architecture. Its most distinctive feature is the intricately designed façade with 953 latticed windows, resembling honeycombs, which allowed royal ladies to observe street festivals and daily life without being seen.
The palace's name, "Hawa Mahal," translates to "Palace of Breezes," and it was cleverly designed to capture and circulate cool air throughout the building, making it an oasis of comfort during Rajasthan's scorching summers. This captivating structure is a must-visit, offering a glimpse into the opulent past of Jaipur.
9. Jal Mahal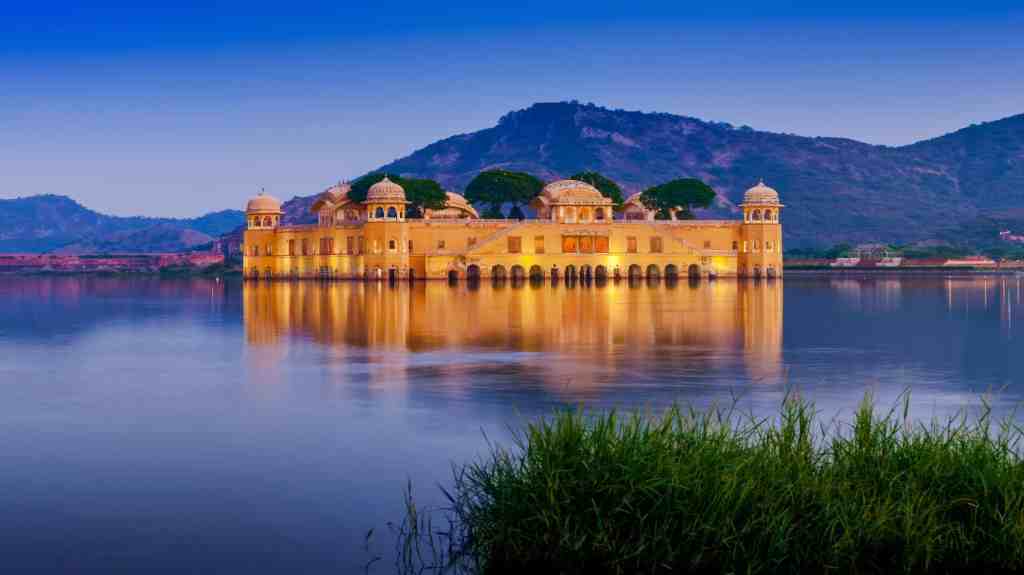 Jal Mahal, which translates to "Water Palace", is a stunning architectural marvel located in the middle of Man Sagar Lake in Jaipur, India. This five-storey palace appears to be floating on the surface of the water, creating a breathtaking and surreal sight. Built by Maharaja Madho Singh I in the 18th century, the palace was primarily used for royal duck hunting parties and as a cool summer refuge.
Its distinctive red sandstone architecture with delicate, intricate designs reflects beautifully in the clear waters of the lake. Although the castle is not usually open to the public, its natural beauty and views make it a popular spot for tourists and photographers. It is a tranquil oasis amidst the hustle and bustle of the Pink City.
Best Time to Visit Chomu Palace
The best time to visit Chomu Palace is during the winter months, from October to March.
How to Reach Chomu Palace
By Air
The nearest airport to Chomu is Jaipur International Airport, which is approximately 62 kilometers away. From the airport, you can hire a taxi or take a bus to reach Chomu.
By Train
Chomu has its own railway station, Chomu Junction. It is well-connected to major cities in Rajasthan and India. You can take a train to Chomu Junction from various railway stations across the country.
By Road
Chomu is well-connected by road. You can drive to Chomu from Jaipur, which is the nearest major city. The town is also accessible by bus, and there are regular bus services from Jaipur and other nearby towns.
Read Also:- 12 Best Candle Light Dinner in Jaipur