Hello dear friends! If you are looking for Best places to visit in Jaipur for Couples, you are at the right place. In this article, we have brought you complete details of the Top 22 Places to visit in Jaipur. From Amer Fort and Jal Mahal to Hawa Mahal and Jantar Mantar Jaipur and World Trade Park Jaipur, we've got all the details you need. Also, we will share information about Albert Hall Mueseum and more exciting best places to visit in Jaipur at Night. So, let's get to know about these amazing destinations!
What is famous in Jaipur?
Jaipur, often referred to as the "Pink City," is a vibrant and historic city located in the northwestern part of India. This city, the capital of the state of Rajasthan, is renowned for its rich cultural heritage, magnificent palaces, and bustling markets.
The nickname "Pink City" comes from the city's distinct pink-colored buildings, a tradition that dates back to 1876 when the city was painted pink to welcome the Prince of Wales. This tradition has been preserved, and the pink hue still adorns many of Jaipur's structures.
Jaipur is a place where the past and present coexist harmoniously. It's home to opulent palaces like the Hawa Mahal and the City Palace, which showcase the grandeur of the royal era. The Amer Fort, located on a hill, is a stunning example of Rajput architecture and provides breathtaking views of the city.
The city's bazaars, like Johari Bazaar and Tripolia Bazaar, offer a vibrant shopping experience with traditional textiles, jewelry, and handicrafts. Jaipur is also famous for its delectable cuisine, with dishes like dal baati churma and ghewar being local favorites.
Jaipur is not just a city; it's a kaleidoscope of colors, culture, and history. It's an enchanting destination for travelers seeking a glimpse of India's royal past and vibrant present.
22 Best Places to Visit in Jaipur
Amer Fort

Hawa Mahal

Jaigarh Fort

Jal Mahal

Garh Ganesh Temple

World Trade Park Jaipur

Chokhi Dhani Jaipur

Nahargarh Fort

Ram Niwas Garden

City Palace Jaipur

Jantar Mantar Jaipur

Birla Temple

Albert Hall Mueseum

Galtaji Temple

Gatore ki Chhatriyan

Patrika Gate

Moti Dungri Temple

Zoological Garden

Central Park Jaipur

Govind Ji Temple

Panna Meena ka Kund

Akshardham Temple, Jaipur
1. Amer Fort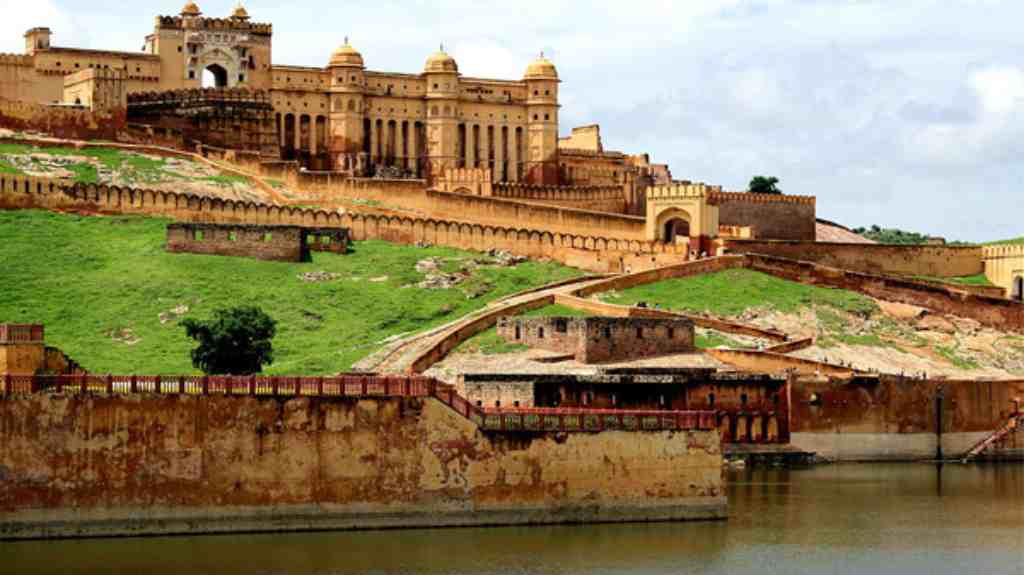 Amer Fort, located in Jaipur, is a majestic and historic fortress that embodies the rich heritage of Rajasthan. This splendid fort, perched on a hill, offers a glimpse into the grandeur of India's royal past.
The fort is renowned for its remarkable architecture, a fusion of Rajput and Mughal styles. It features ornate palaces, intricate marble work, and beautifully landscaped gardens. One of the notable attractions within the fort is the Sheesh Mahal, or "Palace of Mirrors," which dazzles visitors with its thousands of tiny, reflective glass pieces that adorn its walls and ceilings.
To reach the Amer Fort, visitors can take an elephant ride or a short uphill drive. The fort provides breathtaking views of the surrounding hills and the Maota Lake, making it a perfect spot for history enthusiasts and photography enthusiasts alike.
Amer Fort is a living testament to the opulence of Rajasthan's royal legacy and stands as a must-visit destination for those exploring Jaipur. It's a place where history and architecture come together to transport you to a bygone era of grandeur and majesty.
2. Hawa Mahal
Hawa Mahal, also known as the "Palace of Winds," is a distinctive and iconic structure located in Jaipur, India. This architectural marvel is a testament to the creativity and craftsmanship of the bygone era.
Hawa Mahal is famous for its unique honeycomb-like facade, which features 953 small windows, also known as "jharokhas." These windows were designed to allow the royal ladies to observe street festivities and daily life without being seen. The windows also serve to provide natural ventilation, making the palace cool and airy, even during the scorching Rajasthan summers.
The palace is constructed in pink and red sandstone, which is a signature of Jaipur's historic buildings. Hawa Mahal's design is a blend of Rajput and Mughal architectural styles, and its pyramidal shape adds to its distinctiveness.
Visitors can explore the interior of Hawa Mahal and ascend its narrow passageways to reach the top, where they are rewarded with panoramic views of Jaipur city.
3. Jaigarh Fort
Jaigarh Fort, situated in Jaipur, is a magnificent fortress that stands tall on the Aravalli hills. This historic structure is not only a symbol of Rajput valor but also a remarkable architectural achievement.
The fort was built in the early 18th century and is known for its impressive walls, which extend for over three kilometers. These walls make Jaigarh Fort one of the strongest defense fortifications in India. The fort also houses the world's largest cannon on wheels, named "Jaivana."
Visitors to Jaigarh Fort are treated to panoramic views of the surrounding landscape, including the beautiful Amer Fort. The fort's interior includes palaces, granaries, a well-planned water supply system, and an armory museum.
One of the most interesting features of the fort is the hidden passages that are said to connect it with the Amer Fort, creating an escape route for the royal family in times of danger.
Jaigarh Fort is not just a historical site; it's a place where you can immerse yourself in the rich history and military prowess of Rajasthan's Rajput rulers. It's a must-visit destination for history enthusiasts and those looking to explore the grandeur of Jaipur.
4. Jal Mahal
Jal Mahal, or the "Water Palace," is a picturesque and enchanting building located in the midst of the Man Sagar Lake in Jaipur. This architectural gem appears to float on the serene waters, creating a mesmerizing sight.
The palace, built in the 18th century, is a perfect blend of Mughal and Rajput architectural styles. Its most distinctive feature is the way it seems to emerge from the lake, with only the top floor visible above the waterline.
Jal Mahal was designed as a hunting lodge for the royal family, with the serene lake setting providing a peaceful retreat. The palace is adorned with intricate designs and boasts a unique blend of colors, making it an ideal backdrop for photographs.
Although visitors cannot explore the interior of Jal Mahal, the view of the palace from the banks of the lake is captivating. It's particularly stunning during the evening when the palace is illuminated, casting its reflection on the water.
Jal Mahal is not just an architectural wonder; it's a testament to the opulence and artistry of Jaipur's history. It's a place where nature and architecture unite to create a truly magical experience for all who visit.
5. Garh Ganesh Temple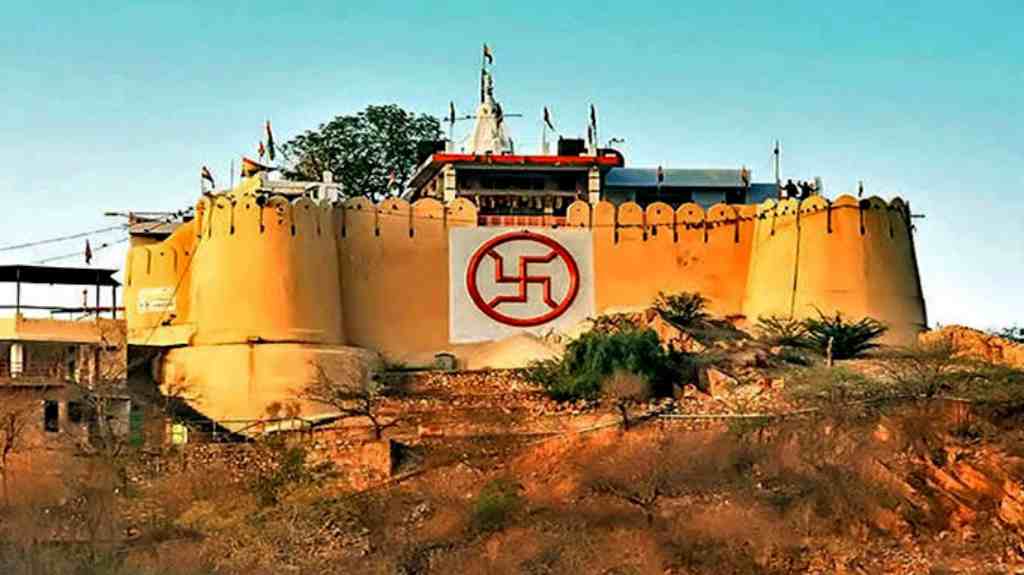 Garh Ganesh Temple in Jaipur is a revered and historic shrine dedicated to Lord Ganesh, the elephant-headed Hindu deity. This temple holds a unique place in the hearts of the city's residents and is a significant religious site.
The temple is located on the picturesque Aravalli Hills and provides breathtaking views of the surrounding landscape. To reach the temple, one has to ascend a series of steps, which adds to the spiritual experience.
What makes Garh Ganesh Temple distinctive is its association with a particular ritual. Devotees believe that visiting this temple before starting any new endeavor or journey brings good fortune. It is customary to offer "laddoos" (sweets) to Lord Ganesh as a symbol of devotion.
The temple's ambiance is serene and tranquil, making it a peaceful place for worship and reflection. It's not only a religious site but also a spot where visitors can enjoy the natural beauty of the Aravalli Hills.
Garh Ganesh Temple is more than just a place of worship; it's a cultural and spiritual landmark that showcases the deep-rooted devotion to Lord Ganesh in the heart of Jaipur. It's an inviting destination for both pilgrims and those seeking a serene escape.
6. World Trade Park Jaipur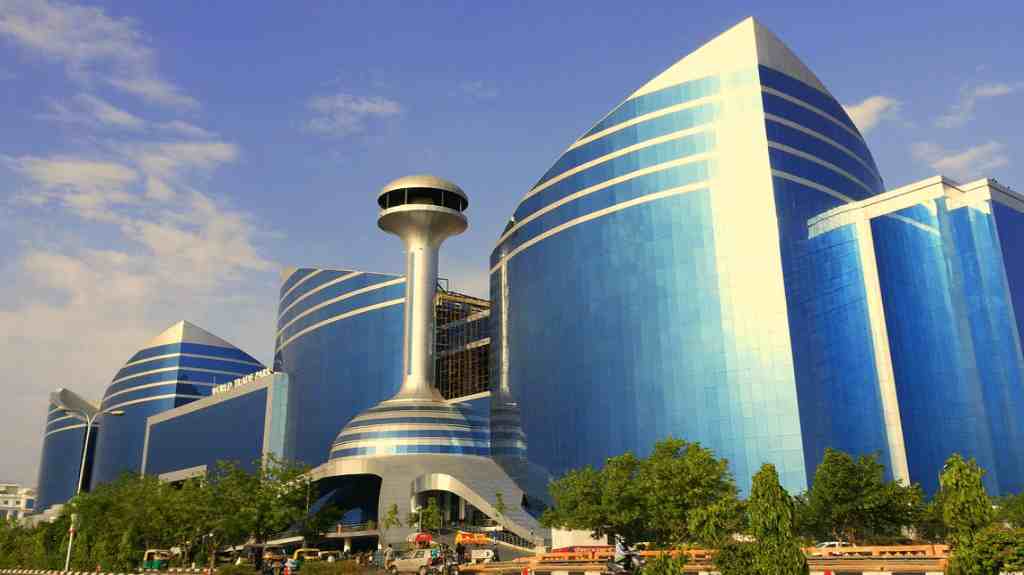 World Trade Park Jaipur, located in the Pink City of Jaipur, is not just a shopping destination but a modern architectural marvel. This sprawling complex is a testament to Jaipur's contemporary side and serves as a hub for shopping, entertainment, and business.
The complex is known for its striking and innovative design, featuring a mix of modern and traditional architectural elements. Its eye-catching facade and grand entrance make it a notable landmark in Jaipur.
World Trade Park is home to a wide range of retail stores, offering everything from fashion to electronics and more. The shopping experience is enhanced by its spacious and air-conditioned interiors, making it a comfortable place to shop, dine, and relax.
In addition to shopping, the complex boasts a vibrant food court with a variety of culinary delights. Visitors can enjoy international and local cuisines while taking a break from their shopping sprees.
What sets World Trade Park apart is its role as a business and trade center, providing office spaces and facilities for conferences and exhibitions. It's a dynamic space that blends commerce, culture, and leisure.
7. Chokhi Dhani Jaipur
Chokhi Dhani in Jaipur is not just a restaurant but a cultural experience that immerses visitors in the vibrant traditions of Rajasthan. This unique village-style resort offers a taste of rural Rajasthani life right in the heart of Jaipur.
The name "Chokhi Dhani" translates to "Fine Hamlet," and it lives up to its name. As you enter, you're greeted with a warm and traditional welcome, complete with folk music and dance performances. The resort is designed to replicate a traditional Rajasthani village, and it does so with remarkable authenticity.
Visitors can indulge in a grand Rajasthani feast that includes an array of local dishes, offering a true culinary journey. The dining experience is complemented by cultural performances that showcase Rajasthani folk dances, puppet shows, and music.
The resort also offers various activities such as camel rides, puppet-making workshops, and henna application, providing visitors with an interactive and enjoyable way to connect with the state's rich culture.
Chokhi Dhani is not just a place to eat but a place to celebrate the essence of Rajasthan. It's an immersive cultural experience where you can savor traditional cuisine, revel in Rajasthani art forms, and create lasting memories of your visit to Jaipur.
8. Nahargarh Fort
Nahargarh Fort, perched atop the rugged Aravalli hills, is a historical treasure that overlooks the city of Jaipur. This ancient fort, which dates back to the 18th century, is not only a symbol of Jaipur's rich history but also a testament to the region's architectural prowess.
The fort, known as the "Abode of Tigers," offers panoramic views of the Pink City, making it a popular destination for visitors seeking breathtaking vistas. Its rugged exterior gives way to a charming interior that includes palaces, courtyards, and step wells.
Nahargarh Fort was originally built as a defense fortress to protect the city from external threats. It stands as a testament to the valor and strategic acumen of the Rajput rulers.
One of the highlights of a visit to Nahargarh Fort is the sunset view it offers. Watching the sun dip below the horizon with Jaipur's cityscape as the backdrop is a mesmerizing experience.
Today, Nahargarh Fort is not just a historic site but also a cultural attraction, hosting events, exhibitions, and a rooftop restaurant that offers a unique dining experience.
Visiting Nahargarh Fort is not just a journey into the past but a chance to witness the grandeur and beauty of Jaipur from a captivating vantage point. It's a destination where history, architecture, and natural beauty converge, making it a must-visit spot for travelers exploring the Pink City.
9. Ram Niwas Garden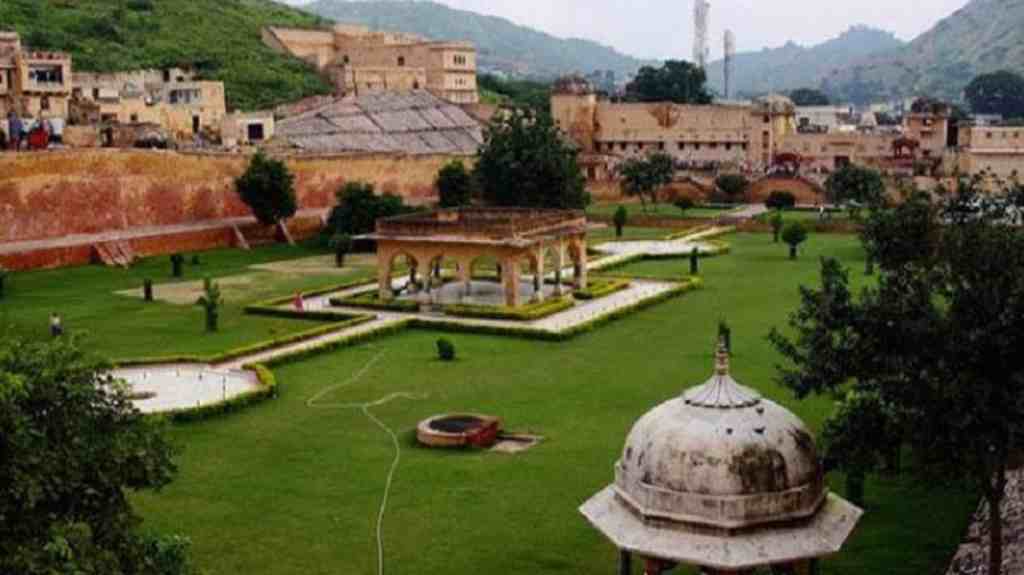 Ram Niwas Garden in Jaipur is a lush and tranquil oasis in the heart of the bustling city. This expansive garden is a delightful escape, offering a serene environment for both locals and tourists.
The garden, built in the 19th century by Maharaja Sawai Ram Singh, is a well-planned green space that combines natural beauty with architectural elegance. It houses several attractions, including the Albert Hall Museum, a majestic building that displays an impressive collection of art and artifacts.
One of the unique features of Ram Niwas Garden is its central avenue, lined with numerous flower beds, fountains, and shaded walkways. It's a perfect place for a leisurely stroll or a relaxing picnic.
The garden also has a bird park, where you can spot a variety of avian species, making it a great spot for bird enthusiasts.
10. City Palace Jaipur
City Palace in Jaipur is a majestic and historic complex that serves as the royal residence of the Maharaja of Jaipur. This opulent palace is a splendid blend of Rajput and Mughal architectural styles and stands as a symbol of the city's rich cultural heritage.
The palace complex includes a series of courtyards, gardens, and magnificent buildings. The Chandra Mahal and Mubarak Mahal are two of the most prominent structures within the complex, showcasing stunning architecture and elaborate decorations.
Visitors to the City Palace are treated to a remarkable museum that houses an extensive collection of royal artifacts, including costumes, weapons, and manuscripts. It offers a captivating glimpse into the regal lifestyle of the Maharajas.
One of the striking features of the City Palace is its beautifully landscaped courtyards and gardens, which provide a serene escape from the bustling city. The Peacock Courtyard, adorned with intricate peacock motifs, is a particular highlight.
11. Jantar Mantar Jaipur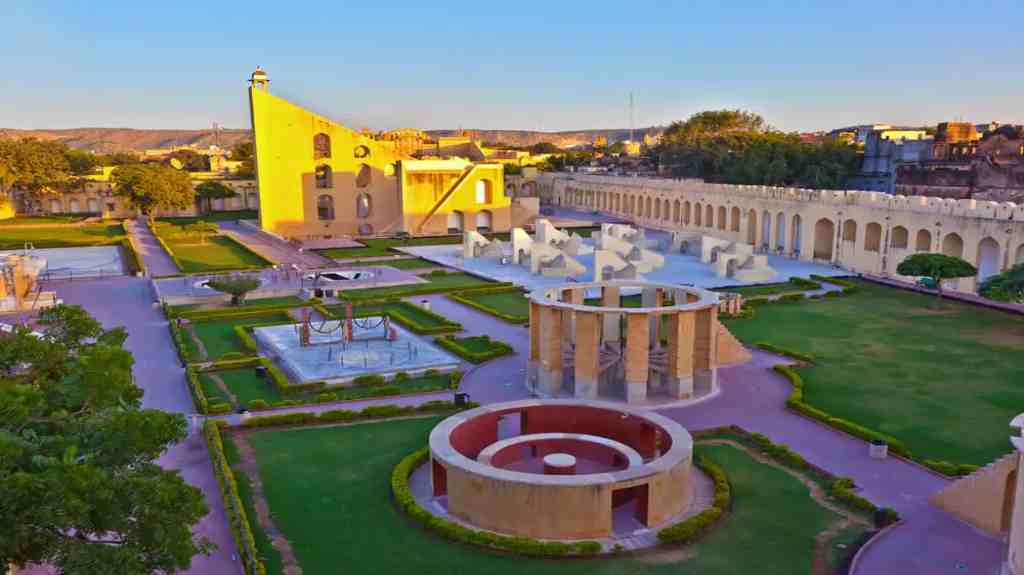 Jantar Mantar in Jaipur is an extraordinary and historic astronomical observatory, regarded as one of the most significant of its kind in the world. This remarkable site is a testament to the profound knowledge and ingenuity of the people who lived in the region centuries ago.
Built in the 18th century by Maharaja Sawai Jai Singh II, Jantar Mantar is a collection of architectural instruments designed to measure time, predict eclipses, track the movements of celestial bodies, and more. The instruments are built with precision and remarkable accuracy, allowing astronomers to make complex astronomical calculations.
One of the most notable instruments at Jantar Mantar is the massive sundial, which stands as the world's largest stone sundial. It can accurately measure time down to the second.
Visitors to Jantar Mantar can explore a variety of instruments, each with its specific astronomical function. The site provides a unique opportunity to understand how ancient astronomers used these tools to unravel the mysteries of the universe.
12. Birla Temple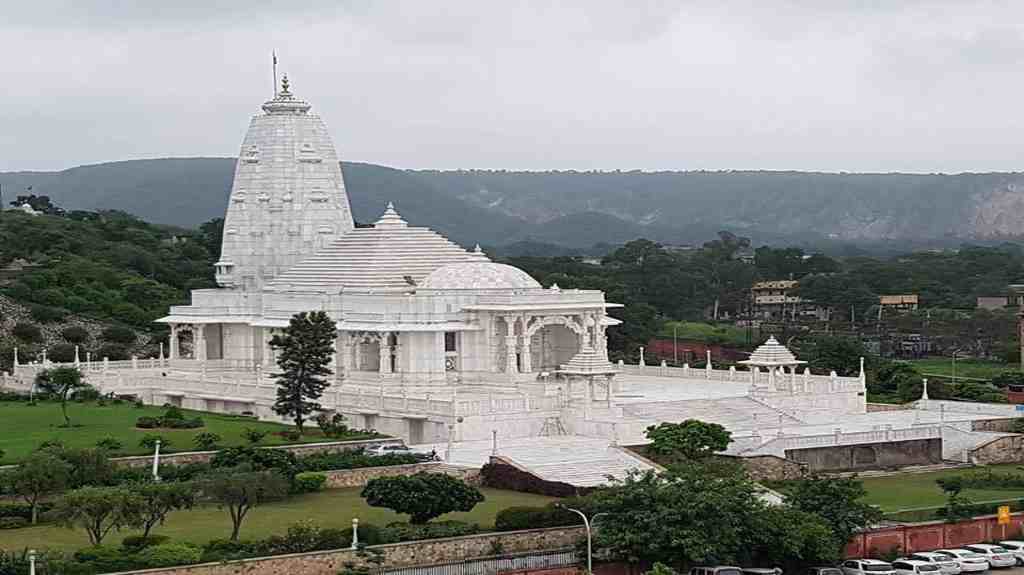 Birla Temple in Jaipur, also known as the Laxmi Narayan Temple, is a modern and serene place of worship that showcases a harmonious blend of spirituality and architectural beauty.
This temple, built entirely of white marble, stands as a symbol of devotion and architectural excellence. It was constructed by the renowned Birla family in 1988 and is dedicated to Lord Vishnu and Goddess Laxmi, two important deities in Hinduism.
The temple's architecture is a striking combination of traditional and contemporary styles. Its intricately carved marble façade and beautifully crafted sculptures make it a delightful sight for visitors. Inside, the temple walls are adorned with mythological scenes and verses from sacred texts.
Birla Temple is not only a place for prayer but also a place for reflection and meditation. Its peaceful ambiance, amidst well-maintained gardens, provides a tranquil retreat from the hustle and bustle of the city.
13. Albert Hall Mueseum
Albert Hall Museum, situated in Jaipur, is not just a museum but a treasure trove of history, art, and culture. This magnificent building, designed by Sir Samuel Swinton Jacob, was opened to the public in 1887 and is a significant cultural landmark in Jaipur.
The museum's architecture is a fusion of Indian and European styles and is a visual delight in itself. The pink sandstone structure is adorned with ornate domes, towers, and arches, making it an impressive sight.
Inside, the museum houses a vast and diverse collection of artifacts, including sculptures, paintings, textiles, and decorative arts. The galleries showcase an array of exhibits that offer insights into Rajasthan's history, from its ancient past to its royal traditions.
One of the highlights of the museum is the Egyptian mummy, which is a source of fascination for visitors. The museum also hosts temporary exhibitions and cultural events that add to its vibrancy.
14. Galtaji Temple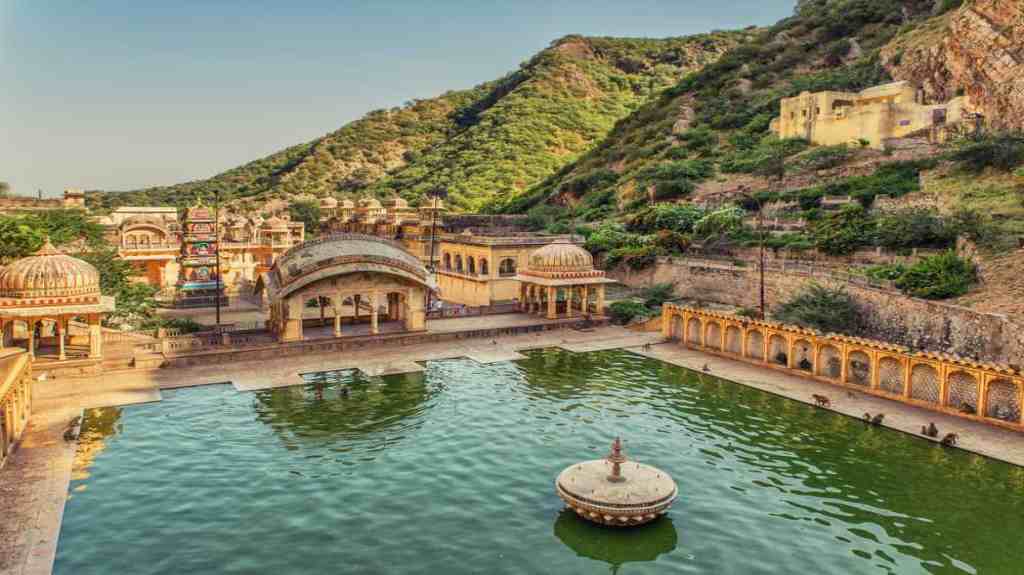 Galtaji Temple, also known as the Monkey Temple, is a sacred and unique Hindu pilgrimage site in the outskirts of Jaipur. This historic temple complex is not just a place of worship but also a sanctuary for the resident monkey population.
The temple is famous for its stunning architecture, with distinct pink sandstone and intricate carvings. It consists of a series of temples, pavilions, and natural springs, creating a tranquil and spiritual atmosphere.
One of the most remarkable features of Galtaji Temple is the natural springs, which fill a series of kunds (water tanks). Pilgrims and visitors can take a dip in these kunds, which are believed to have cleansing and healing properties.
The temple is also home to a large population of monkeys, who are considered sacred and are an integral part of the temple's environment. These playful and friendly monkeys have made Galtaji Temple their home and add to the unique charm of the place.
15. Gatore ki Chhatriyan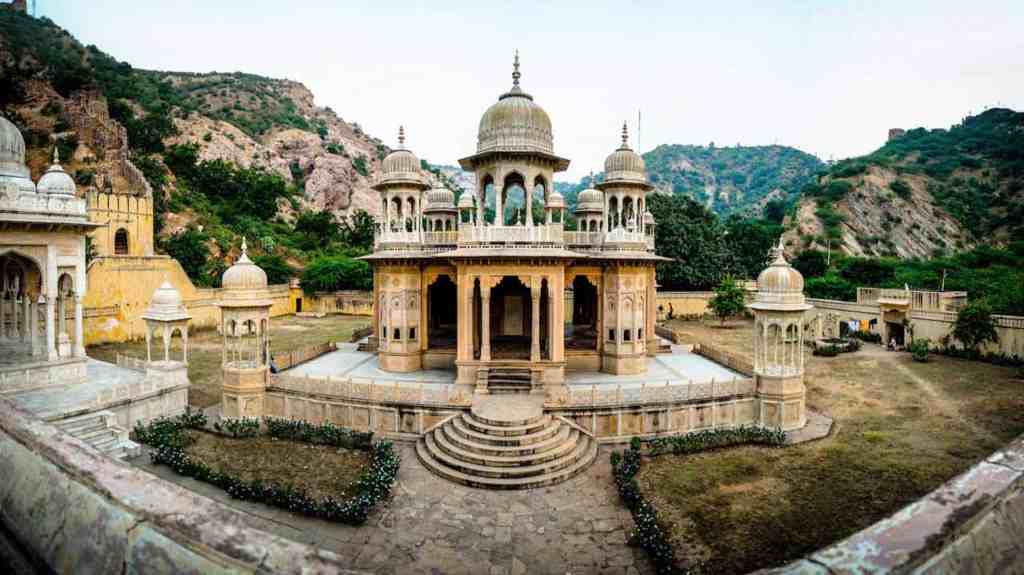 Gatore ki Chhatriyan, located in Jaipur, is a collection of stunning royal cenotaphs that pay tribute to the valor and grandeur of the city's rulers. These intricately designed marble memorials serve as a testament to the rich history of Jaipur.
The word "chhatriyan" translates to "cenotaphs," which are monuments erected in memory of the deceased. Gatore ki Chhatriyan is a complex of these cenotaphs, each dedicated to different Maharajas of Jaipur and their families.
The architecture of these cenotaphs is a blend of Rajput and Mughal styles, characterized by their elegant domes, finely carved pillars, and artistic embellishments. The detailed craftsmanship on display is a sight to behold.
One of the notable cenotaphs is that of Maharaja Jai Singh II, the founder of Jaipur, which stands out due to its grandeur and historical significance.
16. Patrika Gate
Patrika Gate in Jaipur is not just a city entrance but a vibrant and artistic celebration of the Pink City's culture and heritage. This modern architectural marvel stands as a testament to the city's commitment to art and history.
The gate is adorned with intricate and colorful designs that showcase various aspects of Jaipur's rich culture, from its traditional dances to iconic monuments. The vibrant and detailed artwork makes it a popular spot for both tourists and locals.
17. Moti Dungri Temple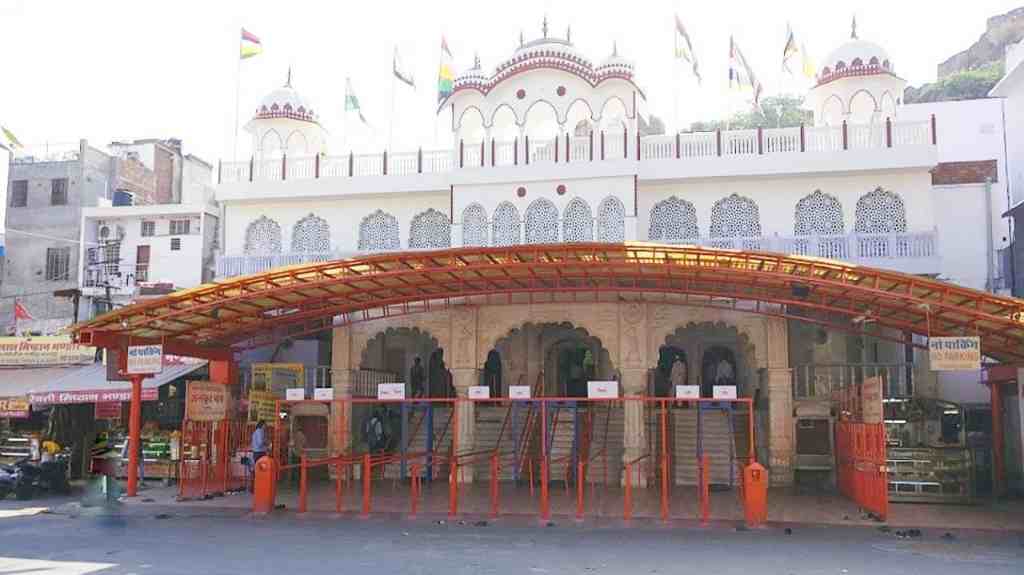 Moti Dungri Temple in Jaipur is a sacred and picturesque shrine dedicated to Lord Ganesha. This charming temple, perched on a small hill, is an integral part of the city's spiritual and cultural heritage.
The name "Moti Dungri" translates to "Pearl Hill," and it's a fitting name for this temple, as it resembles a Scottish castle in its architectural style. The temple is a fine example of Rajput and European architectural fusion.
Visitors to Moti Dungri Temple can enjoy not only the spiritual experience but also the breathtaking views of Jaipur city from the hilltop. The serene and tranquil ambiance makes it a place for reflection and meditation.
18. Zoological Garden
The Zoological Garden in Jaipur, also known as the Jaipur Zoo, is a delightful haven for animal enthusiasts and nature lovers. This well-maintained zoo is a place where visitors can get up close and personal with a diverse range of wildlife.
The zoo is home to a variety of animals, including tigers, lions, leopards, and many species of birds and reptiles. It provides an opportunity to observe these creatures in a naturalistic setting.
One of the zoo's standout features is its lush greenery and well-landscaped gardens, providing a serene environment for both animals and visitors. It's a perfect place for a leisurely stroll and a great spot for picnics with family and friends.
The Jaipur Zoo is not just an attraction for animal lovers but also an educational institution, as it plays a role in wildlife conservation and public awareness.
19. Central Park Jaipur
Central Park in Jaipur is not just a park but a vibrant and well-maintained green space that offers a variety of recreational and cultural activities for the city's residents and visitors.
Spread over a large area, the park boasts lush lawns, beautiful flower beds, and a serene central pond. It's an inviting place for those seeking some relaxation in the midst of the city.
One of the key attractions in Central Park is the iconic statue of Maharaja Sawai Jai Singh II, the founder of Jaipur. This statue stands as a reminder of the city's history and heritage.
The park is not just a place for a leisurely stroll; it offers various activities, including yoga, musical performances, and art exhibitions. It's a hub for cultural events and a popular spot for joggers, walkers, and fitness enthusiasts.
Central Park's well-maintained pathways and open spaces make it an ideal location for picnics and outdoor sports, such as cricket and badminton. The lush greenery and serene ambiance offer a refreshing escape from the hustle and bustle of city life.
20. Govind Ji Temple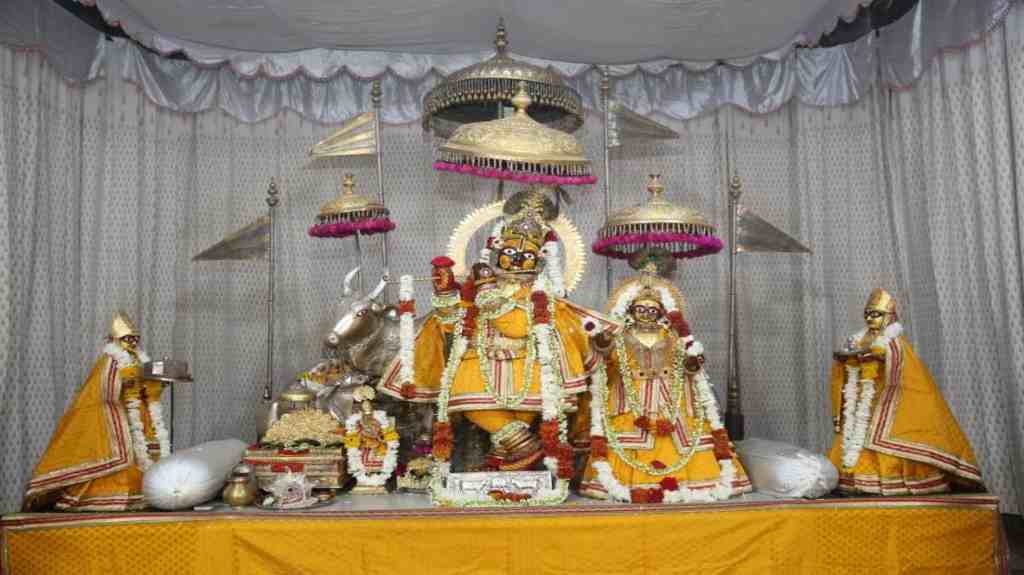 Govind Ji Temple in Jaipur is a sacred and historic Hindu temple dedicated to Lord Krishna. This elegant temple, built with a pink sandstone exterior, reflects the architectural charm of the city.
The temple is an important pilgrimage site for Krishna devotees and is renowned for its beautifully carved marble pillars and intricate artwork. Inside, the main deity, Lord Krishna, is adorned with elaborate ornaments and colorful garments.
The temple is not just a place of worship but also a cultural and spiritual landmark that holds significance in the city's religious fabric. It's a serene and tranquil place where devotees and visitors can seek blessings and find solace.
21. Panna Meena ka Kund
Panna Meena ka Kund, located in Jaipur, is not just a stepwell but a stunning example of ancient engineering and architectural brilliance. This historic structure, built during the Mughal era, served both practical and aesthetic purposes.
The stepwell, adorned with exquisite and symmetrical staircases, is an architectural marvel. It was not only a place for locals to fetch water but also a gathering spot for the community. The geometrical patterns and designs on the steps are not only aesthetically pleasing but also symbolize the significance of water in this arid region.
Visitors to Panna Meena ka Kund can marvel at the precision of its construction and the way it blends functionality with artistry. The stepwell provides a unique backdrop for photography and a chance to connect with history.
22. Akshardham Temple, Jaipur
Akshardham Temple in Jaipur is a magnificent and spiritually significant place of worship that radiates serenity and architectural grandeur. This modern temple is dedicated to Lord Swaminarayan and is a reflection of the city's rich cultural heritage.
The temple's architecture is a blend of traditional and contemporary styles, with intricately carved marble and pink sandstone facades. The stunning craftsmanship and detailed sculptures make it a visually captivating experience.
Inside, the temple is a haven for prayer and meditation, offering a peaceful ambiance for devotees and visitors. The central deity, Lord Swaminarayan, is adorned with ornate garments and decorations.
Best Time to Visit in Jaipur
The best time to visit Jaipur, the "Pink City" of India, is during the winter months, which span from October to March. This period offers the most pleasant and comfortable weather for exploring the city and its attractions.
How to Reach Jaipur
By Air
The fastest way to reach Jaipur is by flying into Jaipur International Airport (JAI). This airport is well-connected to major cities in India and some international destinations. Once you arrive at the airport, you can take a taxi or use other local transportation to reach your destination in the city.
By Train
Jaipur is well-connected by a network of trains. The city has its own railway station, Jaipur Junction, which is linked to major Indian cities. Trains like the Shatabdi Express and Rajdhani Express offer comfortable and convenient travel options.
By Road
Jaipur is easily accessible by road through a well-maintained network of highways. You can use buses, your own vehicle, or hire a taxi to reach Jaipur. The city is well-connected to nearby cities like Delhi, Agra, and Udaipur.
Read Also:- 15 Best Places to Visit in Udaipur
Our Website Niabi.in Provided all details about best places to visit in Jaipur with family, Friends and Couple. If you any query then comment us.