Hello Friends, If you searches, Best Places to Visit in Ariyalur then you have come right Page. In this article we are describe complete information about Top 16 Tourist Attractions in Ariyalur – KARAIVETTI BIRD SANCTUARY, GANGAIKONDA CHOLAPURAM, MELAPALUVUR & KEEZHAIYUR, Pair of Temples – Keezhaiyur, Meenatchi Sundareswarar Koil – Melapalur, and more places details given in this article.
Nestled in the embrace of Tamil Nadu, Ariyalur is not just a town but also the heartbeat of Ariyalur district. Limestone is its precious treasure, and it's like a lush canvas surrounded by seven cement factories and two sugar factories, giving it a unique industrial touch. About 310 kilometers away from the state capital, Chennai, Ariyalur stands as a vibrant hub of life.
Steeped in history, Ariyalur was a piece of the erstwhile Trichirapally District until India's freedom in 1947. It then embraced the mantle of Tiruchirappalli district until 1995 and later donned the identity of Perambalur district until 2007. Today, it shines proudly as a key part of the newly formed Ariyalur district. The town thrives amidst the lush Cauvery Delta, with agriculture being its heartbeat. It's like a symphony of growth and prosperity echoing through the fertile lands.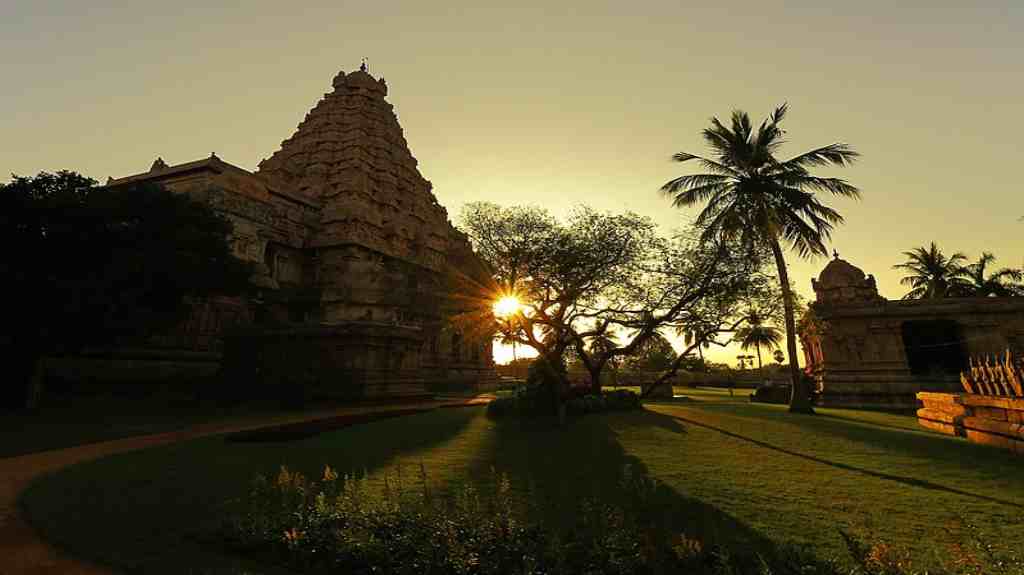 16 Best Places to Visit in Ariyalur
VETTAKUDI – KARAIVETTI BIRD SANCTUARY

Meenatchi Sundareswarar Koil – Melapalur

Pair of Temples – Keezhaiyur

GANGAIKONDA CHOLAPURAM

Statues in Vaithiyanaatha Swami Thirukkoyil -Thirumazhapadi

MELAPALUVUR & KEEZHAIYUR

KILAPALUVUR

THIRUMALAPADI

Elakurichi Temple

Karkodeshwarar Thirukkoyil – Kamarasavalli

GOVINDAPUTTUR

Buddha Statues – Vikkiramangalam

Sculpture – Kangaikonda Cholapuram

ARIYALUR – KODANDARMASWAMY KOVIL

SENDURAI, SENNIVANAM AND SRIPURANDAN

GANGAIKONDACHOLAPURAM, GANGAIKONDACHOLISVARAR TEMPLE
1. VETTAKUDI –

KARAIVETTI BIRD SANCTUARY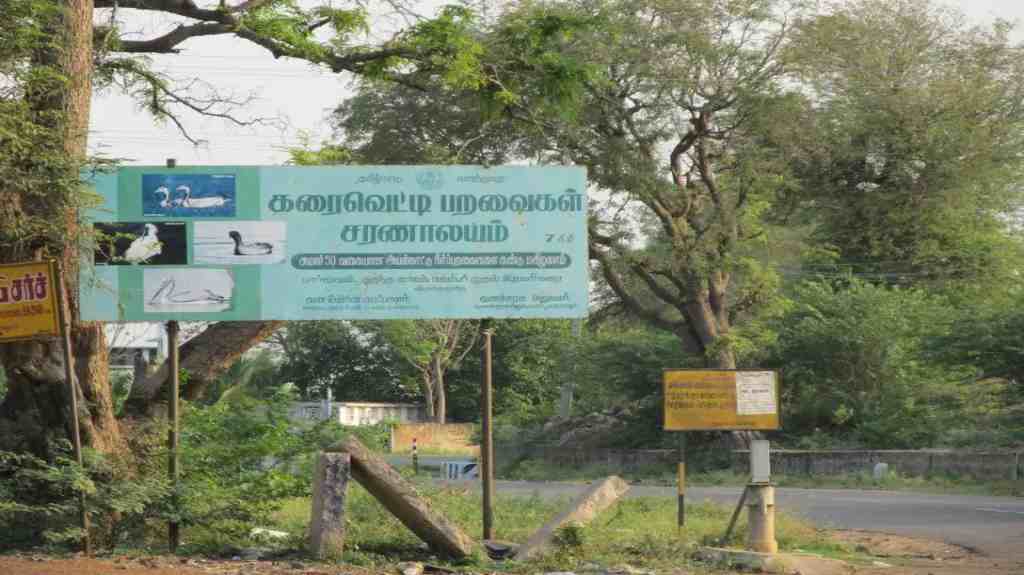 The Karaivetti Birds Sanctuary, spanning 453.71 hectares, holds official recognition under section 18(1) of the Wildlife Protection Act 1972, as decreed by Government Order No.219 E&F (FR.VI) Dept dated 10.06.1997. This sanctuary is essentially a reservoir fed by the waters of the Mettur dam starting from September, supplemented by the northeast monsoons from October to January.
In the realm of Tamil Nadu, this sanctuary stands as a pivotal haven for migratory water birds, offering a freshwater paradise. Among the state's expansive tanks, it proudly boasts the most remarkable congregation of water birds. From the 188 bird species documented within the sanctuary, 82 belong to the category of water birds. Notably, the endangered Bar-Headed Goose is among the significant visitors to this sanctuary. For avid bird-watchers, the months spanning from September to March offer the prime opportunity to explore this haven.
2. Meenatchi Sundareswarar Koil – Melapalur
Address: 22RQ+XJV, NH 81, Melapalur, Tamil Nadu 621707
Meenatchi Sundareswarar Koil – Melapalur is a Hindu temple located in Melapalur, Tamil Nadu. This is more than just a temple; it's a haven of spirituality where history, devotion, and art intertwine. The temple's aura invites all to witness the harmonious blend of architecture and faith. Amidst the beauty of Ariyalur district, this sacred site stands as a testament to the cultural and spiritual richness of the region. It's not just a destination; it's a journey into a realm of reverence and wonder.
3. Pair of Temples – Keezhaiyur
Nestled in the quaint village of Keezhaiyur, a captivating sight awaits – a pair of temples that stand as a testament to the area's rich heritage. These twin temples, each with its unique architectural charm, offer a glimpse into the spiritual and cultural history of the region. With intricate details and a serene ambiance, the Pair of Temples in Keezhaiyur beckon visitors to explore the stories and traditions that have shaped this sacred site.
4. GANGAIKONDA CHOLAPURAM
Ariyalur unfolds its historical tapestry through the renowned Gangaikonda Cholisvarar temple at Gangaikonda Cholapuram. This temple, a majestic creation of Rajendra I during his reign, is a testament to the splendor of the Ariyalur region. In A.D. 1023, Rajendra I celebrated his triumph over the Gangetic plains by establishing the grand city of Gangaikonda Cholapuram. He graced this city with the monumental Siva temple Gangaikonda Cholisvarar and an equally magnificent lake named Chola Gangam. These elements stand as living tributes to the valor of the Tamils, as they unfurled the Chola's Tiger banner along the Ganges.
This remarkable city, along with its temple and the Chola Gangam lake, became an enduring symbol of Chola supremacy. Rajendra I even moved his capital from Thanjavur to this newly constructed marvel. For an impressive span of 256 years, from his rule till the Chola dynasty's conclusion in A.D. 1279, this city remained the empire's heart. The grand stone temple that graced this landscape remains a repository of exquisite sculptures from the middle Chola era, a true marvel. Its historical significance resonates through the works of Ottakuttar's Muvar Ula and Jayankondar's Kalingattuparani. In the rich tapestry of Ariyalur district, these sites and temples weave tales of a glorious past.
5. Statues in Vaithiyanaatha Swami Thirukkoyil -Thirumazhapadi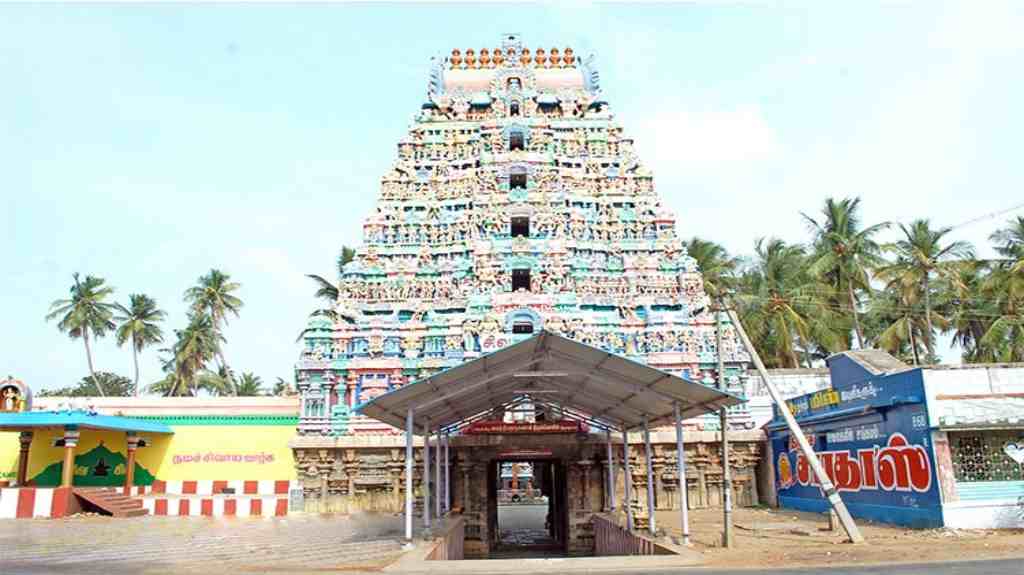 In the era of Aditya–I, the Siva temple was crafted from stone (871-907). Rajaraja–I initiated its reconstruction, which his son Rajendra–I completed. In A.D. 1235-36, Hoysala ruler Viranarasimha undertook another rebuilding. The Queens of Aditya–I, Rajaraja–I, and Rajendra–I adorned the shrine with lands and embellishments.
The first and second gopuras of the temple were constructed during the Pandya and Chola dynasties, respectively. The Temple's most notable celebration is the marriage of Nandi (nandi kalyanam). A widespread belief in the area suggests that witnessing Nandi Devar's marriage celebration can help overcome obstacles in marriage.
6. MELAPALUVUR & KEEZHAIYUR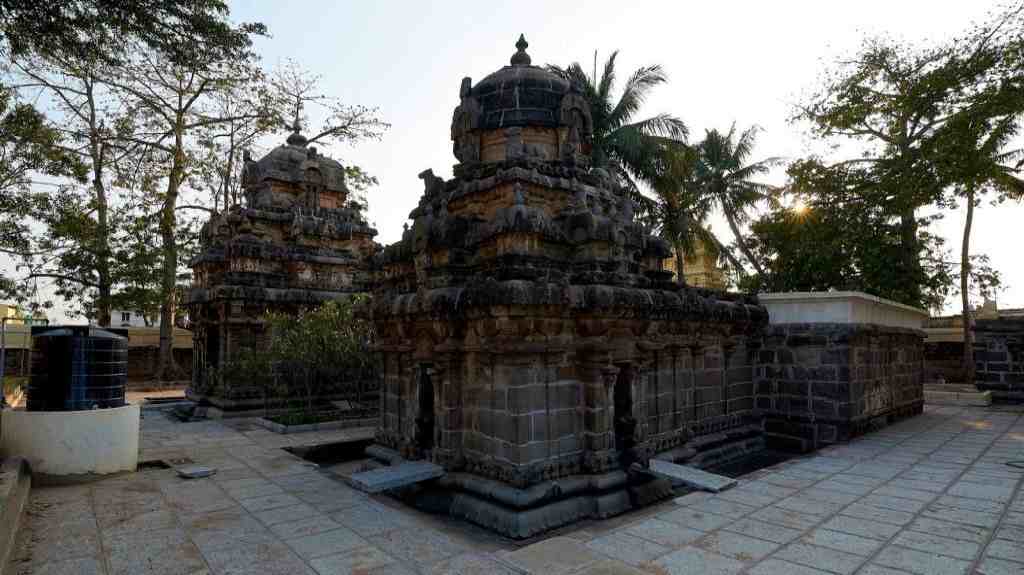 Once known as Mannuperumpaluvur, Periyapaluvur, and Melaipaluvur, this settlement held the titles of the Paluvettaraiyar Chiefs, who ruled the Ariyalur district as Chola Kings' vassals from Aditya I to Rajendra Chola I. Among the notable figures from this lineage were Paluvettaraiyar Kumaran Kandan, Kumaran Maravan, Kandan Amudan, and Maravan Kandan. The Sundaresvarar temple, once named Pagaividai Isvaram, traces its origins to Aditya Chola – I's era.
In the village's eastern half, known as Kilaiyur, the Chola dynasty recognized it as Avani Kandarvapuram. During this period, it was a bustling trade town with itinerant trade guilds. Established in A.D. 884, the Avani Gandarva Isvaram Siva temple in Kilaiyur was the labor of love of Paluvettaraiyar Chief Kumaran Kandan during the 13th year of Aditya – I's reign. This remarkable temple stands as one of the best-preserved early Chola temples, showcasing a myriad of architectural styles and captivating sculptures.
The ties between the Paluvettaraiyar family and Chola Kings ran deep, with marriages connecting the two. Parantaka Chola wed Arumolinangai, the daughter of Paluvettaraiyar Chief Kumaran Maravan, and from this union, King Arinjaya Chola was born. Uttamachola (970-986) also married a princess from this lineage. Panchavanmadevi, Rajaraja – I's queen, hailed from Avani Kandarvapuram. Evidently, the Chola Kings maintained a mint in their capital city.
7. KILAPALUVUR
This site held a place within the Paluvettaraiyar capital, known as Sirupaluvur, a Brahmadeya hamlet situated in Kunra Kurram. In the 7th century A.D., Thirugnanasambandar composed hymns dedicated to the Alanduraiyar shrine here. According to legend, the Sage Parasurama undertook penance at this spot, seeking redemption for his mother's murder. During Saint Sambandar's rule, the shrine was frequented by Malayali Brahmins. The construction of this shrine from stone took place during the reigns of Parantaka Chola – I and Uttama Chola.
8. THIRUMALAPADI
With a history dating back to the Sangam Period, this site holds a significant place. It was the camp of the heroic Malavar's army, and the Malavar-padi clan of that era later became known as Thirumalapadi. The Vaidyanatha Swami Siva temple in this area was revered by the Devaram Nayanmars—Appar, Sambandar, and Sundarar—who worshipped and sang praises here.
Ayyadigal Kadavarkon, a revered figure, also mentioned it in his Shetravenba hymns. This saint is linked to Pallava monarch Simhavarman and Mahendra Varman Pallava's grandfather. The Deity of this place is believed to have appeared in Saint Sundarar's dream, leading him to visit and express gratitude through his renowned Devaram hymn, 'Ponnar meniyane.'
9. Elakurichi Temple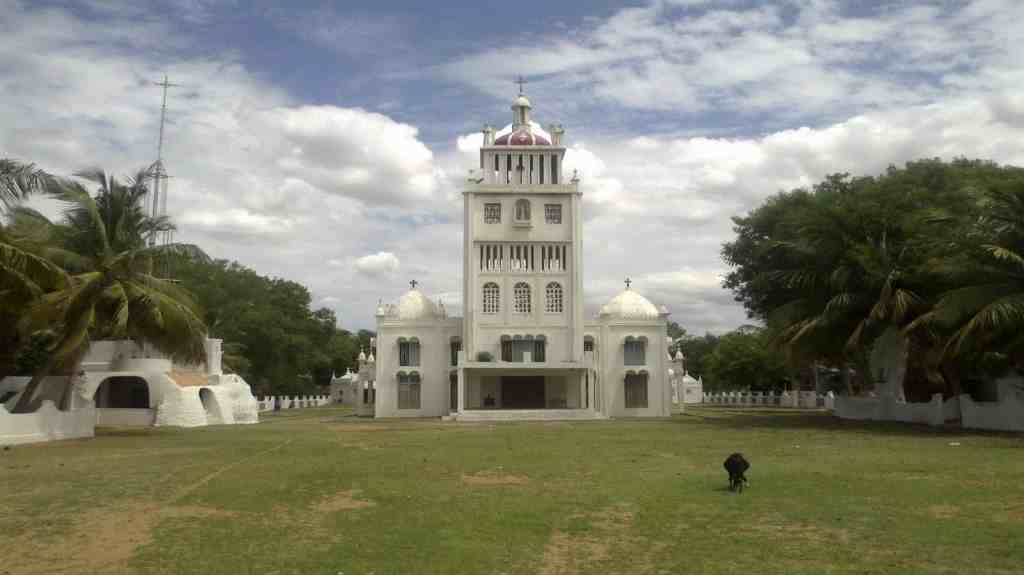 Elakurichi, nestled within Ariyalur district, holds a significant place in hearts. It's like a sacred haven for Roman Catholics who revere the Elakurichi Temple. Back in A.D. 1710 to 1742, Constantine Beschi, or Virama Munivar, journeyed from Italy to Ariyalur, spreading Christianity's message. His legacy lives on through the Adaikala Matha temple he established.
The tale of Virama Munivar's compassion echoes when he healed the Ariyalur Palayakarar's ailment, guided by Holy Mother Mary's blessings. A heartwarming outcome emerged as the Chief, touched by Virama Munivar's service, granted the temple a generous 60 acres of land. This touching gesture is preserved through an inscription on a stone slab dating back to A.D. 1763, held dear within the church's embrace.
10. Karkodeshwarar Thirukkoyil – Kamarasavalli
The Soundaresvarar temple in this village, devoted to the goddess Valambal, was established in A.D. 962 during the reign of Sundra Chola. Local legend has it that Rathi performed penance here to reunite with her husband Manmatha, giving rise to the village's name, Kama-rathi-valli. This settlement lies to the east of Alagiyamanavalam and is believed to be named after Rathi's beautiful spouse, Alagiyamanavalan (beautiful husband-Manmatha).
The temple houses a splendid bronze statue of Rathi. Another tale enshrined in this temple tells of Karkotaka, the snake King, who was relieved from his curse by worshiping Lord Siva here, thus the temple's deity is known as Karkodaka Isvaram. The temple also features a stone with carvings depicting this story.
This temple boasts about 40 inscriptions from the Chola, Pandya, and Hoysala dynasties. In the inscriptions, the temple is referred to as Tirunallur Srikovil Mahadevar, Tirunallurparamesvarar, and Tirukkarkotaga Isvarattu Mahadevar. The inscriptions mention this settlement as Kamadavallichaturvedi Mangalam, a Brahmadeya in Mirai kurram. The temple showcases exquisite sculptures and bronzes from the Chola era.
11. GOVINDAPUTTUR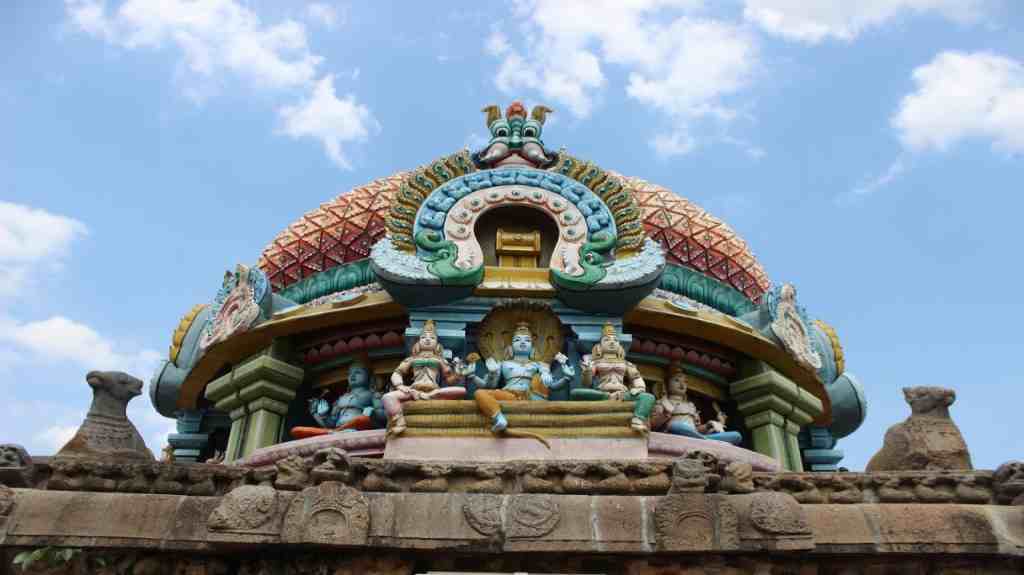 Govindaputtur, a village in the Udaiyarpalayam taluk, rests on the northern bank of the Kollidam River. The Siva temple here is named Ganga Jadadisvarar, and in their Devaram songs, Saint Appar and Sambandar, who lived during the reign of Mahendravarma Pallava, praised the temple's Deity. Their verses narrate that Parthan (Vijayan, the son of Mahabharatha King Pandu) worshipped Siva at this spot and received a divine blessing.
The celestial cow, Kamadenu, also revered the Deity by anointing the Sivalinga with its milk, leading to the name "ko-karanda-puttur," which evolved into Govindaputtur. The temple's walls bear inscriptions from the Chola, Pandya, and Vijayanagar rulers. The current stone temple was constructed in A.D. 980 during the rule of Uttamachola (970-986) by his officer Ambalavan Paluvur Nakkan, a resident of Kuvalalapuram (modern-day Kolar in Karnataka).
The temple houses exquisite sculptures and bronzes from the early Chola era. The site is known as Vijayamangalam, a Brahmadeya hamlet in Sri Parantakachaturvedimangalam, according to inscriptions. Inside the temple, a Devaram song by Saint Sambandar is etched at the beginning of a record from Rajendra – III's era.
12. Buddha Statues – Vikkiramangalam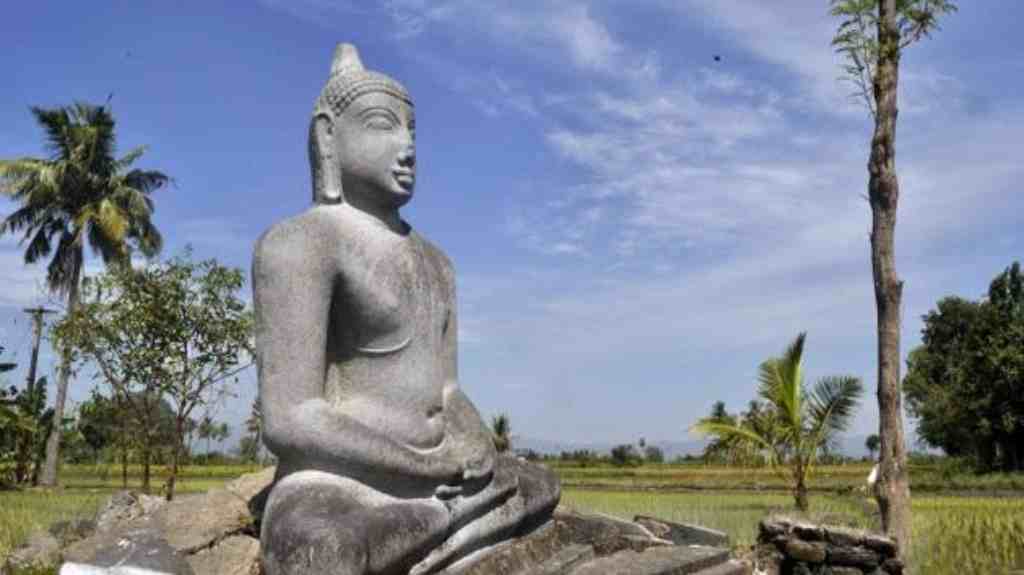 Founded during the reign of Rajendra I, this village was bestowed with the name Vikkiramacholapuram, after the king's surname. Inscriptions from Vikramachola, Kulothunga II, and Kulothunga III eras reveal that this hamlet served as a sub-capital for the Chola monarchs. They resided in the royal palace here and issued decrees donating lands to various temples across the Chola realm.
Vikramacholapuram also flourished as a renowned trading and mercantile hub for itinerant trade guilds during the Chola dynasty. The village boasts exquisite Jain and Buddha sculptures from the Chola period. The present Siva temple of the village, Rajendra Cholisvaram, originates from the era of Rajendra Chola I (1012-1044).
13. Sculpture – Kangaikonda Cholapuram
Around his 11th year as king, Rajendra's ambitious Gangetic expedition reached a culmination in A.D. 1023. The earliest reference to Gangaikonda Cholapuram emerges in a record from A.D. 1027 attributed to him. This indicates that the city's establishment was a commemoration of his remarkable achievement spanning the years between A.D. 1023 and 1027. The recently discovered Esalam Copper plates from A.D. 1036, attributed to Rajendra–I, provide substantial evidence of his involvement in the construction of the Gangaikondacholisvarar temple.
Furthermore, a document from A.D. 1068 by Virarajendra at Gangaikonda Cholapuram, serving as the temple's oldest record, narrates how Rajendra-I granted villages to the Gangaikondacholisvarar temple during his 24th year (A.D. 1036). These pieces of evidence collectively suggest that the establishment of the Siva temple took place between A.D. 1023 and 1036. Interestingly, the temple's earliest known inscription dates back to Virarajendra's reign in A.D. 1068.
The temple holds a vivid narrative of Chola history etched in stone, hailing from the era of Rajendra–I. It also boasts an impressive collection of Chola art and architecture. Additionally, the shrine houses numerous sculptures brought as trophies from Andhra, Karnataka, and Bengal, enriching the cultural heritage of the region. Among these, notable masterpieces include Chandesura Anugraha Murthy and Sarasvathy sculptures. Currently overseen by the ASI (Archaeological Survey of India) and HR&CE (Hindu Religious and Charitable Endowments), the temple's significance has been recognized globally as UNESCO designates it a world heritage monument.
14. ARIYALUR – KODANDARMASWAMY KOVIL
In Ariyalur, a notable Vishnu temple stands named Kondandaramaswamy Kovil. Although its main deity is Srinivasaperumal, it is also referred to as Kodandaramaswamy Kovil due to the presence of a shrine dedicated to Lord Rama, Lakshmana, and Sita.
Facing eastward, the temple features the main deity Srinivasa Perumal along with His consorts Sridevi and Bhudevi. The structure comprises a garbagruha (15 feet square), ardhamandapa (17 feet long), and Mahamandapa.
An extension to the main temple, the Kodandaramar shrine, is constructed from chalk stone and faces south. Inside, stone statues of Rama, Lakshmana, and Sita are placed on Pithas, complemented by metal representations. The deities are said to have been discovered on the Kollidam river bank near Vikramangalam and relocated here by an Ariyalur Chief, who established a shrine.
A large Dasavatara mandapa stands in front of the main temple, adorned with rows of 20-foot-tall pillars featuring engravings of Vishnu's ten incarnations. Sculptures of a Chief and his Queen grace the entrance of this mandapa. The entire compound is enclosed by a raised wall, and a towering Gopura (90 feet tall) marks the entrance, accompanied by a temple to Garuda. A tank named Kodanda Pushkarani is being excavated on the temple's southern side.
This temple holds two inscriptions and one copper plate. The earliest, from A.D. 1635, speaks of a tax exemption decree by Ariyalur Arasu Nilaiyitta Oppila Malavarayar. A copper plate charter from A.D. 1729 refers to the contribution by the shepherd community for temple-related expenses during weddings. A missing inscription from A.D. 1742 mentions Brahmana Venkatapathi Ayyan.
The temple is attributed to Arasu Nilaiyitta Oppilada Malavarayar's era, with the portraits in the Dasavaratara mandapa potentially depicting this Chief and his Queen. Remarkable craftsmanship is evident in the ornate adhishtana, kumbapanchara in the sanctum, Dasavatara statues, and the towering Gopura, making this temple a splendid monument of architectural accomplishments in Ariyalur's history.
15. SENDURAI, SENNIVANAM AND SRIPURANDAN
Based on epigraphic evidence, the Siva temples located in Sendurai, Sennivanam, and Sripurandan can be traced back to different eras. The temple in Sendurai dates back to the time of Rajaraja I (985-1014), the Sennivanam temple to the reign of Rajendra I (1012-1044), and the Sripurandan temple finds its origins during the period of Kulothunga III (1178-1218).
16. GANGAIKONDACHOLAPURAM, GANGAIKONDACHOLISVARAR TEMPLE
Ariyalur is renowned for the magnificent Gangaikondacholisvarar temple situated in Gangaikonda Cholapuram, a prominent landmark in the district. This grand temple, known as the largest of its kind in the Ariyalur district, was constructed during the reign of Rajendra–I. To commemorate his triumph in the Gangetic plains in A.D. 1023, Rajendra–I established a sprawling city named Gangaikondacholapauram. Within this city, he also built the remarkable Siva temple named Gangaikondacholisvarar and a picturesque lake called Chola Gangam.
These elements stand as vibrant symbols of Tamil valor, showcased through the raising of the Chola's Tiger banner along the Ganges' banks. Notably, Rajendra–I even shifted his capital from Thanjavur to this newly developed city. For a remarkable span, extending from his reign until the conclusion of the Chola dynasty's supremacy in A.D.1279, this city stood as the Chola Empire's capital for an impressive 256 years.
The monumental stone temple he crafted at this site is a treasure trove of exquisite sculptures from the middle Chola era. This city's significance is documented in the literary works of Muvar ula by Ottakuttar and Kalingattuparani by Jayankondar, highlighting its historical prominence.
Best Time to Visit in Ariyalur
The best time to visit Ariyalur is from September to March.
How to Reach in Ariyalur
By Road
Ariyalur sits at a distance of 65 kilometers from Trichy, 30 kilometers from Perambalur, and 44 kilometers from Thanjavur. You can easily reach this charming town by following the pathways of National Highways NH45 and NH226. It's like a well-connected junction where different roads lead you to its inviting embrace.
By Train
If train tracks are more your style, Ariyalur Railway Station is like a small but important node in the Trichy Railway Division. It forms connections with Trichy, about 70 kilometers away, and also links you to Chennai, a journey spanning 267 kilometers, through the Chord Line segment. It's like a well-choreographed dance of travel options, ensuring you can reach Ariyalur with ease.
By Air
If you're looking to take flight, Trichy Airport is your friendly neighbor, situated just 75 kilometers away.
Best Hotels and Restaurants in in Ariyalur
HOTEL SHREE VENKATESHWARA
Address: Ariyalur – Sendurai Rd
Address: N0.9 Meala Agraharam, Near chathiram, Trichy Main Rd
Address: Rajaji Nagar-2, Rajajinagar, Ariyalur, Tamil Nadu 621704
Address: Bus Stop, Sendurai Rd, Kamarajar Nagar, Ariyalur, Tamil Nadu 621704
Address: SH27, Trichy Main Rd
Jeya Hotel Food Restaurant
Address: 532M+M79, Ariyalur, Tamil Nadu 621729
FAQ
Q. Which is the important place of Ariyalur?
Ans. The important places of Ariyalur-
Chandra Sthalam Thingalur (Kailasanthar) Temple.

Sri Ramalingaswami Temple.

Ezhuthari Nathar Temple

Sri Neyyadiappar Temple.


Aiyarappar temple.
Q. Which caste is more in Ariyalur?
Ans. In the beautiful district of Ariyalur in Tamil Nadu, the Schedule Caste (SC) members form a significant 23.3% of the population, while the Schedule Tribe (ST) individuals make up 1.4%. It's like a diverse tapestry of communities coming together to paint the district's rich cultural landscape.
Read Also:- 7 Best Places to Visit in Dumka