Hello dear friends! If you are looking for Best places to visit in Udaipur for Couples, you are at the right place. In this article, we have brought you complete details of the Top 15 Places to visit in Udaipur. From Pichola Lake and Gulab Bagh and Zoo to City Palace, Udaipur and Dadri and Doodh Talai Musical Garden, we've got all the details you need. Also, we will share information about Fateh Sagar Lake and more exciting best places to visit in Udaipur for Couples. So, let's get to know about these amazing destinations!
What is famous in Udaipur?
Udaipur, often called the "City of Lakes," is a charming place in India. This city is famous for its stunning palaces, crystal-clear lakes, and a rich history. It's like a fairy tale with beautiful lakes like Lake Pichola and Fateh Sagar Lake, where you can enjoy boat rides.
Udaipur is also known for its majestic palaces, like the City Palace and the Jag Mandir. These grand structures reflect the city's royal past and offer fantastic views of the surrounding landscape.
When you visit Udaipur, you can experience the vibrant culture and traditions of Rajasthan. The local markets are full of colorful handicrafts and traditional Rajasthani cuisine that will tantalize your taste buds.
In Udaipur, you'll find a mix of history, natural beauty, and a touch of royalty, making it a unique and captivating destination for travelers.
15 Best Places to Visit in Udaipur
Pichola Lake

City Palace, Udaipur

Eklingji Temple

Fateh Sagar Lake

Bagore ki Haveli

Sajjangarh Palace

Jaisamand Lake

Gulab Bagh and Zoo

Saheliyon ki Bari

Ambrai Ghat

Maharana Pratap Smarak

Haldighaati

Doodh Talai Musical Garden

Sukhadia Circle

Ahar Cenotaphs
1. Pichola Lake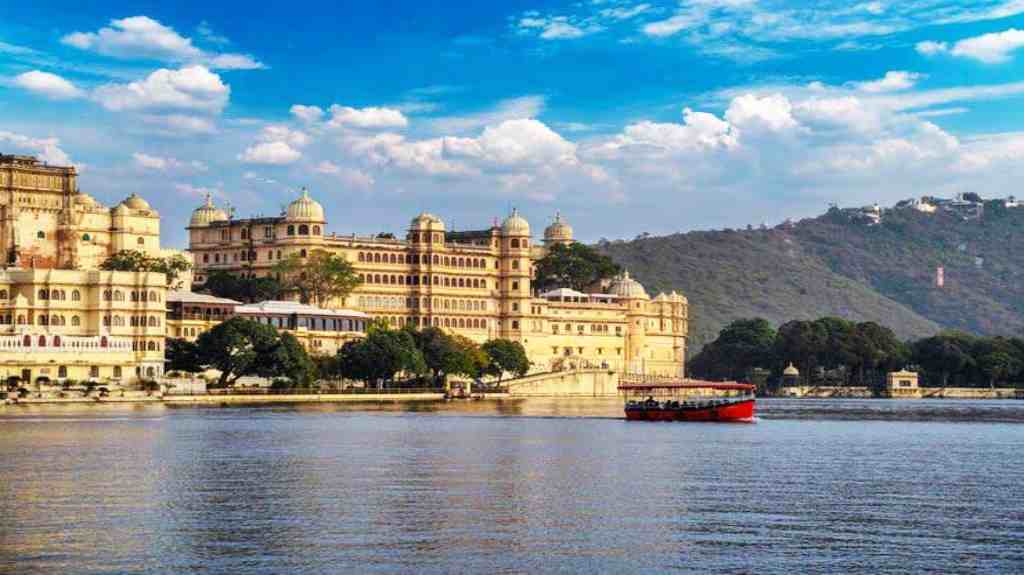 Pichola Lake, nestled in the heart of Udaipur, is like a sparkling gem in the City of Lakes. This artificial freshwater lake was created in the 14th century, and its beauty has enchanted visitors for centuries.
Surrounded by majestic hills, historic palaces, and picturesque ghats, Pichola Lake is a symbol of Udaipur's grace and charm. It's most famous for the two islands it houses: Jag Niwas, home to the luxurious Lake Palace, and Jag Mandir, a stunning palace.
A boat ride on Pichola Lake is a must-do, allowing you to witness the grandeur of the City Palace, the serene Jag Mandir, and the lively Gangaur Ghat. As the sun sets, the lake reflects a thousand colors, creating a mesmerizing sight that stays with you long after you've left.
Pichola Lake, with its timeless beauty, is not just a body of water; it's a piece of Udaipur's soul, where history, nature, and elegance merge to create an unforgettable experience.
2. City Palace, Udaipur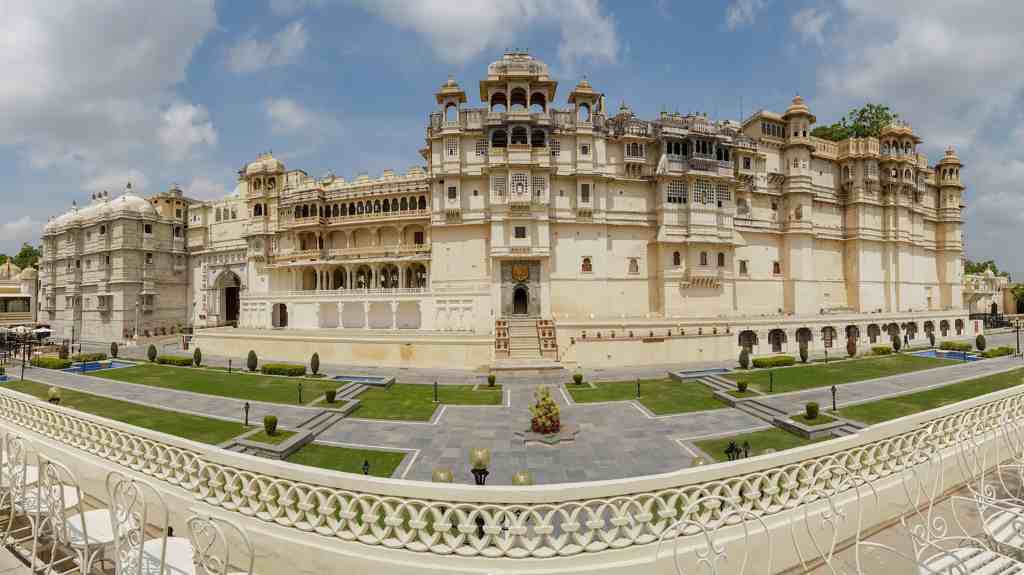 The City Palace in Udaipur stands as a majestic testament to the grandeur of Rajasthan. This remarkable palace, perched on the eastern banks of Lake Pichola, is a harmonious blend of Rajput and Mughal architectural styles.
With its towering domes, intricate archways, and ornate courtyards, the City Palace is a captivating visual delight. It has been the residence of the Mewar dynasty for generations and continues to be a symbol of their regal heritage.
Visitors to the City Palace can explore its opulent rooms, museums, and art galleries, which showcase exquisite artifacts, royal memorabilia, and historical treasures. The palace also provides breathtaking panoramic views of Lake Pichola and the surrounding Aravalli Hills.
The City Palace is a living testament to the rich history of Udaipur, offering a glimpse into the royal past of Rajasthan and serving as a remarkable reminder of the city's cultural and architectural splendor.
3. Eklingji Temple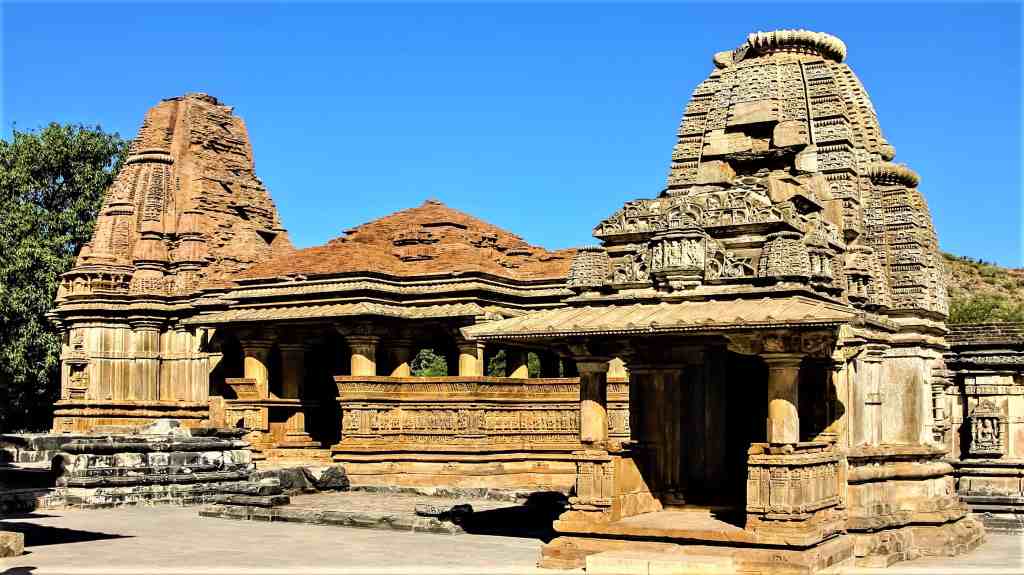 The Eklingji Temple, located near Udaipur, is a sacred gem that holds deep religious significance. This ancient Hindu temple, dedicated to Lord Shiva, is a place of devotion and architectural marvel.
The temple complex is a stunning example of traditional Rajasthani architecture, with intricately carved pillars and beautifully sculpted idols. Its pyramidal roof, ornate archways, and serene courtyard create a peaceful and spiritual atmosphere.
Eklingji Temple is not just a religious site; it's a cultural treasure that reflects the rich heritage of the Mewar dynasty. It's also known for its 108 temples within the complex, each with its own unique charm.
Devotees and tourists visit Eklingji Temple to seek blessings, witness the rituals, and marvel at the timeless beauty of this sacred place. It's a serene sanctuary that offers a glimpse into the spiritual and architectural heritage of Udaipur and Rajasthan.
4. Fateh Sagar Lake
Fateh Sagar Lake in Udaipur is a serene oasis nestled amid the Aravalli Hills, offering a tranquil escape in the heart of the city. This man-made lake was created in the 17th century and has since become a symbol of Udaipur's natural beauty.
Surrounded by lush greenery and dotted with three charming islands, Fateh Sagar Lake is a place of scenic splendor. You can take a boat ride on the lake to explore the islands, particularly Nehru Park and a garden called Udaipur Solar Observatory.
Fateh Sagar Lake's charm is most enchanting at sunset when the sun paints the sky with warm hues, casting a magical glow over the water. The lake also hosts the annual Udaipur World Music Festival, where the melodies of world-class artists fill the air.
For both locals and tourists, Fateh Sagar Lake is a haven of peace and natural beauty, a place to escape the city's hustle and immerse in the serenity of Udaipur.
5. Bagore ki Haveli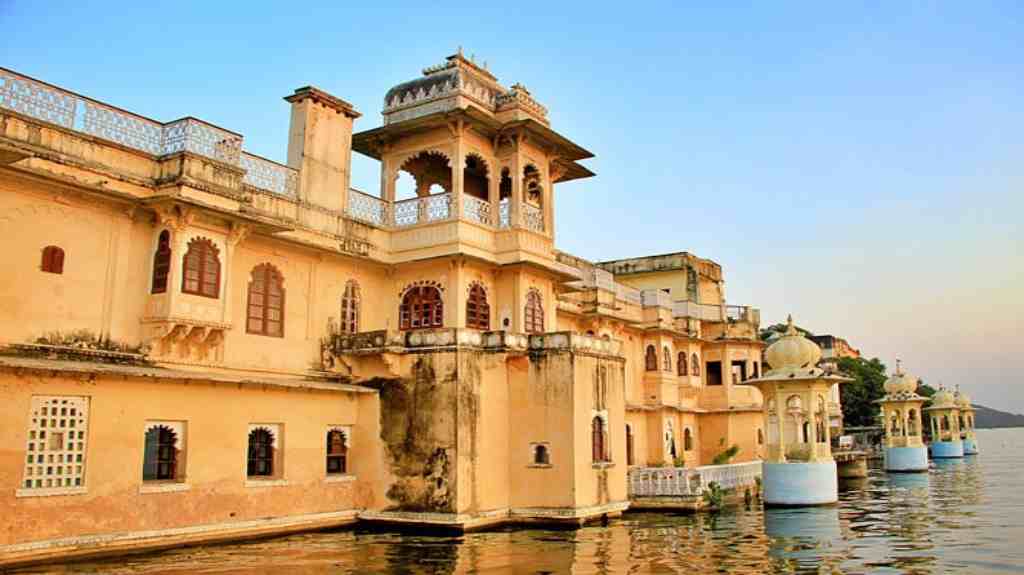 Bagore ki Haveli, located in Udaipur, is a captivating architectural marvel that opens a window to the opulent past of Rajasthan. This historic haveli, built in the 18th century, is a true testament to the intricate craftsmanship of the era.
With its ornate balconies, colorful glass windows, and exquisite frescoes, Bagore ki Haveli is a treasure trove of Rajasthani art and culture. It houses a museum that displays an array of artifacts, costumes, and traditional items, offering a glimpse into the royal lifestyle of the bygone days.
One of the main attractions here is the daily evening cultural show that features traditional Rajasthani music and dance performances. The haveli also offers a breathtaking view of Lake Pichola, making it a picture-perfect spot to capture the essence of Udaipur.
Bagore ki Haveli is not just a building; it's a living museum that lets you step back in time and experience the rich history and artistry of Rajasthan. A visit to this historical gem is a delightful journey into the royal heritage of Udaipur.
6. Sajjangarh Palace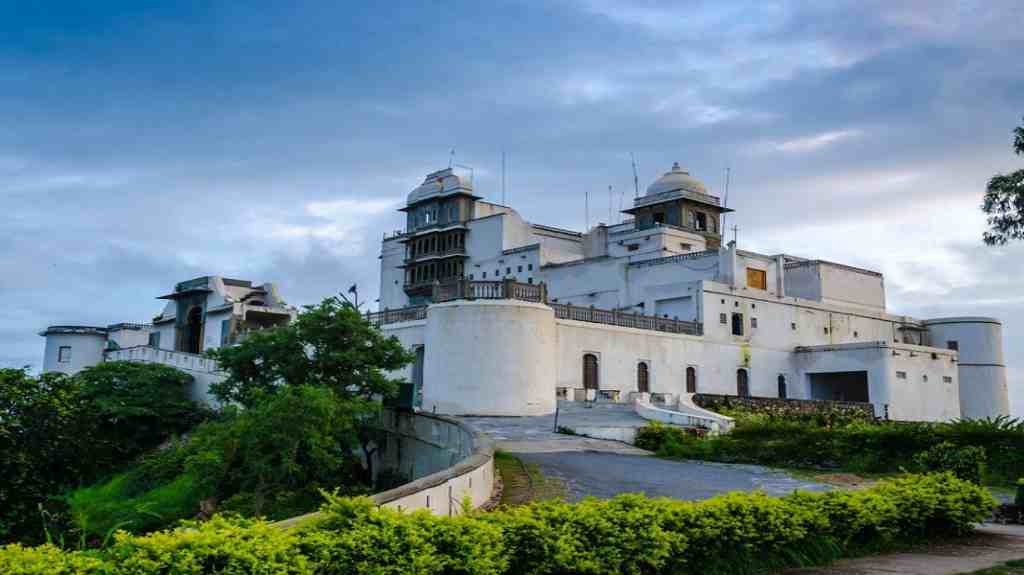 Sajjangarh Palace, often referred to as the "Monsoon Palace," graces the skyline of Udaipur with its regal presence. Perched high on a hill, this palace was built in the 19th century during the reign of Maharana Sajjan Singh.
The palace was constructed with the idea of providing a panoramic view of the city and its lakes during the monsoon season. The palace's architecture is a blend of Mughal and Rajasthani styles, featuring intricate carvings and expansive courtyards.
Today, Sajjangarh Palace offers a breathtaking view of Udaipur, especially as the sun sets, casting a warm, golden glow over Lake Pichola. It's a favored spot for photographers and travelers seeking stunning vistas.
Visiting Sajjangarh Palace provides not only a glimpse into the historical grandeur of Udaipur but also a chance to appreciate the stunning natural beauty of the region. Whether you're interested in history, architecture, or simply enjoying a captivating view, this palace has something to offer to all.
7. Jaisamand Lake
Jaisamand Lake, situated near Udaipur, is a reservoir of tranquil beauty and historical significance. Also known as Dhebar Lake, it is one of the largest artificial lakes in Asia, covering a vast expanse of water.
The lake was created in the 17th century by Maharana Jai Singh, and it's surrounded by lush forests and hills. The beauty of Jaisamand Lake lies not only in its immense size but also in the various islands and temples that adorn its shores.
One of the prominent islands, known as "Baba ka Magra," is home to a delightful palace and a temple. The lake also hosts a magnificent marble dam, which is an architectural marvel in itself.
Visiting Jaisamand Lake allows you to immerse in the serene ambiance, enjoy boat rides, and witness a rich avian population. It's a hidden gem where nature, history, and culture converge to create a unique and tranquil experience for travelers.
8. Gulab Bagh and Zoo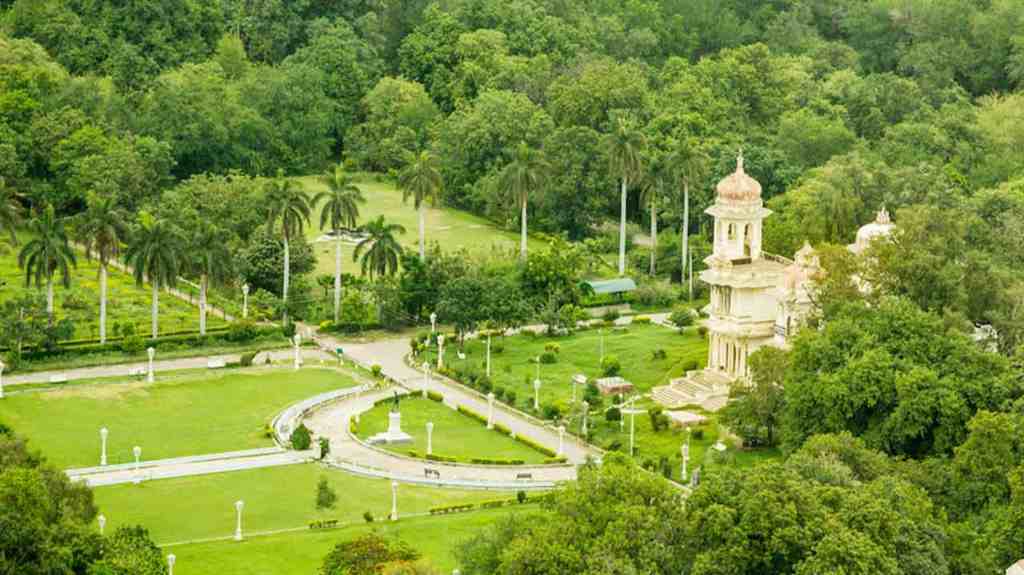 Gulab Bagh and Zoo in Udaipur is a delightful oasis that beckons nature enthusiasts and animal lovers alike. This charming garden, also known as Sajjan Niwas Garden, was laid out by Maharana Sajjan Singh in the 19th century.
The garden boasts a profusion of rose beds, earning it the name "Gulab Bagh," which means "Rose Garden." Strolling through this lush green paradise, you'll encounter an array of colorful flowers, trees, and fountains, making it an ideal place for a leisurely walk or a peaceful picnic.
What sets Gulab Bagh apart is the adjacent zoo, which is one of the oldest in Rajasthan. The zoo is home to a variety of animals, including tigers, leopards, birds, and reptiles. It offers an educational and entertaining experience, especially for families and children.
Gulab Bagh and Zoo is not just a garden; it's a haven of tranquility and a place to connect with nature and wildlife right in the heart of Udaipur. Whether you're interested in flora, fauna, or simply want to relax in a serene environment, this garden and zoo have something to offer everyone.
9. Saheliyon ki Bari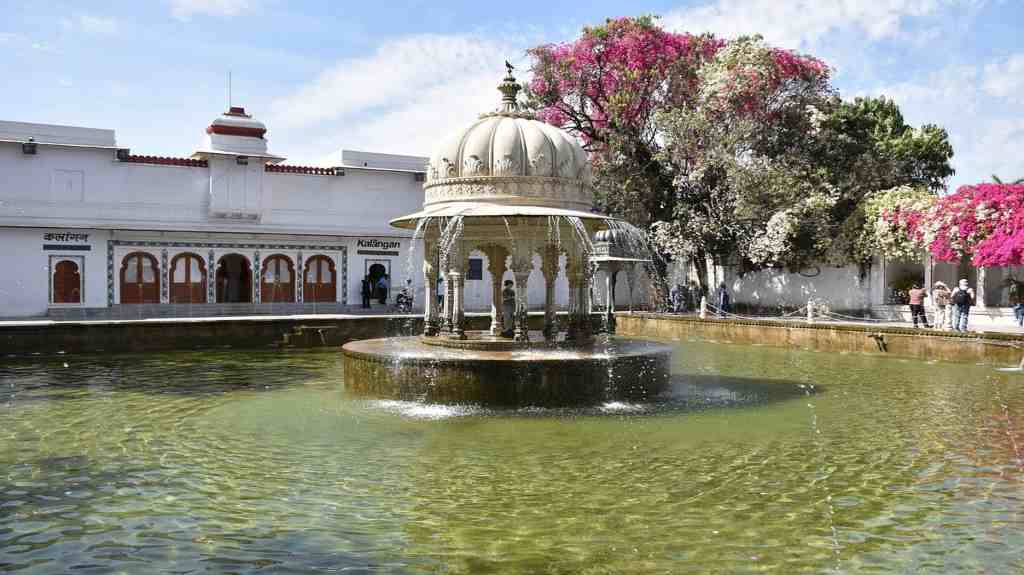 Saheliyon ki Bari, a delightful garden in Udaipur, is a place where nature's beauty and royal history come together. Translated as the "Garden of the Maidens," it was designed in the 18th century for the queen and her companions to enjoy leisurely moments.
This garden is a visual treat with its lush green lawns, exquisite lotus pools, and vibrant fountains. It's adorned with marble pavilions and elegantly designed kiosks, showcasing the finesse of Rajput architecture.
One of the garden's highlights is its delightful fountains that work without any pumps, operated solely by water pressure. The cool and refreshing atmosphere, combined with the soothing sound of flowing water, creates a serene ambiance.
10. Ambrai Ghat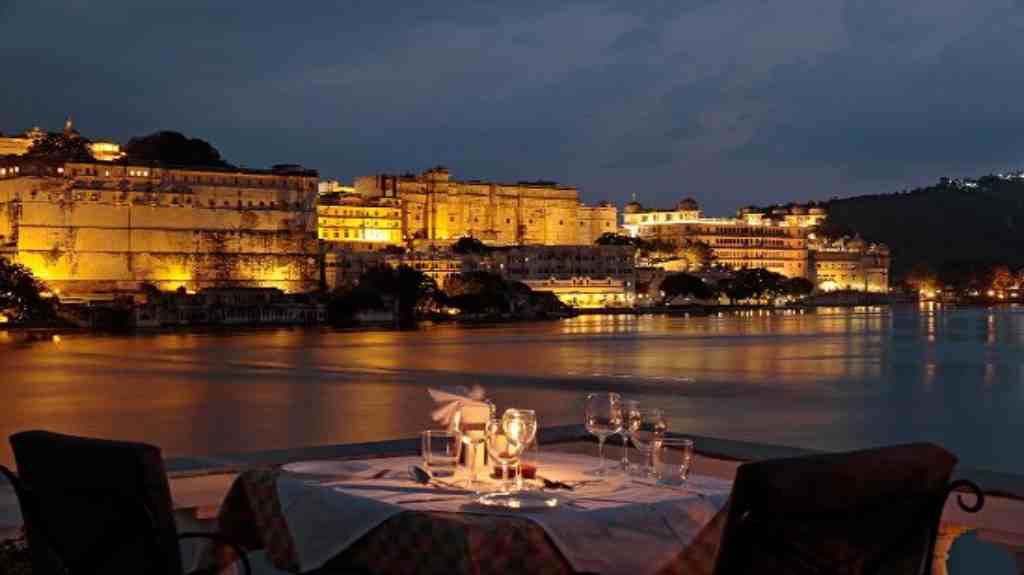 Ambrai Ghat, located on the eastern banks of Lake Pichola in Udaipur, is a picturesque spot that captures the essence of the city's romance and charm. It's an iconic destination for both locals and visitors.
This ghat is renowned for its stunning view of Udaipur's City Palace, the Lake Palace, and the Jag Mandir. As the sun sets, the view becomes nothing short of enchanting, with the palaces bathed in golden light, reflecting on the serene waters of the lake.
Ambrai Ghat is also home to several popular restaurants and cafes, making it a perfect place for a romantic dinner by the lakeside. Dining here under the open sky while enjoying the view of the illuminated palaces is a unique and memorable experience.
11. Maharana Pratap Smara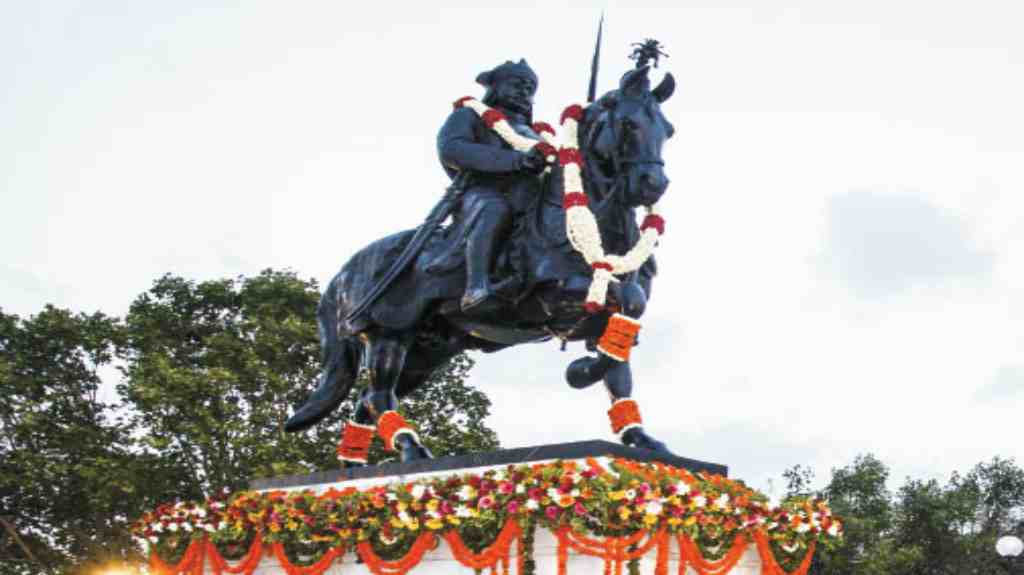 The Maharana Pratap Smarak in Udaipur is a solemn tribute to one of Rajasthan's most legendary and revered figures, Maharana Pratap. This memorial is perched atop a hill and offers a panoramic view of the surrounding landscape.
The star attraction here is a colossal bronze statue of Maharana Pratap astride his loyal horse, Chetak. This striking statue stands as a symbol of valor and courage, as Maharana Pratap was known for his unwavering spirit and heroic deeds in defense of Mewar against the Mughals.
The Smarak also houses a museum that narrates the life and times of this legendary warrior through an array of artifacts, paintings, and historical documents.
12. Haldighaati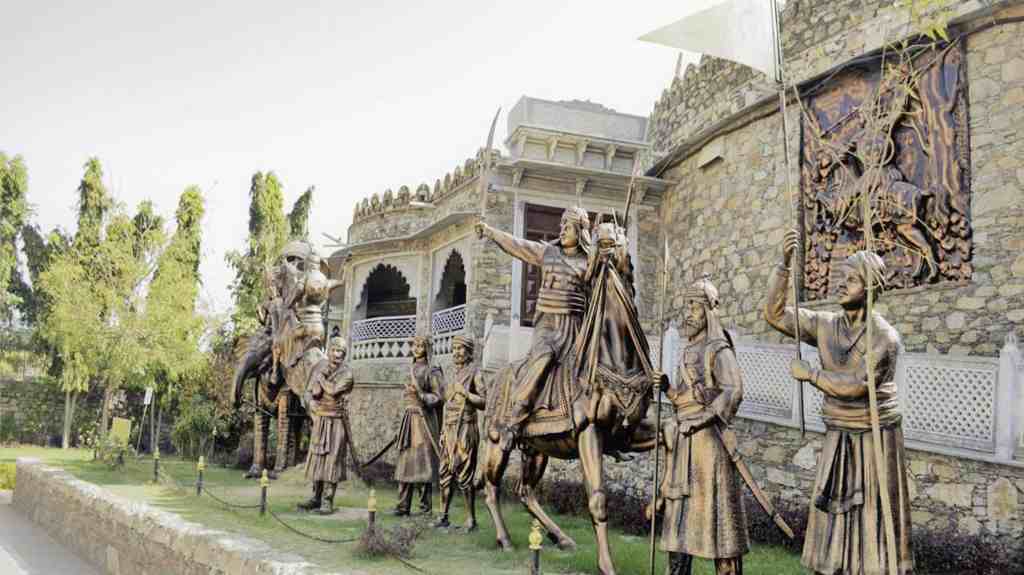 Haldighati, near Udaipur, is a place steeped in history and legend. The name, which means "Yellow Vale" in Hindi, is derived from the yellow-colored soil of the region. This site is famous for a significant battle that took place in 1576 between Maharana Pratap of Mewar and the Mughal Emperor Akbar's forces.
The battlefield is now a peaceful valley surrounded by the Aravalli Hills, and it holds a memorial dedicated to Maharana Pratap and his loyal horse, Chetak. The site allows visitors to explore the historical significance and pay homage to the valor and sacrifice of the brave Rajput warrior.
13. Doodh Talai Musical Garden
The Doodh Talai Musical Garden in Udaipur is a delightful combination of music, lights, and nature. Situated near Lake Pichola, this garden comes alive in the evenings with a mesmerizing musical fountain show.
As the sun sets, the garden transforms into a vibrant oasis of entertainment. The fountain dances to the tunes of both Indian and Western music, creating a synchronized water and light display that's a visual treat. The colorful lights, in sync with the melodies, add a magical touch to the experience.
The garden also offers breathtaking views of Lake Pichola, the City Palace, and the surrounding hills, making it a favored spot for both tourists and locals.
14. Sukhadia Circle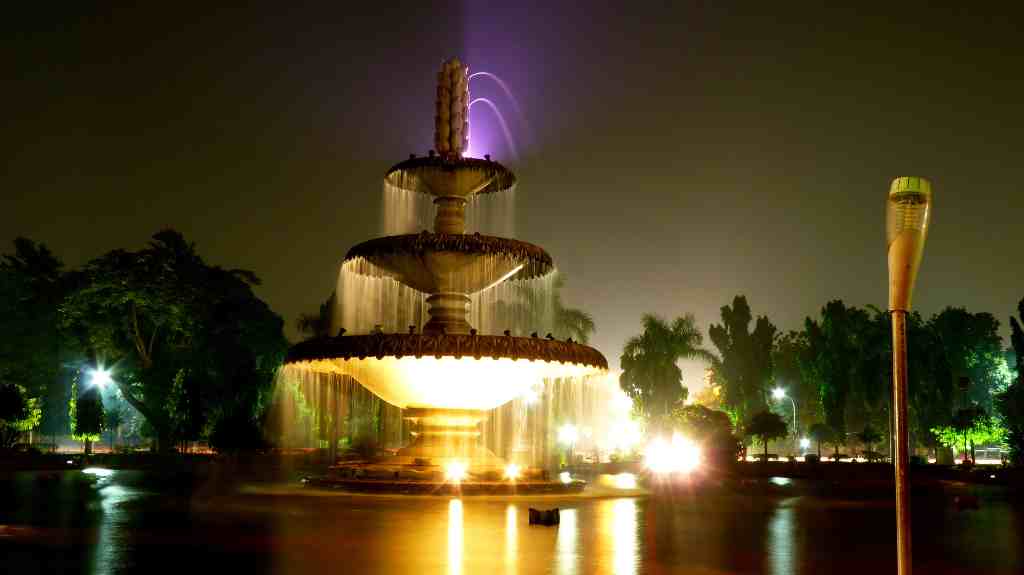 Sukhadia Circle in Udaipur is a vibrant and lively public space that stands as a hub of recreation and leisure. This iconic roundabout, often referred to as 'Sukhadia Circle,' is named after the former Chief Minister of Rajasthan, Mohan Lal Sukhadia.
At the heart of this bustling circle lies a grand three-tiered fountain, surrounded by lush gardens and shaded walkways. The fountain, beautifully illuminated at night, becomes a spectacle, drawing both locals and tourists.
Sukhadia Circle is a favorite spot for families and friends to spend quality time together. It's a place to savor ice creams, street food, and local delicacies from the numerous stalls nearby.
15. Ahar Cenotaphs
The Ahar Cenotaphs in Udaipur are a somber yet intriguing collection of monuments that bear witness to the royal history of Mewar. These cenotaphs, also known as "chhatris," are dedicated to the rulers of the past and are a significant part of the city's heritage.
The architecture of the Ahar Cenotaphs is notable for its striking marble structures and intricate carvings. Each chhatri is a tribute to a Maharana of the Mewar dynasty and serves as a memorial for their life and contributions.
The complex is not only historically important but also a peaceful place to wander through, with well-maintained gardens and a serene atmosphere. It's an opportunity to delve into the regal legacy of Udaipur and pay respects to the rulers who shaped its history.
The Ahar Cenotaphs are more than just memorials; they are a cultural and historical treasure, offering a glimpse into the bygone era of Rajasthan's rich past.
Best Time to Visit in Udaipur
The best time to visit Udaipur from October to March (winter months). During this period, the weather is pleasant and comfortable, with cooler temperatures that make outdoor exploration and sightseeing enjoyable.
Monsoons, from July to September, can also be a good time to visit if you enjoy lush greenery and don't mind occasional rainfall.
Avoid visiting in the scorching summer months from April to June when temperatures can soar, making outdoor activities uncomfortable.
How to Reach Udaipur
By Air
Udaipur has an airport, Maharana Pratap Airport (UDR), which is well-connected to major Indian cities like Delhi, Mumbai, Jaipur, and others. You can book a flight to Udaipur from your nearest major airport.
By Train
Udaipur is linked to the Indian rail network, and Udaipur City Railway Station is the primary railway station. You can catch trains from various major cities in India, including Delhi, Mumbai, Jaipur, and Ahmedabad. The train journey can provide picturesque views of the landscape.
By Road
Udaipur can be reached by road through a network of national highways. The road trip to Udaipur can be quite scenic. The distance to Udaipur varies depending on your starting point, but it's approximately 250-300 kilometers from cities like Jaipur, Ahmedabad, and Jodhpur.
Read Also:- 6 Best Places to Visit in Tonk
Our Website Niabi.in Provided all details about best places to visit in Udaipur with family, Friends and Couple. If you any query then comment us.