Hello dear friends! If you are looking for best places to visit in Karbi Anglong, you are at the right place. In this article, we have brought you complete details of the 6 Best Karbi Anglong Picnic Spot. From KOKA FALLS AT PANIMUR and AMRENG TOURIST CENTRE to KHANDULI TOURIST CENTRE and KOHORA TOURIST RESORT and UMWANG TOURIST CENTRE, we've got all the details you need. Also, we will share information about TREKKING EXPEDITIONS and more exciting places to visit in Karbi Anglong. So, let's get to know about these amazing destinations!
Karbi Anglong district stands among Assam's 34 administrative districts in India. The district's administrative headquarters is situated in Diphu. Governed in accordance with the Sixth Schedule of the Constitution of India, the district is overseen by the Karbi Anglong Autonomous Council.
6 Best Places to Visit in Karbi Anglong
KOKA FALLS AT PANIMUR

AMRENG TOURIST CENTRE

KHANDULI TOURIST CENTRE

KOHORA TOURIST RESORT

UMWANG TOURIST CENTRE

TREKKING EXPEDITIONS
1. KOKA FALLS AT PANIMUR
Address: PRCC+VVR, West, Panimur, Assam
Situated in the western part of Karbi Anglong, Assam, lies Koka—a hidden gem. The Koka picnic spot stands as one of Assam's most enchanting yet undiscovered destinations. Just about 30 kilometers away from Lanka town and approximately 110 kilometers from Diphu, this spot is renowned for its rolling hills and unspoiled natural splendor. It's a haven for those who adore nature and photographers seeking captivating shots of the natural world.
Panimur Falls graces the North Cachar Hill district of Assam. However, reaching this breathtaking waterfall isn't for the faint of heart. The expedition covers around 220 kilometers through Nagaon and Lanka. The road is smooth and four-laned until Lanka (a distance of 180 kilometers), but the final 40 kilometers are a bit rugged, and let's just say it's not for the dirt-averse. Yet, believe me, the adventure pays off when you finally arrive at this heavenly destination.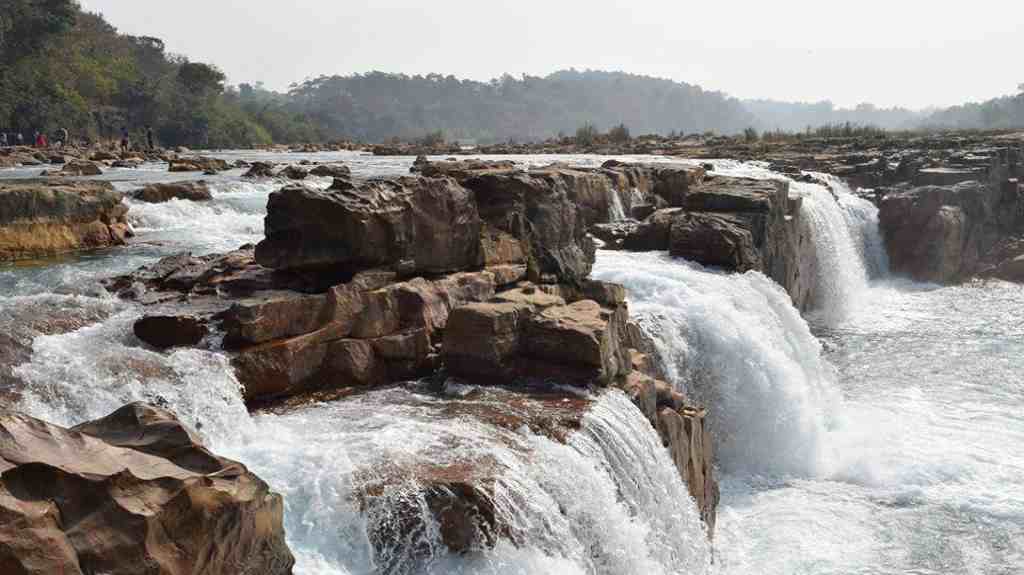 2. AMRENG TOURIST CENTRE
Positioned 120 kilometers away from Diphu and 30 kilometers from Lanka in the Nogaon District, Amreng stands as a river bend nestled between the Kapili river and its companion, the "Amreng River." Encompassed by enchanting azure hills and unchanging lush woods, it is renowned for its unparalleled natural charm.
On tourist maps, it goes by the names Panimur, Koka Hills, or simply Amreng, all denoting the same region. The village's founder bestowed upon it the name "RIVER CAPE INDIA." A traveler's lodge graces the river's edge, offering a comfortable stay.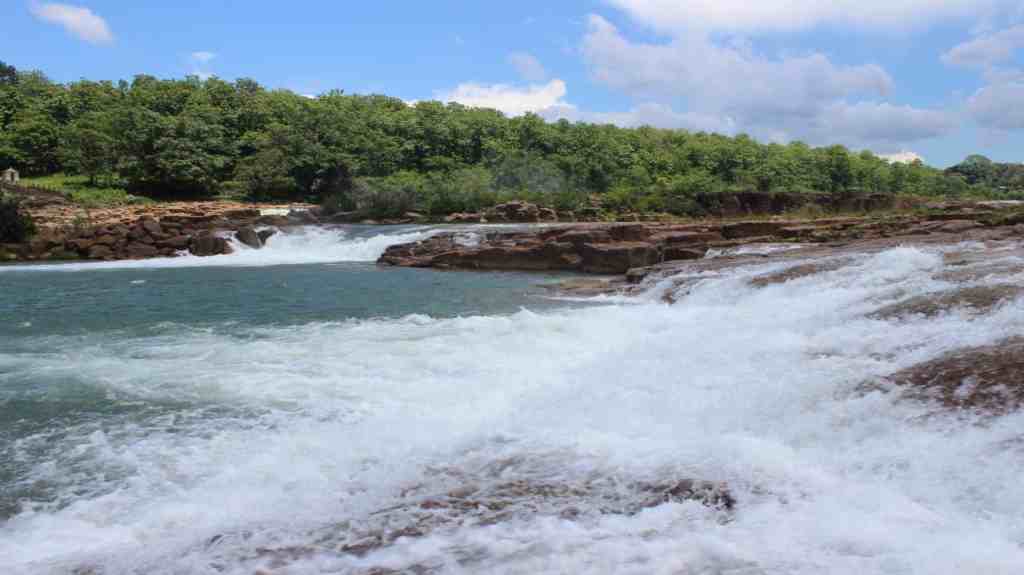 3. KHANDULI TOURIST CENTRE
Khanduli, a temperate grassland situated within a tropical land, can be dubbed as the "New Zealand of the East." Stretching out expansively with rolling contours that resemble desert sand dunes when illuminated by the radiant moonlight, it rests 26 kilometers away from the Hamren Sub-Division – the central hub of West Karbi Anglong.
Positioned along the Jowai-Shillong Road, it stands at a distance of 70 kilometers from Jowai in Meghalaya. This unique location boasts unspoiled beauty that makes it an ideal destination for contemplative study trips, secluded honeymoons, and year-round family getaways.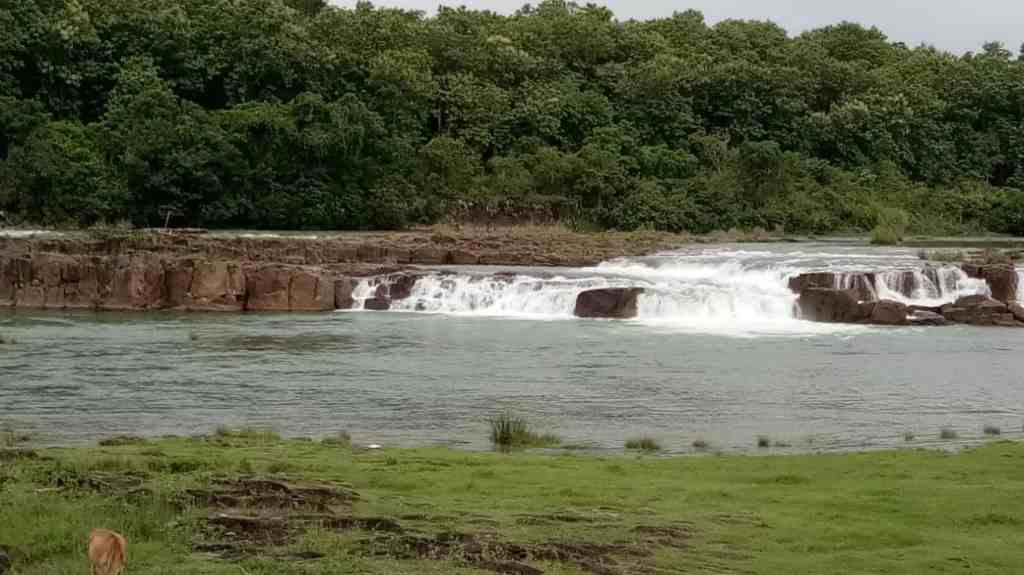 4. KOHORA TOURIST RESORT
In the realm of Karbi Anglong, think of Kaziranga as KOHORA – they're essentially one and the same. The Kaziranga Wildlife Sanctuary experiences its prime season for four months, leaving the other eight months of the year feeling quite lengthy to let a tourism-focused organization hibernate. Moreover, a visit to the sanctuary usually takes just an hour or even less, leaving tourists with quite a bit of time left in the day. To address these gaps, we've come up with some practical activities that not only add more charm but also make the most of the existing facilities.
5. UMWANG TOURIST CENTRE
Umang presents itself as another temperate grassland, sharing similar characteristics with Khanduli. Spanning across an expansive 35 square kilometers, this high plateau boasts a natural grassland with a mostly level terrain. It's embraced on three sides by a sizable river and a small, perennial river, adding to its picturesque setting.
A mere 15 kilometers away from Umroi Airport in Meghalaya, Umwang finds itself in close proximity to another tourist hub at Khanduli. These two destinations will be linked by a Birdle Path, offering a delightful 12-kilometer trekking adventure. Additionally, a 16-kilometer trail leads to the Baithalangso Tikka Tourist Centre.
For the adventurous spirits, Umang doesn't fall short on exciting options. Delve into rafting and angling expeditions on the Barapani river, challenge yourself on a 15 to 20-hole golf course, experience the thrill of horseback riding, and even partake in hang gliding expeditions. These attractions come together to make Umang a truly captivating destination.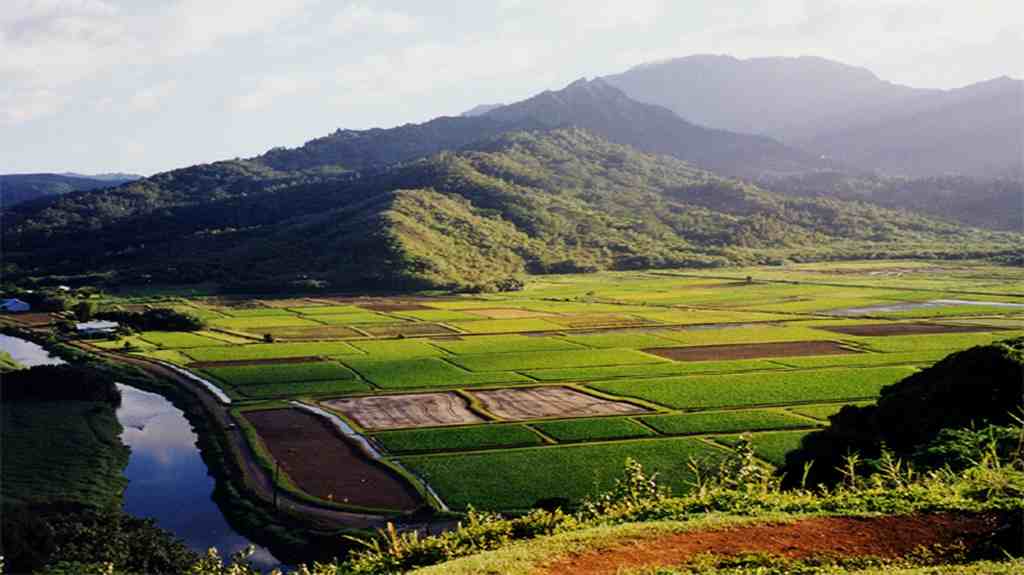 6. TREKKING EXPEDITIONS
Discover the thrill of expeditions to Singhason, the district's loftiest peak standing at around 1600 meters above sea level. Journey through lush rainforests, meandering streams, and rugged hills, immersing yourself in captivating sights and sounds of nature. As you venture forth, the excitement heightens with sightings of various bird and animal species. Encounter the barking deer, pygmy hog, spotted deer, a variety of monkeys, langoors, and an array of both known and unknown bird species, including the majestic Himalayan Hornbills thriving in their natural haven.
During the tumultuous days of the Second World War, the British transformed this peak into an Army Air-Strip. Today, this historical site retains its original form and offers a serene campground, a perfect canvas for future development. Beyond its historical significance, this spot serves as a natural observatory, providing sweeping views of the entire Brahmaputra Valley, the snow-capped Himalayas, the Patkai Range, and the Barail Range.
Adding to its allure, expeditionists will experience a warm tropical climate. Summers range from a maximum of 35 degrees Celsius to a soothing 17 degrees Celsius, while winters boast temperatures between 25 degrees Celsius and a refreshing 10 degrees Celsius. All of this, encompassed within a mere 30-kilometer radius.
Best Time to Visit in Karbi Anglong
You can visit Karbi Anglong at any time of the year.
How to Reach in Karbi Anglong
By Road 
The most convenient way to reach Karbi Anglong is by taking a bus. The northern part of the district is connected by NH 37, and NH 39 serves the eastern half. Buses travel a distance of 172 kilometers from the Guwahati bus station.
By Train
The railway lines of the N. F Railway traverse the district, with stops at various locations including Dhansiri, Diphu, and Rongpahar.
By Air
There is no airport in this region. The closest airport to Karbi Anglong is located in Dimapur, approximately 54 kilometers away from the district. Guwahati International Airport is situated around 172 kilometers from here.
Best Hotel & Restaurants in Karbi Anglong
Address: Kasa Stadium,gurudwara road, diphu, Diphu, Assam 782460
Aturkimi Hotel & Restaurant
Address: RCRQ+3C8, Diphu, Assam 782462
Address: XCCP+3G4, Manja, Assam 782461
Borgos The Wild Haven, Kaziranga
Address: Kaziranga National Park, No.2 Sildubi, Kohora, Assam 785609
Address: Diphu, Assam 782460
Address: Kaziranga National Park , Geleky, Mohpara, National Highway 37, Resort Borgos, Assam 785609
FAQ
Q. Which is the best picnic place of Karbi Anglong?
Ans. Tourist Spots of Karbi Anglong District.

KOKA FALLS AT PANIMUR.

AMRENG TOURIST CENTRE.

UMWANG TOURIST CENTRE.

TREKKING EXPEDITIONS.

KHANDULI TOURIST CENTRE.


KOHORA TOURIST RESORT.
Q. Which is the most beautiful place in Karbi Anglong?
Ans. Popular Tourist Spots in Karbi Anglong

Amreng.

Garampani Wildlife Sanctuary.

Khanduli.


Umwang.
Q. Why is Karbi Anglong famous?
Ans. In 1952, the Karbi Anglong district welcomed the establishment of the Garampani Wildlife Sanctuary, covering an expanse of 6 square kilometers (2.3 square miles). Joining this sanctuary are four others: Marat Longri Wildlife Sanctuary, the East Karbi-Anglong Wildlife Sanctuary, Nambor Wildlife Sanctuary, and North Karbi-Anglong Wildlife Sanctuary.
Q. Which place is famous in West Karbi Anglong?
Ans. Koka, nestled in West Karbi Anglong, Assam, unveils a hidden gem—the Koka picnic spot. This destination remains one of Assam's most stunning and undiscovered locations, positioned roughly 30 kilometers away from Lanka town and approximately 110 kilometers from Diphu. Renowned for its hills and natural splendor, Koka is a true delight to explore.
Read Also:- 12 Best Korba Picnic Spot