The winter season is about to arrive in India. We the Indian people especially love to travel and explore nature during this season. Youth usually explores waterfalls, mountains where they can do activities like camping, hiking, trekking, and whatnot. Middle-aged people usually plan their trips to historical places or famous temples either in the north or south India. In this article, we are going to explore the Best Places to visit in Trivandrum.
The amazing place of Trivandrum is situated in God's Own Country Kerala.
let's find some beautiful places in Kerala to get lost.
Top 10 Best Places to visit in Trivandrum
Padmanabhapuram Palace
Neyyar Dam and Wildlife Sanctuary
Padmanabha Swamy Temple
Poovar Island
Napier Museum
Magic Planet
CSI Christ Church
Vellayani Lake
Veli Beach
Ponmudi Hill Station
Padmanabhapuram Palace
Padmanabhapuram palace is one of the most elegant architectural wonders of India. Over 400 years old it is considered to be the largest wooden palace in all of Asia. Moreover, it is surrounded by Veli hills on the east and fertile farmland and water. Thai Kottaram is the core of the palace.  King IRAVI VARMA  constructed it in the 16th century.
One can see the beautiful traditional architecture here.
Undoubtedly the oldest structure.
Another notable feature is the clock tower or MANI MEDA.
Paprika Maalika ( a grande multi-stored structure) symbolizes wealth, royal, power, and realization of gods.
The ancient murals paintings are invaluable and sacred.
The palace is quite big enough to explore different kinds of traditional Kerala architecture.
One should visit this amazing palace.
Neyyar Dam and Wildlife Sanctuary
It a great picnic spot for family and friends. It's a perfect place for a one-day outing.
Neyyar dam (gravity dam) is 32 km far from Trivandrum. It is located on the foot of Western Ghats. Its a popular picnic spot for school kids.
If you are visiting the Neyyar dam then you must visit Wildlife sanctuary where you can find numerous species of animals and their habitats.
Wildlife sanctuary includes endangered species of Gaur, sloth bear, Nilgiri langur, wild elephants, and sambar deer, etc.
Apart from this, you can even do boating there.
If you love to relax and do some yoga or meditation then you can visit Sivananda Yoga Vedanta Dhanwanthari Ashram.
Padmanabha Swamy Temple
Shri Padmanabha Swamy temple of  Trivandrum is a fine example of exquisite architecture. It is a blend of Dravidian and traditional Kerla styles.
On the other hand, this temple is one of the richest temples in the world. The main attraction of this temple is the ornate Gopuram (the tower at the temple's main entrance)
It has seven floors with a pair of window-like openings at the centre of each floor on its opposite sides.
Around lakhs of devotees visit this place every week. It is one of the most secure temples.
Poovar Island
Poovar island and its backwaters are the major attraction for most of the tourists. Moreover, it is one of the famous tourist places in Kerala.
The name of the island is related to the story of King Marthanda Varma.
Poovar's speciality is the boat ride through the swamp forests. It also offers cosy land or water cottages resorts. Making a perfect holiday destination for a newly married couple.
Napier Museum
The museum is about 6km away from the city. Robert Chisholm, the consulting architect of the Madras government designed an architectural masterpiece. Lord Napier, the governor of Madras named this museum.
Napier Museum is a landmark in the city with its unique ornamentation and architectural styles.
Apart from this, the indo-Saracenic structure also boosts the natural air conditioning system.
It houses rare collections of archaeological and historic artefacts, bronze idols, ancient ornaments, a temple chariot, and ivory carvings.
Furthermore, it also contains the  Chitra Art Gallery.
Magic Planet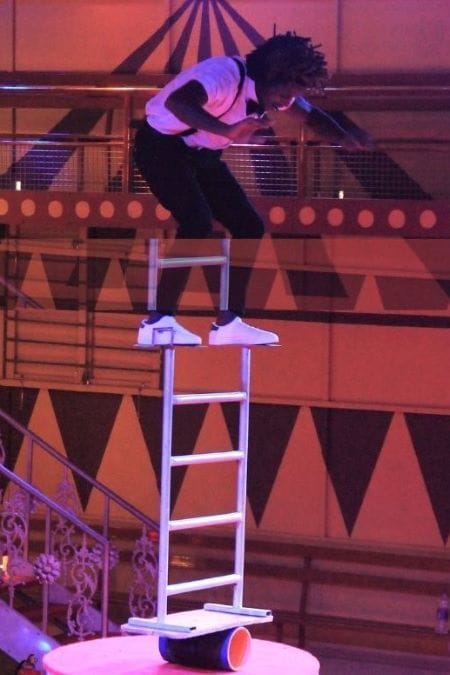 The world's first magic planet is located in Trivandrum. It is a major attraction to kids.
The magic castle spreads over 1.5 acres. Moreover, the natural beauty of magic planet holds several attractions like traditional Indian Magic, Flight of Fantasy, Intimacy magic, Mirror Maze, Kids Rainbow Planet last but not the least the colourful magical parade, Rythm of Wonders is an absolute visual treat.
Overall it's a complete package of entertainment.
CSI Christ Church
It is the oldest church in the city. Bishop  Dealtry of Madras consecrated the church on 15th November 1859. The church itself is an elegant building, built in the gothic style along with beautiful stained glass windows portraying The Good Sheperd.
The windows on the walls depict the twelve disciples and others associated with the life of Jesus.
Vellayani Lake
The backwaters of Kerala are very famous and so is Vellayani Lake. It is around  9km away from Trivandrum Central Bus Stand. Moreover, it is the largest freshwater lake in the Trivandrum district of Kerala with an abundance of fresh fish.
The water is crystal clear and calm, especially during moonlit nights.
During the Onam festival, a boat race is held every year. As a result, it attracts a huge crowd.
If you are in Kerala then you shouldn't miss the opportunity of seeing this wonder lake of fresh water.
Veli Beach
Veli tourist village is also one of the main tourist attractions in Kerala. It is located at a distance of 8km from Trivandrum. You can also find a lake called the Veli Lake that meets the Arabian Sea at this place.
It offers a paddle boat ride in the lake along with other water sports activities. In addition to this, there is a floating bridge which you can cross for getting on the other side of the lake. It includes a floating restaurant that gives an amazing array of food products.
Above all, you can enjoy by doing many activities here like boat riding, etc.
Ponmudi Hill Station

One of the major attractions in Kerala is Ponmudi Hill Station. It is located 55.2 km northeast of Trivandrum city at an altitude of 1100 m. Being a part of the Western Ghats mountain range it runs parallel to the Arabian Sea. It offers beautiful trekking trails where you can walk through lush green forests.
Last but not the least, these are the top ten places to visit in Trivandrum.
Though there are many places apart from the top 10 places to visit in Trivandrum.
But I feel you should visit this place.
Every place has its uniqueness and meaning.
Do you know why Kerala is known as God's own country?
Kerala is also known as God's own country.
If your answer is no, then no need to worry I 'll tell you why.
According to Hindu mythology, Lord Parsuram created an incarnation of Lord Vishnu by throwing his axe across the sea to create new land for his devotees to live peacefully.
So Kerala is God's creation, hence it is called God's own country!!
Kerala a state in Southern India, also known as Spice garden of India, Land of coconuts, Land of Trees.
Mahatma Gandhi called Kerala as "Evergreen city of India".
Kerala is one of the most scenically beautiful states of India. It was formed on 1 November 1956. Kerala is the twenty-first largest Indian state by area.
It is bordered by
Karnataka to the north and northeast

Tamil Nadu to the east and south

 Lakshadweep Sea to the west.
Kerala is the thirteen largest Indian state by population. It is divided into 14 districts with the capital being Thiruvananthapuram now known as Trivandrum.
Malayalam is the most widely spoken language and is also the official language of the state.
CULTURE:
The culture of  Kerala is composite and cosmopolitan. It is a synthesis of Aryan and Dravidian cultures, defined by its antiquity and the organic continuity sustained by the Malayali people.
Every year over 10,000 festivals are celebrated in the state. The famous and most celebrated common festivals are Makaravilakku, Chinakkathoor, Pooram, Attukal Pongala, and Nenmara Vallangi Vela.
Apart from this Onam is the biggest celebration in Kerala. It is a harvest festival. It celebrated with cultural elements such as Vallam Kali, Pulikali, Pookkalam, Thumbi Thullal, and Onavillu. Keralites create Pookkalam (floral carpet) designs in front of their houses.
DANCE:
Kerala is home to various types of arts.
These include five classical dance forms:
Kathakali

Mohiniyattam

Koodiyattom

Thullal

Krishnanattam
These were developed and originated in the temple during the classical period under the patronage of royal houses.
Other dance forms associated with temple culture are
Kerala Natanam

Thirayattam

Kaliyattam

Theyyam

Koothu

Padayani
MUSIC:
The development of classical music in Kerala is attributed to the contributions it received from the traditional performance arts associated with the temple culture of Kerala.
Carnatic music dominates Keralite traditional music. Sopanam a Rag based renditions accompany Kathakali performances.
Panchavadyam is a form of percussion ensemble, in which artists use five types of percussion instrument.
Kerala's visual arts range from traditional murals to the works of Raja Ravi Verma. He is the state's most renowned painter.
Despite all this, Kerala also has rich collections of folk songs and ballads.
CUISINE:
Kerala cuisine includes a wide variety of vegetarian and non-vegetarian dishes. Kerala is famous as the Spice Garden of India.
Rice is a dominant staple that is it all the time of day.
The majority of breakfast foods are made out of rice in different forms.
It includes idli, dosa, puttu, appam, tapioca, or pulse-based vada. These are accompanied by chutney, Kadala, payasam, payar pappadam, appam, chicken curry, beef fry, egg masala, and fish curry.
Thalassery biryani is popular as an ethnic brand. Sadhya is a vegetarian meal. It is served on a banana leaf, followed by a payasam.
Popular snacks include banana chips, yam crisps, tapioca chips, Achappam, Unni appam, and Kuzhalappam.
Seafood specialities include Karimeen, prawns, shrimp, and other crustacean dishes.
Above all, Kerala is also a tourism place.
Kerala's culture and traditions, coupled with its varied demographics, have made the state one of the most popular tourist destinations in India.
Kerala's beaches, backwaters, lakes, mountain ranges, waterfalls, ancient ports, palaces, religious institutions, and wildlife sanctuaries are major attractions for both domestic and international tourists.
National Geographic's traveller magazine named  Kerala as one of the "ten paradises of the world" and "50 must-see destinations of a lifetime".
Moreover, CNN Travel listed Kerala amongst its "19 Best places to visit in 2019".
Kerala tourism is a global brand.
After knowing Kerala's culture, dance, music, historical places, cuisines aren't you excited to know more about the top ten places to visit in Trivandrum?
In conclusion, the Kerala state is a complete holiday package containing backwaters, historical temples, old churches, and beaches.
This is a perfect destination for your next holiday.
And don't forget to visit the top ten places in Trivandrum.