"Wedding looks for a girl is both intimate and personal. It reflects her personality and style".
Dear Young brides,
Here is a special article about the wedding looks for a girl.
To concentrate much on your wedding looks on your special wedding day, read this article and acquire pertinent information for you to look smart and beautiful.
Here is a list of Top 20 Wedding Looks For Girl to be the centre of attraction on that special occasion(Wedding Day!!!).
1)RED KANJEEVARAM SAREES
"When an Indian Girl wears a red Kanjeevaram saree, the world stops to admire her grace".
Kanjeevaram -queen of silk with high quality and richness.
Highly preferred by the girls of Tamilnadu.
They are known for their texture, durability, lustre, and finish.
One of the costliest treasures of a fashion-loving bride.
To create a royal impact, a rich red silk kanjeevaram saree is the best choice for you.
A combination of Red Kanjeevaram Saree with selected jewellery such as gold necklace, diamond necklace, gold jhumka, gold choker necklace, and stone studded bracelets gives a decent and glamorous appearance for you.
Apply Mehandi designs on your hand and feet.
Hairstyles-hair bun, traditional braid, fish braids, etc.
Wear solid or design sandals that give a perfect wedding look for you.
2)BANARASI SAREES
Are you a lover of Banarasi saree?
"Banarasi Saree-Six Yards of Perfect Grace".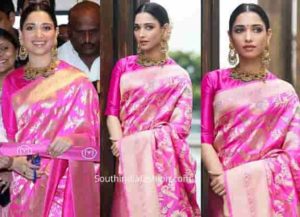 A striking pink and ivory mixed Banarasi saree with a golden border is very gorgeous to look at.
You can wear Aari or stone studded blouse with an elbow sleeved pattern.
Highly preferred by south Indian brides.
There is nothing more special than your wedding day. So, select the right type of Banarasi wedding saree and accessories to make your wedding a sparkling and twinkling one.
Jewellery-stone studded long earrings and a delicate necklace.
Apply Mehandi designs on your hands and feet to look more gorgeous.
Hairstyles-classic bun with flowers, side-swept curls, plait with flowers, side braids, etc.
High heels are the perfect match for Banarasi wedding sarees.
3)CLASSIC RED LEHENGA
"In a world full of trends, sometimes a girl just wants to wear something classic".
It is a typical age-old wedding dress own on the wedding day.
For weddings, many brides prefer selecting a classic red lehenga.
These lehengas are super bold and elegant.
A deep red lehenga with stone studded jewels gives a perfect look for you to enhance your beauty.
Jewellery that can be worn along with classic red lehenga-pearls, Kundan, sparkling diamonds, ravishing rubies, and polkis.
You can also go in for applying Mehandi on your hands and feet.
Hairstyles-flower rolled hairdo, high bun, braided bun, wavy open hairstyle, etc.
Footwear -Pumps, platform heels, Kohlapuris, kitten heels, etc.
4)MODERN GOWN
"A modern gown is a dress that you will remember forever".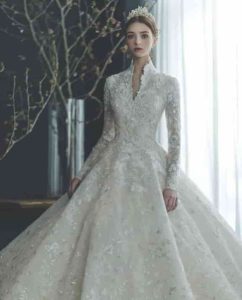 A white gown looks beautiful and glamorous for all the modern brides.
It is so graceful and appealing.
An apt choice for all the contemporary brides.
Modern brides love gowns with swirling embroidery.
By wearing this attire, you look like a princess.
Accessories that you can wear along with your wedding gown-pearl studded earrings, necklace, bracelets, anklets, wreath and veil, flower crowns, hairpins, garter, etc.
Simple cut shoes are a perfect match for a wedding gown.
5)SHARARAS
"A beautiful sharara can be as exciting as a poem".
A gorgeously embroidered Kurti with a bottom (skirt) can be a lovely as well as an elegant selection for your wedding day.
Select shades of peach or red to get a perfect wedding look.
If you like to wear sharara for your sangeet function, then you can go in for colours like mint green.
Wear it with open tresses.
Go for a bold makeup.
Choker necklaces, fresh flower jewellery, jhumkis, mang tikka, Kundan necklace, floral jewellery, etc can be worn along with this outfit.
High heels are highly suitable for shararas.
You can style your hair in a fishtail braid.
6)GOLDEN SABYASACHI LEHENGA
"Work until you get dressed into a Sabyasachi lehenga".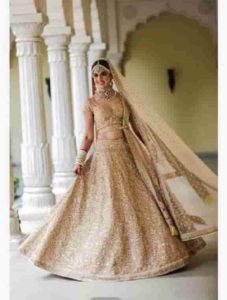 A magical gold decorated bridal dress.
Be a golden bride by wearing tassel earrings, stone studded earrings, silver jhumkas, Kundan jewellery, Polki, ivory and red bangles, nose ring, etc.
Wear heels or wedges for this type of lehenga.
If you prefer this type of lehenga as your wedding outlook, you can also use traditional jewellery such as mang tikka, matha Patti, traditional rings, and bangles.
You can go in for any hairstyle.
Use natural flowers for your hair to look more perfect and unique on your wedding day.
7)ANARKALI
"Nothing makes a woman more beautiful than a woman with Anarkali".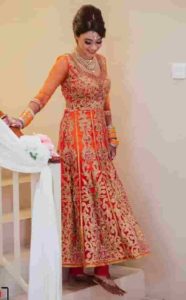 One of the simple weddings looks for a girl.
A traditional and charming bride suit.
It is a classic wedding outfit.
Holds a special place in a bride's wedding dress.
They are super comfortable.
Unique in style.
Simple and plain.
Weightless.
You can wear it with a light necklace and a pair of chandelier earrings.
Hairstyles for this type of wedding look includes messy side bun, low ponytail, simple front puff, waterfall hairstyle, etc.
You can go in for footwear like strapped heels, jutties, or high heeled pumps.
Fill your feet and hands with simple Mehandi designs.
8)FALLING FLOWER LEHENGA
"Ethnic Falling Flower Lehenga dresses with a soul for your wedding".
A stylish super ideal wedding dress is worn by brides.
The best option for women during the wedding season.
It enhances your look, confidence, feminine strength, and style.
Mid parted open hairstyles, loose bun, side braids, front puff, etc gives a perfect wedding look for you.
You can wear it with a beautiful bib necklace, earrings, bangles, diamond set, ear cuffs, etc.
Mojaris or jutties are the perfect footwear for you for a casual, decent, and stylish look.
Other footwear that can be worn for this type of lehenga-high bridal heels, Indian chappals or flipflops, Indian styled ballerinas(comfortable and stylish).
You can also apply Fuschia on your lips to be more attractive.
9)WHITE SAREES
"Sarees coloured in white speak a love life".
White-a most elegant colour of all the colours.
A white saree with a simple golden zari border looks very appealing for your wedding.
Christian brides prefer wearing white saree with zari border on their wedding day.
It is charming to see when you wear white saree sprinkled with silver sequins.
It gives a soft, serene, and peaceful appearance to you.
Jewellery to wear-traditional big golden jhumkies,  small mang tikka, white bangles, white earrings, white necklace, white toe and nose rings.
Wear diamond Bindi or simple red Bindi(big or small) for a beautiful appearance.
Jutties, thin heels, white flats, creamy cut shoes, etc can be suitable footwear.
Hairstyle for white saree-a hair bun with hair jewellery or flower ornament, a loose wavy hair, etc.
10)EMBROIDERED ROYAL BLUE LEHENGA
Are you a blue colour lover???
"Wearing an embroidered royal blue lehenga is a subtle adventure in itself".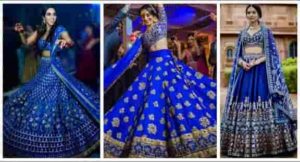 One of the best weddings looks for a girl.
You can wear this blue lehenga with white floral jewels and wavy dresses with pink clips and smoothly flushed cheeks.
A modern-day bride prefers wearing a royal blue lehenga with puffed sleeves on her wedding as well as for her Mehandi ceremony.
A gorgeous royal blue lehenga with heavy floral embroidery is very beautiful and attractive to see.
It enhances the wedding look of the bride.
Jewellery to be worn-silver jhumkies, long choker silver necklace, Polki, Kundan, metal bangles, etc.
Wedges, high heels, and jutties add more beauty to your appearance.
Hair buns, moghra, and hair filled with white flowers(jasmine) give a pleasant look for you.
Apply Mehandi designs according to your preferred choice.
11)DIL GULDASTA LEHENGA
"The dream lehenga of every bride is Dil Guldasta lehenga".
A velvet lehanga from"Gulkand Colection".
It is a lehenga adored by each bride.
A perfect combination of pink and red.
It is filled with sparkling rhinestones, floral patterns, and rose-tinted crystals.
When you wear it on your wedding day, you will be the heart of the ceremony.
You can wear it with green bangles, emerald choker, Maang tikka, and a Polki.
Hair flower bun or messy hair bun with soft curls is the perfect hairstyle for Dil Guldasta lehenga.
For a better bridal look, apply Mehandi of different patterns.
Use dark red lipstick and a maroon Bindi for a beautiful look.
Choose high heels or wedges as your footwear.
This wedding outfit gives you a queen-like feeling".
12)MIRROR ENCRUSTED LEHENGA
"Your dreams have no bounds until the heavy wedding mirror encrusted lehenga fancy you".
A bride can wear a mirror encrusted lehenga with mirror works to be the sparkling star of the day.
This dress is suitable and vibrant for all wedding ceremonies.
Ornaments that can be worn are pearl necklace, Kundan jewellery, gold and diamond bangles, etc.
Footwear-kitten heels and high heels.
Hair buns surrounded by flowers give a perfect match for this type of lehenga.
To look attractive, apply Mehandi designs.
13)GHARARAS
"For simple, high thinking, and bright outfits, better choose a gharara".
You can select a fashionable, dusty pink sharara with amusing gold zari borders for your wedding.
It gives a smart and beautiful look for you.
It is also a comfortable wedding outfit that will not hurt your skin.
Wear jewellery like diamond necklaces, gold bangles, stone studded long earrings, nose rings, and bracelets.
Hairstyle-Hair buns with stone studded hair accessories give you a glamorous look.
Select footwear according to your height(Eg: high heels, kitten heels, etc).
Apply Mehandi as per your choice.
14)ICE-BLUE FANCY WEDDING SAREES
"A traditional girl is a lover of ice-blue fancy wedding saree".
It gives a divine and calm appearance for the bride.
You can wear it with a sultry blouse, a pair of diamond and pearl earrings, and a diamond bracelet.
Footwear-Use flats or high heels if you go for this type.
Black Loose curls or free hair is the apt hairstyle for ice -blue fancy wedding sarees.
15)SULAKSHANA MONGA LEHENGA
"Life isn't perfect but your Sulakshana Monga lehenga can be the perfect wedding outfit".
A cherry red and dark pink Sulakshana Monga bridal lehenga give an awesome look to you.
It is fully embroidered and own with a blouse filled with sparkling needs, zari work, and sequins.
One of the fabulous weddings looks for a girl.
A special type of dress embedded with attractive artwork.
You can wear neck choke, gold necklaces, a dozen metal bangles, long earrings, bracelets, and anklets.
Hairstyles- fish hair braid, hair buns surrounded by flowers, etc.
Apply attractive Mehandi designs for your hands and feet.
16)PEACH GOWN
"Let's go peachy".
Peach-one of the popular colours in Indian fashionable wedding dresses.
Peach is a soothing colour to the eyes.
It is highly glamorous.
An embroidered florally patched wedding gown.
Jewels to be worn to make your look perfect-a long pair of pearl earrings, flower crowns, metal bangles, golden necklaces, diamond bangles, etc.
Ponytails, loose hair, etc can be the hairstyles for your hair when you go in for this type of wedding outfit.
Wear comfortable, simple, and qualitative shoes according to your desire.
17)FABULOUS IVORY LEHENGA
"Suit yourself with the fabulous ivory lehenga".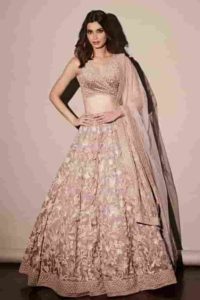 A lehenga weaved with fine embroideries and thread work.
Other colours to be chosen-maroon, green, and pink.
Stone studded neck choking necklaces can be worn for this type of lehenga.
Footwear-high heels, wedges, etc.
Hairstyles-Waterfall braid.
18)chikankari  WEDDING SAREES
"Elegance never goes out of style for chikankari wedding sarees".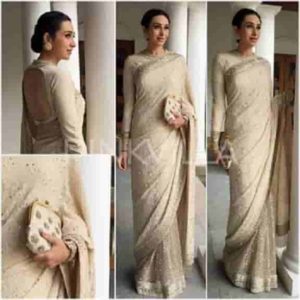 Chikankari saree features beautiful mirror work, fanciful thread work, and glittering silver laces.
It is normally selected by well-reputed actresses for their weddings.
It is usually worn with a low hair bun.
Decorative ornaments can be worn according to the colour of the specific chikankari wedding saree.
Footwear-wedges, flats, high heels, etc.
Also Read:  look naturally beautiful without makeup
19)DHOTI
"A Dhoti looks beautiful for a modern bride".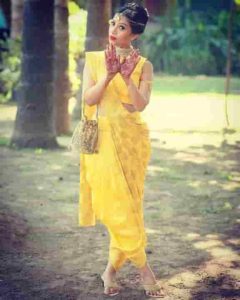 Fashionable girls can go in for this type of outfit for their wedding.
A beautiful wedding dress for brides.
You can wear dhotis that are light in colours or pastels.
Jewels that can be worn by you are a pair of long stone studded earrings, diamond bangles, silver anklets, golden nose rings, etc.
Ballerinas can be perfect and unique footwear for dhotis.
Hairstyles-Braided updo.
20)SHANTHANU AND NIKHIL WEDDING BALL GOWN
"A ball gown makes a girl classy and fabulous on her wedding day".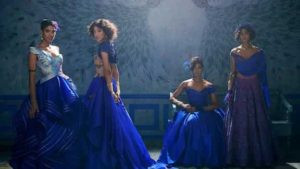 One of my favourite weddings looks for a girl.
Features an anti-trend crystal work, bottom flares with angel sleeves and a collared neck.
Ornaments that can be worn along with this wedding dress are long earrings, diamond necklace, diamond bangles, etc.
Footwear includes penny heels, kitten heels, etc.
Note:
Consult your beautician and do perfect bridal makeup for your wedding according to your choice.
Select any one of these weddings looks to appear smarter on your wedding day!!!
"Happiness and Confidence are the prettiest things you can wear on your wedding day".
Thank You!!!
Stay Home!!! Stay Happy!!!