beiIt's always hard to wake up every day and know exactly what to cook. Whether you're on a diet and looking for a meal according to or just want to make something to eat, the decision can be pretty confusing to make.
As Indians, we have a very broad choice of cuisines from Gujarati to Punjabi to South Indian, all of which are equally delicious. Every state in India has its cuisine and culture and there's such a broad range to chose from. Worry not, this article can advise you on the different creative everyday Indian recipes you can make at home for a change.
Thali's are a speciality of India as they cater to the needs of each cuisine, which is why every restaurant will have them. You too can use this time trying out different everyday flavours of India through simple thali's that can be made at home.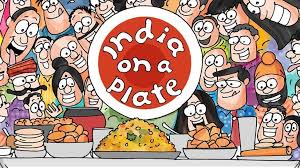 5 Simple Indian Thalis to Try at Home
Rajasthani Thali
The Rajasthani Thali, also known as the royal thali, is as exquisite, flavorful, and colourful as its culture. It is one of the most popular thalis in India and offers many everyday recipes.
This Thali consists of:
Moong Dhal – A simple yet delicious dhal made of green grams and eaten with baati.

Baati – This is a flaky bread made with wheat flour and ghee. It is usually taken with dhal.

Tajiri Roti – A highly nutritious roti made from bajra. It is also gluten-free.

Panchmel Ki Sabzi – As the name specifies, it is a gravy of five vegetables such as carrot, cucumber, capsicum, beans, and potatoes.

Gatte Ki Kadhi – A speciality of Rajasthani cuisine, this side dish is made from small gram flour dumplings that lie in a sea of a curd-based gravy.

Matta/ Boondhi Chaas – This refreshment mixes buttermilk and bound to give a perfect balance.

Kesar Malai Lassi – This rich dessert made of cream and saffron will cool you down after a hearty meal.
South Indian Thali
Although it's called south Indian thali, it mainly consists of food from Tamil Nadu, a southern state in India. Dosa, idli, vada, and chutney are some of the most famous foods in south India, but this thali offers you a better insight into typical everyday Indian recipes.
This thali consists of:
Cooked Rice – Plain rice is the base for any south Indian meal.

Sambar – This is filled with lentils and is slightly thicker than soup. Is mixed with rice and eaten. You can also add vegetables.

Rasam – Rasam is a tamarind-based soup-like food that involves tomatoes and certain spices. It is also mixed with rice and eaten

Curry/Poriyal – This can be made with any vegetable and eaten along with sambar or rasam rice.

Appalam – This crunchy and crispy snack is always a welcome treat while eating this thali.

Curd – Used to make curd rice.

Pickle – A spicy pickle to make the plainness of the curd rice.
Bengali Thali
Bengali food has a lot of influences from other cuisines from Bangladesh, Mughals, and even British. It's customizable and can be both made as non-veg or veg.
This thali consists of:
Mishti pulao – A sweet Bengali pulao made with cashews, nuts, and raisins.

Moong Dal – A lovely dal filled with lentils and made primarily from green grams. It is a very easy everyday Indian recipe to learn.

Niramish anchored dalna – A very popular Bengali gravy made from raw jackfruit.

Rohu fish Kalia – This spicy and rich curry is a delicacy in Bengal and is made using mustard oil.

Khasir mangsho – Also known as spicy mutton curry, it is an authentic part of this cuisine.

Aamer chatni – A bittersweet green mango chutney.

Rosogollar payesh – Rasagulla in kheer and completes your meal with a sweet touch.
Kashmiri Thali
If you're a fan of dry fruits, this thali could be the one for you. Kashmiri's use dry fruits in their curries, chutneys, rice, basically in everything to give it that rich flavour. The traditional Kashmiri thali includes Wazwan, which is a 36-dish meal and not simple to use as everyday Indian recipes. Instead, try a simpler and more home-friendly version.
This thali consists of:
Goshtaba – A spicy meatball curry drenched in a lovely yoghurt gravy.

Rajma (Red kidney beans) – A scrumptious gravy made with red kidney beans.

Saffron Rice – Saffron rice is full of rich aroma and flavours. This is a good representative of Kashmiri cuisine.

Kashmiri haqq (Collard greens} – This dish has a lot of health benefits which is a good balance considering the richness of the rest of the thali.

Munji Chetin (Radish Raita) – A simple raita with radishes to serve as a side to rice or bread.

Barith Marchavangun (Stuffed chillies) – Here a chilli is being stuffed with walnuts and pomegranate seeds. This makes an interesting combination of flavors.

Roti – Just your standard roti

Shufta – A sort of dessert with dry fruits smothered in sugar syrup for those of you who have a sweet tooth.
Also Read: Best Meals to Make at Home
Punjabi Thali
Similar to the Kashmiri thali, this is also rich in flavor as ghee and butter are the two main ingredients for any meal. This is why Punjabi home cooking tastes the same as restaurant versions and so if you're a fan of that, this would be a great cuisine to look into.
This thali consists of:
Boondi Raitha – A simple raitha with sprinkled boondis for texture.

Aloo Bhindi Subzi – This is a super simple gravy using potatoes and okra.

Matar Paneer Masala – As you can see from the name, this is a rich side dish using fresh peas and paneer.

Dal Fry – Made with a mixture of different dals, and will wake up your taste buds.

Jeera Rice – A simple yet exquisite rice made with ghee and jeera that takes absolutely no time at all.

Kasuri Methi Ajwain Phulkas – A very flavourful paratha made from kasuri methi and ajwain to eat along with gravies.

Carrot Seviyan Halwa – This is a creamy sweet using vermicelli and carrot.
Conclusion
These are just a hint of the actual amount of cuisines we have in India, as you can see just how many dishes fall under everyday Indian recipes.
Happy eating 😊