Places to visit in farrukhabad; Farrukhabad is a small city in Uttar Pradesh, India. this city is on the banks of the river Ganga.
The nearest famous cities are Agra, Kanpur, Bareilly. farrukhabad is well known for the production of chewing tobacco, potato, sunflower cultivation, and supari.
The famous product of farrukhabad is sweet supari, farrukhabad has a big scale of tobacco production, farrukhabad has 61 cold storage for potato.
In farrukhabad more than 8 million tonnes of potato produces, and also famous for the cultivation of sunflowers in the farrukhabad district.
Not only foods its art and handicrafts specially lehengas are also amazing and farrukhabad's music tradition is also famous, visit these places, it is nice places to visit in farrukhabad.
The district of farrukhabad forms part of the Kanpur division, farrukhabad is founded by Nawab Mohammad Khan Bangash in 1714.
So if you are willing to visit farrukhabad here some places to visit in farrukhabad for you.
Top 8 places to visit in farrukhabad
Sankassa:- sankassa is also called as sankasia, sankissa and sankasya. Sankassa is an ancient city of farrukhabad, this city came into eminence at the time of Gautam Buddha.
After the passing away of Gautam Buddha, the great king Ashoka develop this place and build the great Ashoka pillar in this city, from which elephant capital survives.
Ashoka also established a stupa and a temple in memories of visit of Buddha, this temple exists in the present time, also the ruins of the stupa is exists in Vishari Devi.
You also visit the Cambodian Buddhist temple, it has great architecture and a decent environment that will give peace to the mind, this temple has beautiful arts inside the temple. It's one of the best places to visit in farrukhabad.
Sandi bird sanctuary:- Sandi bird sanctuary is situated in hardoi district Uttar Pradesh, this sanctuary covers 308 hectares, this sanctuary is 129KM away from Lucknow and from hardoi 20KM.
This sanctuary is also called as deher jheel, this sanctuary comes under one of the wetlands, wetlands are those who filled with water most of the time.
In summer the water level became low and birds are migrate to another part of the geographical area, but in the rainy season, the water level increases within that many organisms and plants are originated.
Due to this bird come here to eat and live for a long time, that is rich food to help birds to survive. birds came from different regions to survive here and they get enough food and favourable climate to live.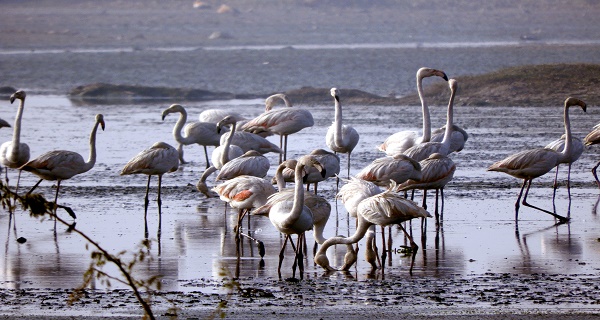 This sanctuary has a very beautiful view of the lake, sunset, agricultural land, etc. if you are a bird lover then you have to visit this place because there are so many species are seen in this sanctuary.
Here you can see birds from tower hideouts and many facilities are provided like Doorbine, scope to see thousand of birds in the sanctuary. this is also the best places to visit in farrukhabad.
You can also see other animals like cats, mongoose, fox, vanrose, tortoises, etc are found in this sanctuary, and also here many kinds of snakes are found like the cobra, double face snake, Boa, etc.
Buddha statue sankassa:- This statue is in sankassa according to local and old people they believe that Buddha returned to the earth.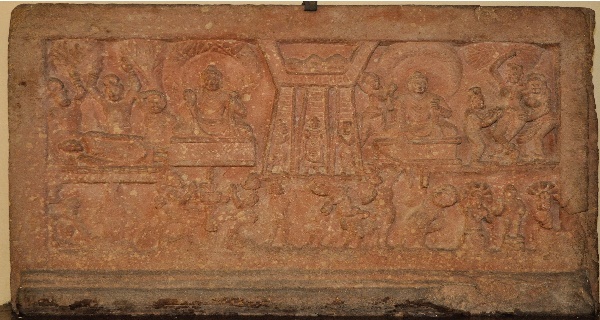 Here you can see the nice architecture and monuments of Budhha, it is hard to go there but it is a nice places to visit in farrukhabad.
Swargdwari:- swargdwari is located in kaimganj tehsil of farrukhabad district Uttar Pradesh, swargdwari was capital of gharwars.
The last king of this city was Kunwar Rai Singh, he is also known as Khorah in historic literature of 12th and 13th century AD.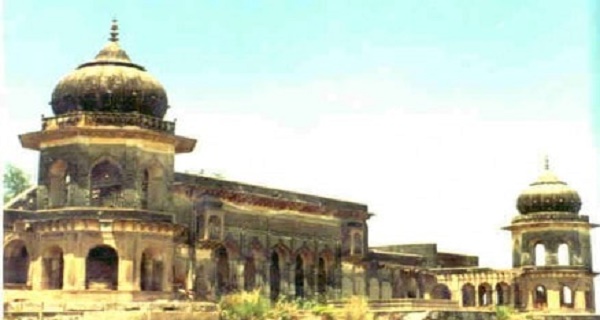 Now, this city is known as shamsabad after the invitation around 1212 AD, it is also a good places to visit in farrukhabad.
Kampil:- this city is very small situated 45 KM from farrukhabad, it is also one of the best places to visit in farrukhabad. This city has a very vast and very interesting history related to the mythology point of view.
This city is mentioned in Mahabharata. Some people believe that it is birth place of the 13th tirthankar brahlan Vimalnath,  and also graced by the visit of Lord Mahavir.
In this city two temples are dedicated to the 13th tirthankar 1 belongs to swetambhar jains and another one dedicated to Digambar Jains.
In both temples idols of Bhagwan Vimalnath in the padmasana poses are placed, in Swetambhar temple 45cm high white-colored, and in Digambar temple 60cm high black-colored idol are placed.
In this city, there are various temples with great historic and mythology are present you can also visit these temples to know the ancient history of the city and temples.
According to Mahabharata, it was the capital of Drupada, the father of Draupadi. it is believed that the yajna kund from which Draupadi have been born from fire, is situated in kampil city till date.
Also read:- places to visit in India with family.
Neeb Karori:- this is a very small village near ancient Shankisha that is famous for a sage named Lakshman das. Lakshman Das was a spirituals saint in the 20th century.
He is also known as Baba Neeb Karori, he also established many temples of lord hanuman in various places in India, it is also a good places to visit in farrukhabad.
Some temples established by Baba Lakshman Das are at Hanuman Garhi and Kainchi near Nainital, Lucknow, Shimla.
Ghatiya Ghat:- in this place you can see small temples and small swelling, it is situated near the main city approx 4 KM from the main city, it is also a nice places to visit in farrukhabad.
This ghats are built on the sides of the river Ganga, this has a very beautiful view in the morning and evening, you can also visit the shops near this ghat, shops in that area are very popular.
Most of the time this ghat is full of peoples, many of them taking baths in the river, most of the people shopping something, this ghats is very crowded surely you will like this place.
Ramashram Satsang, maha samadhi of Lalaji Maharaj:- This holy samadhi temple is situated in Kanpur road at navidia, this temple is for holiness Lalaji Maharaj.
Ramashram Satsang headquarters is founded by Lalaji Saheb at Fatehgarh, Thee main motto of these Satsang is based on learnings of nakshabandia wing of Sufism.
Lalaji descendent from divine adobe directly and he has no master or guru, nowadays this Satsang has branches all over the globe.
There is a ritual of giving food called Bhandara which is organized every year on easter at the maha samadhi. the grandson of Lalaji Saheb Shri Dinesh Saxena is looking after the samadhi mandir.
This devotional place is filled with the peoples and you can see the crowd in this place, it is also a great places to visit in farrukhabad surely you like this place.
Foods and arts in farrukhabad: places to visit in farrukhabad
Foods
Whenever we say farrukhabad we always imagine potato, as we know this place produces more than 8 million tonnes of potato, and have more than 61 cold stores.
There are a variety of potato that are produced in farrukhabad several types of potatoes are:-
Fresh potato

Patato

Chips potato

Red potato

Chipsona potato

Pukhraj potato

Badshah potato
More than 50 types of potato that are produced in farrukhabad, we all eat a potato in our daily diet whether it is chips, vegetables, fries, and in many other forms.
In farrukhabad potatoes are eaten in many different dishes that we don't know like, potatoes are cooked without oil in the sand in a Bhatti(fire source), which is very delicious called bhunje allo or roasted potato.
Papdi is the most loved and famous street food of the farrukhabad, this food is a street food enjoyed by locals and tourists.
People also love allo chat papdi, this is also a very famous food of farrukhabad which is very tasty snacks for locals and tourists you should have to eat these street foods it is really delicious.
Green potatoes are also used for making chips, that is a good use of green potatoes because we all know the green potatoes are not tasty and not good for us it is tasteless and waste.
So it is good to use of making chips by the green potato, also kachoris are very tasty in farrukhabad you should eat these street foods.
Farrukhabad is not only famous for the potatoes, but it is also famous for the production of chewing tobacco on a very large scale at a time.
Sweet suparis and sunflower cultivation is also a part of farrukhabad fame, you should definitely go to these places to experience how that works and how many amounts of production are ongoing.
Dahi gujiya is the most delicious food in the farrukhabad, it is hard to say which street food is more delicious but you can try all of them and decide for yourself I hope you also get confused too.
Music
Rather than food music in farrukhabad is also a famous tradition of north Indian tabla and Hindustani classical music. Farrukhabad Gharana is one of the 6 prominent playing styles.
Farukhabad Gharana is famous for its rich use of the entire vocabulary of instruments and high tonal quality, these farrukhabadi styles are also known as khula baaj.
This khula baaj or open style is founded by Ustad Haji Vilayat Ali Khan, this old school produced some of the greatest tabla players of our time, like Ustad Ahmed Jan Thirakawa and Ustad amir Hussain Khan saheb.
When you go to farrukhabad you can observe the traditional and historical practices, but it is not the only one farrukhabad famous for also it is famous for its art on lehengas.
Handcrafts
Farrukhabad is not only famous for the production of potatoes, but Faruukhabadi lehngas are also very famous thing of this city, wonder why these lehengas are famous for.
Because of zardozi ( zardozi means the are of putting zariies on the cloths with silver or gold threads), it takes a lot of focus and experience to do that hand craftwork.
Zardozi is used in lehengas, sarees, suits, and many more ladies' clothes, it is a very precision work it takes very microwork and focused work in this.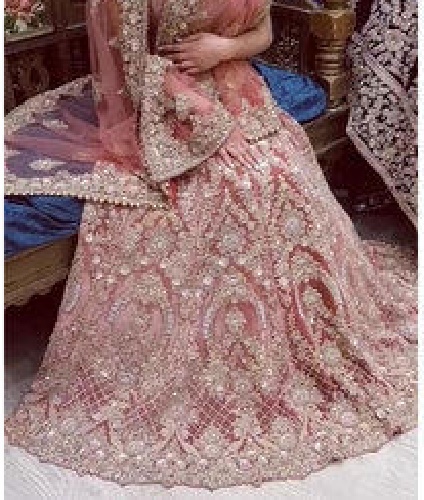 First, they make a design on the butter paper after that they print that design on the raw clothes after all that workers do the zardozi with their hands that make it unique and beautiful.
In this work, the arts of the artists are very clear you will love these clothes if you like handcrafted clothes.
This type of work done in lehengas make it unique and beautiful, 1 lehenga take 1-2 month to complete, I will recommend you to buy these lehengas without any questions if you are planning for wedding or party.
Farrukhabadi lehengas are also famous because these lehengas are worn by the Bollywood actress in the movies, popular film Devdas, in this film Madhuri Dixit and Aishwarya ray Bachchan wore these lehengas.
These farrukhabadi lehengas are first prepared in small segments and then combined into one scale, trust me it is weight full, but it is beautiful enough to avoid its weight.
conclusion 
If you are willing to visit farrukhabad for any reasons whether it's business purposes or travel, you must those places which are mentioned above.
If you are a religious person then temples are a great place for you here you can know the history and mythological point of view about that temple.
If you enjoy seeing sunsets and natural phenomena then visit the ghats and sanctuary of farrukhabad, surely you like this city.
If you are a foodie then farrukhabad's street food for you it is very delicious and tasty to eat you will like the foods especially allo chat papdi and roasted potato.
FAQ about farrukhabad.
Q. Where is farrukhabad?
Ans:- Farrukhabad is a small city near Kanpur in Uttar Pradesh India.
Q. Why is farrukhabad famous for?
Ans:- Farrukhabad is famous for its production of potatoes and tobacco on a very large scale.
Q. Who founded farrukhabad?
Ans:- Farrukhabad is founded by Nawab Mohammad Khan Bangash in 1714.
Q. Why populations of birds is low in summer in the Sandi bird sanctuary?
Ans:- It is because the water level became low in summer due to high temperature due to this food for birds are not sufficient that's why some of the birds migrate to another place to find foods.