Top 10 Tourist Attractions in Ujjain – Ujjain, located in Madhya Pradesh, India, is a city full of rich history and cultural significance. It is situated on the serene banks of the Kshipra River, which adds to its picturesque charm. One of the major attractions of Ujjain is the awe-inspiring Mahakaleshwar Temple, a sacred place of worship for Hindus.
With its massive structure and intricately decorated ceiling, the temple attracts devotees from far and wide, making it a revered pilgrimage site. Nearby, the large Ganesh temple displays a vibrant and colorful idol of Lord Ganesha, the Hindu god with the head of an elephant. Another noteworthy sight is the Harsiddhi Temple, with its majestic black pillars adorned with gleaming lamps, creating a mesmerizing ambience.
Other Famous Temples Are:
Shri Mahakaleshwar Temple

Dwarikadhish Gopal Mandir

KalBhairava Temple

Ram Ghat

GomtiKund

Chintaman Ganesh Temple

Harisiddhi Temple

Chaubis Khamba Temple
Top 10 Tourist Attractions in Ujjain
Kaliyadeh Palace

Observatory

Navagraha Mandir (Triveni)

Kal Bhairava

Harsiddhi Temple

Mangalnath

Shri Mahakaleshwar Temple

Kumbh Mela, Ujjain

Jantar Mantar, Ujjain

WWF Water Park and Resort
1. Kaliyadeh Palace
Situated on the serene banks of the Shipra River in Ujjain, the Kaliyadeh Palace is a splendid testimony to the city's architectural heritage. The palace exudes an aura of grandeur and serenity, offering visitors a glimpse into the rich history and culture of Ujjain. One of the notable attractions within the palace complex is the iconic Sun Temple.
2. Observatory
Ujjain, the ancient city of knowledge, played an important role in the field of astronomy. It served as a melting pot of astronomical knowledge and witnessed the creation of notable works such as Surya Siddhanta and Panchasiddhanta. These texts became beacons of knowledge, and guided scholars in their search for the divine realm.
Ujjain holds a special place in the hearts of Indian astronomers, as it is believed to pass through the Tropic of Cancer, an important astronomical marker. In addition, Ujjain has the distinction of being the first meridian of longitude in Hindu geography, earning the illustrious epithet "Greenwich of India" from the 4th century B.C.
3. Navagraha Mandir (Triveni)
Situated on the banks of the holy Shipra River, this temple graces the Triveni Ghat, a serene retreat from the busy historical city of Ujjain. Dedicated to the divine powers of the nine planets, this divine abode casts its spell on countless devotees, especially on the auspicious Saturday of Amavasya. Despite its absence in ancient texts, the temple's religious prominence has grown in recent times, attracting an increasing number of visitors seeking solace and blessings.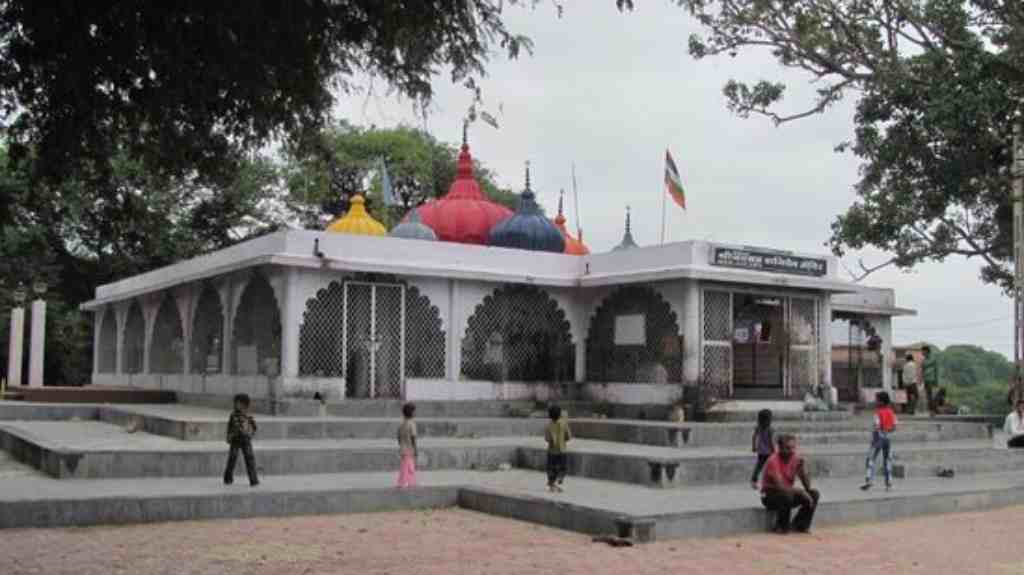 4. Kal Bhairava
The worship of powerful Bhairavas holds a special place in Shaivism, and among them Kalabhairava is supreme. Legend has it that King Bhadrasena built a grand temple dedicated to Kalabhairava on the serene banks of the holy Shipra River. The Avanti section of the Skanda Purana testifies to the existence of this iconic Kalabhairava temple.
The worship of Kalabhairava was closely linked to the Kapalika and Aghora sects, both of which flourished in Ujjain, making it an important center of their practices. Even today, whiskey is offered to Kalabhairava as part of the sacred ceremony. Though time has destroyed the once beautiful Malwa-style frescoes that adorned the walls of the temple, traces of their magnificence can still be seen, reflecting the grandeur of the past.
5. Harsiddhi Temple
Shining in its divine array, this temple occupies a special place among the ancient holy places of Ujjain. Inside its sanctum, the iconic Annapurna idol, decked in deep vermilion, stands majestically amidst majestic idols of Mahalakshmi and Mahasaraswati. A sacred Shree Yantra, a symbol of divine power and strength, also finds its abode within these sacred walls.
Legends whisper about the origin of the temple, which describes how Shiva, while carrying the flaming remains of Sati, placed his elbow at this very spot. The Skanda Purana tells a captivating story, describing how the fierce goddess Chandi, known as Harsiddhi, earned her name.
As Shiva and Parvati sought solitude on Mount Kailash, two formidable demons named Chand and Prachanda attempted to invade their privacy. Shiva prayed to Chandi to defeat them and she fearlessly conquered the demons. Pleased with her bravery, Shiva gave her the title of "conqueror of all".
During the Maratha era, the temple was lovingly rebuilt, decorated with two pillars adorned with resplendent lamps, unique elements of Maratha craftsmanship. When these lamps are lit during the joyous festival of Navratri, they create a mesmerizing sight, lighting up the surroundings with their mesmerizing glow.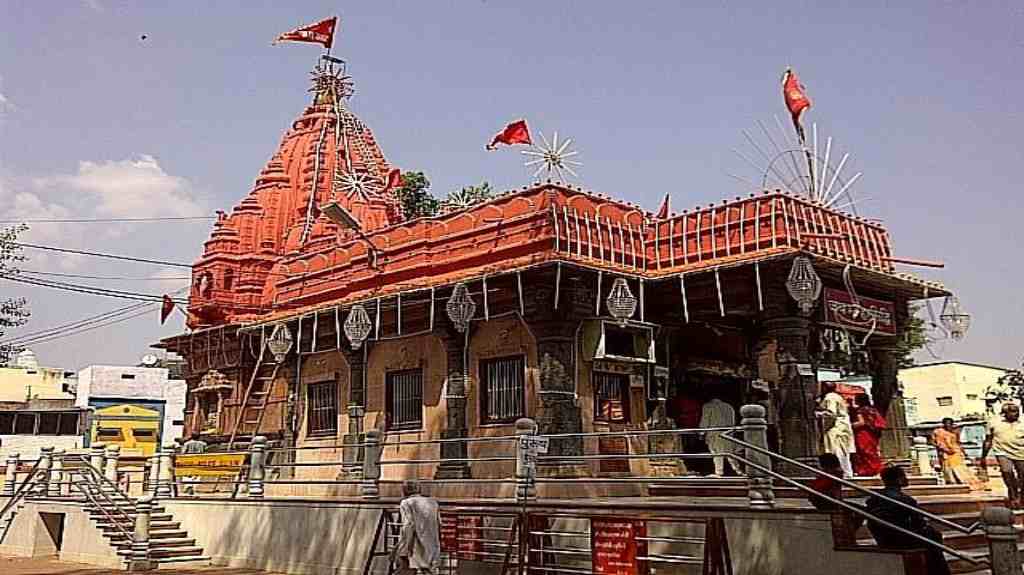 6. Mangalnath
Away from the hustle and bustle of the city, this temple invites you for a serene journey on a winding road. From its vantage point, it overlooks the vast waters of Shipra, instilling a deep sense of peace and relaxation in all who visit. According to the ancient text of Matsya Purana, Mangalnath is considered to be the holy birthplace of Mars. In ancient times, it was renowned as a haven for astute astronomers, offering unobstructed vistas of the celestial sphere.
7. Shri Mahakaleshwar Temple
Shri Mahakaleshwar of Ujjain is one of the revered Jyotirlingas in India, a sacred representation of Lord Shiva. The majestic glory of Mahakaleshwar Temple is clearly depicted in many Puranas, which touches the hearts of the devotees. Through the ages, eminent Sanskrit poets including the great Kalidas have enthusiastically extolled the virtues of this holy shrine.
8. Kumbh Mela, Ujjain
The Kumbh Mela, a revered and awe-inspiring gathering of Hindu devotees, is a sacred pilgrimage where believers come together to take a dip in the divine waters of a sacred river. Held every three years in one of the four holy cities – Haridwar, Allahabad, Nashik and Ujjain, this grand spectacle is a testimony of faith, spirituality and unity.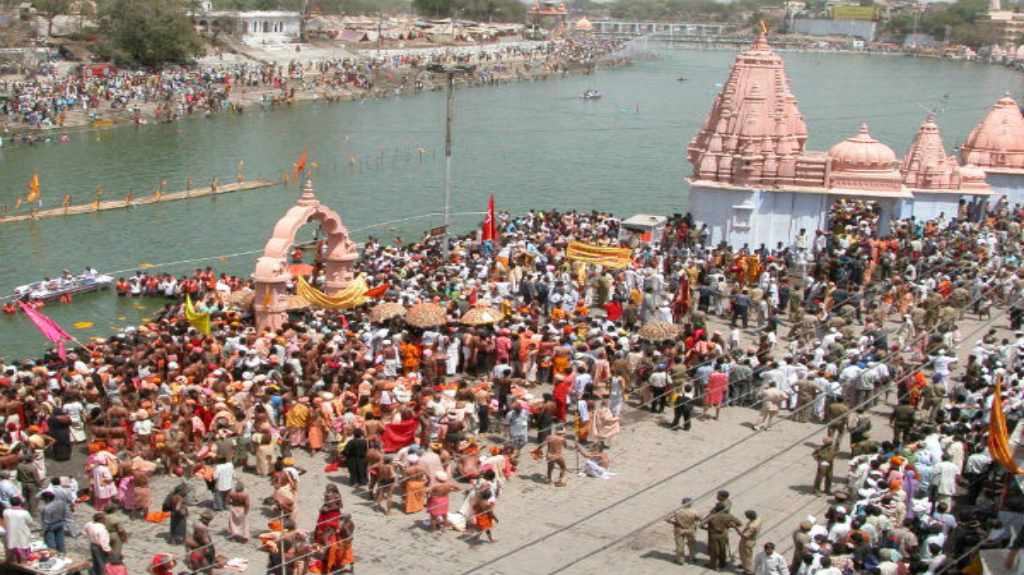 9. Jantar Mantar, Ujjain
Ujjain has long been revered as a prestigious center of knowledge and learning, and its rich heritage continues to demonstrate its educational prowess. A shining proof of this is the remarkable Jantar Mantar, also known as the Vedh Shala Observatory. Established in the 17th century, this magnificent observatory was built with the noble aim of assisting Hindu scholars and astrologers in their dedicated endeavor of research and study.
10. WWF Water Park and Resort
Located in Ujjain along the scenic Indore-Ujjain Road, WWF Water Park and Resort attracts with its delectable mix of thrilling water attractions and exhilarating entertainment. As one of the premier water parks in the city, it houses an impressive array of water rides and thrilling activities, suitable for both young and old.
With dedicated pools for kids and adults, everyone can dash and play to their heart's content. The resort also offers enticing overnight stay options, allowing guests to indulge their adventures and immerse themselves in a world of endless entertainment and relaxation.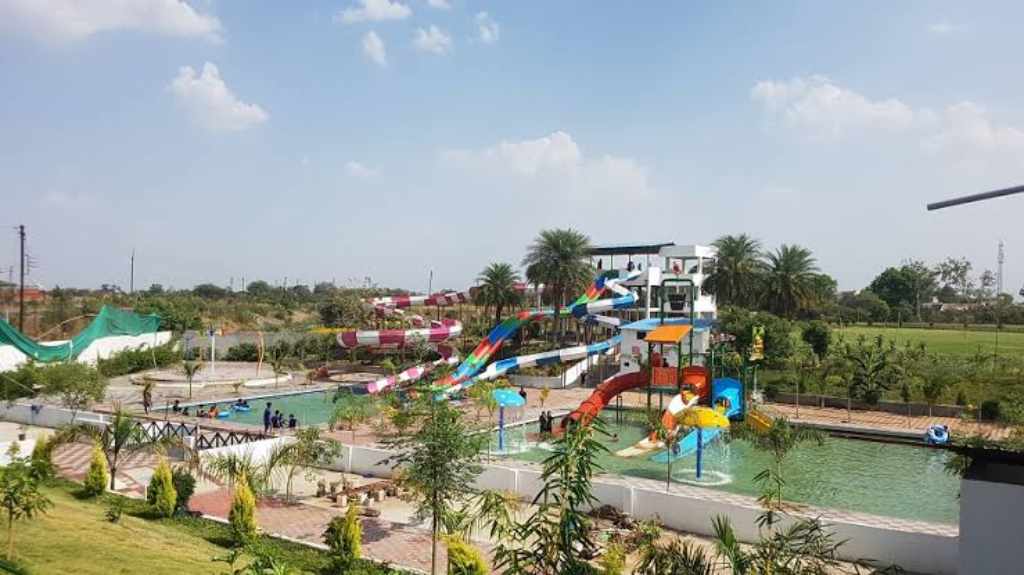 Which is the best time to visit Ujjain?
The ideal time to visit the charming city of Ujjain is during the months of October to March. This period offers pleasant weather, making it an ideal time to immerse yourself in the rich cultural heritage and spiritual atmosphere of Ujjain.
Whether you want to witness the grandeur of the Mahakaleshwar Temple, experience the excitement of the Kumbh Mela, or simply stroll along the Ghats of the holy Shipra River, the months between October and March provide a blissful and relaxing experience for visitors.
Top Hotels and Restaurants in Ujjain
Modak Restaurant

Meghdoot Punjabi Daaba

Avanti

Status Hotel Imperial

Damru wala

Swaruchi Restaurant

Pavitra Marwadi Bhojnalaya

Shree Govindam Restaurant

Shivam Restaurant

Empire Restaurant

New Rajkumar Restaurant
How to Reach Ujjain
By Road
If you prefer to travel by road, Ujjain is well connected to cities like Bhopal, Mandu, Indore, Dhar, Ratlam, Gwalior, Kota and Omkareshwar through regular bus services. The city has good motorable road connectivity to Ahmedabad (402 km), Indore (53 km), Bhopal (183 km), Delhi (774 km), Mumbai (655 km), Gwalior (451 km), and Khajuraho (570 km) is available.
You can take National Highway No. 3 (NH3 – Agra Bombay), Mumbai-Ujjain section, National Highway No. 59A (Ujjain – Betul – Nagpur connecting NH 69), and National Highway No. 59 (Ahmedabad – Godhra – Ujjain). Along with the Ahmedabad-Ujjain section of National Highway No. 59, National Highway No. 3 is also there to reach Ujjain.
By Train
In addition, important regional highways passing through the city include State Highway No. 27 (Jhalawar – Ujjain – Burhanpur) and State Highway No. 31 (Neemach – Ratlam – Dhar).
When it comes to railway connectivity, Ujjain has a station with the code UJN in the Western Railway zone. This makes it convenient to travel to Ujjain from many major cities across the country.
By Air
The nearest airport to Ujjain is Devi Ahilyabai Holkar Airport in Indore, located just 53 km away. You can easily catch flights from major cities like Delhi, Mumbai, Pune, Jaipur, Hyderabad and Bhopal as they operate on a regular basis.
Read Also:- Top 8 Tourist Places in Ghazipur – Uttar Pradesh