Readers, today is a special day for you to concentrate on reading this article about  10 best south Indian food.
South Indian foods are mainly popular for their taste and flavour.
It also nourishes the body.
Provides good digestion.
Even people at the global and national level, prefer eating and enjoying such south Indian foods.
Here, a list of top 10 Best South Indian Food is given below.
1)DOSA
A famous delicious breakfast food item.
A traditional breakfast consumed by south Indians.
People who give preference for taste enjoy eating dosas.
Made out of fermented rice and lentils.
Types of dosas-masala dosa,  Rava dosa, ghee dosa, paper roast, egg dosa, etc.
Served with sambar and all types of chutney.
How to make dosa batter? (video):
Masala Dosa
A famous south Indian dish enjoyed by people across the world.
Recipe:
Prepare a dosa batter by soaking rice, lentils, and urad dhal overnight.
Grind them to form a batter.
Fermented batter is spread on a dosa stone in thin layers.
Add oil or ghee to make it a little more crispy and tasty.
Once the dosa is ready, the masala stuffing is filled in the central part of the prepared dosa.
Masalastuffing-prepared with boiled potatoes and seasoned with green chilli and mustard seeds.
You can garnish it by using lemon juice and coriander leaves.
Served with sambar and varied types of chutney.
Recipe Video:
Onion Rava Dosa
A delicious recipe  (TamilNadu).
Main Ingredient-Semolina.
Recipe:
Prepared with a batter of rice flour, semolina, and water.
Highly flavoured with cardamom seeds, asafoetida, carrot, black pepper, curry leaves, diced onion, salt, etc.
Mix all the ingredients and pour them in heated Tava or dosa stone.
Ghee is sprinkled and cooked for two minutes.
Served with coconut chutney and sambar.
Recipe Video:
For Podi dosa, ghee dosa, and onion dosa:
Stick on to the same procedure but change the stuffing depending upon the type of dosas made.
Note:
If you feel that it's too oily and crispy(unhealthy), you can very easily make dosas without adding oil or ghee to it.
2)IDLI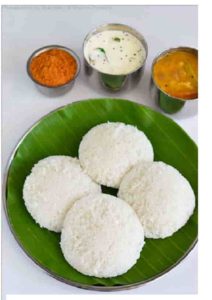 A small white spongey cake.
It is otherwise called steamed rice cakes.
It is soft, fluffy, and ivory coloured.
South Indian families eat it for breakfast.
Idlies-light and mild tasting.
Recipe:
Prepare a fermented batter of rice and lentils.
Steam them in little circular moulds by using an idly cooker or idly vessel.
The resulting spherical rice cakes are idlies.
Recipe Video:
Rava Idli
A breakfast item.
Main ingredient-semolina.
Recipe:
Heat two teaspoon ghee or oil in a pan.
Add sooji or rava and roast it until aromatic.
Keep it aside.
Pour another teaspoon of oil and fry cashew nuts in the same pan.
Add the fried nuts to the roasted Rava.
Now, in the same pan add one teaspoon of oil and sprinkle mustard seeds.
As soon as the mustard seeds start bursting, add little chana dhal, asafoetida, and curry leaves.
Fry all these for few minutes.
Add this mix to the rava prepared.
Form a smooth paste.
Add yoghurt with ginger, green chillies, and salt for flavour.
Keep it aside for half an hour.
Prepare the idly in a steamer.
Cook for 10 minutes and serve hot with sambar and coconut chutney.
Recipe Video:
Note:
This food item is highly healthy since the steamed cakes are prepared without adding any oil or ghee.
So, it is normally taken as morning breakfast and night dinner.
3)Puttu
Another common south Indian dish(TamilNadu, Karnataka, and Kerala).
A breakfast dish -cylinder-shaped(steamed rice cake).
Prepared with rice flour and coconut.
It is very tasty.
It is consumed with sweet black coffee.
Recipe:
Fill up a big vessel with rice flour.
Add water and salt to form a smooth paste.
Add two cups of water to the bottom of the puttu maker vessel.
Allow the puttu maker vessel to simmer till it becomes hot.
Place the round perforated disc with holes inside the puttu maker vessel to fit well at the bottom of the mould.
Place a layer of grated coconut at the bottom of the puttu maker by using the puttu making bowl.
Next, add nearly six tablespoons of puttu powder.
Place the lid over the puttu mold and place the mold over the bottom part of the puttu maker vessel.
Allow it to cook for nearly five minutes.
Serve hot puttu with fruits like jack fruit, mango, plantain, and chickpea curry.
Recipe Video:
Note:
It is also another healthy food to be consumed since oil or ghee is not added for its preparation.
It is only a boiled rice cake.
4)BISIBELEBHATH:
A traditional Karnataka food.
Served in all Kannadiga's families.
A rice-based dish cooked with vegetables and Toor dhal.
Served hot with boondi, papad, salad, potato chips, and chutney.
This dish is generally found in restaurants serving Udupi cuisine.
Recipe:
Rice and Toor dhal – pressure cooked.
Prepare Bisibelebhath powder separately.
Fry tomatoes, brinjal, green chillies, carrots, beans, garlic, cloves, and potatoes separately in a pan.
Add needed spices and tamarind pulp.
Mix the fried vegetables with cooked rice and dhal.
Stir all the ingredients.
Finally, season and serve.
Recipe Video:
Note:
Bisibelebath powder is also available in the market and departmental stores.
5)CHICKEN 65
Another delicious and tasty south Indian dish.
A fried chicken mixed with spicy flavours.
Recipe:
Wash and clean 250 grams of chicken.
Add chilli powder, cornflour, 1/2 cup of lemon juice, salt, etc to the chicken.
Stir it well and leave it aside for 30 minutes.
Take a pan.
Pour oil. Heat the oil.
Add the soaked chicken into the oil and fry it till it turns brown.
Now, your chicken 65 is ready. Serve it with ringed onions and sliced lemon.
Recipe Video:
Note:
You can also add chicken 65 masala powder which is available in the market/departmental stores/shopping malls.
6)BIRYANI
A very famous and loved dish of Indians.
A Best South Indian Food.
Various types of Biryani-mutton, chicken, vegetable, prawn, fish,  etc.
Vegetable Biryani
Recipe:
Soak the rice(basmati or jeera samba rice )for 20-30 minutes.
Salute main coarse spices in oil followed by onions.
Fry chillies and ginger garlic paste.
Next, add vegetables like carrot, potato, and beans and boil them.
Add Biryani masala.
Mix the half-boiled vegetables with rice and leave it till it is cooked.
Recipe Video:
For Non-Veg Biryani:
Stick on to the same procedure, but instead of vegetables any of the non-veg items like mutton, chicken, prawns, etc can be added with basmati or jeera samba rice.
Note:
Biryani prepared with jeera samba rice is more healthy.
It won't get spoilt soon.
Non-veg biryani is more tasty and delicious compared to vegetable biryani.
So, many biryani lovers prefer preparing non-veg biryani rather than vegetable biryani.
7)VADAI(Best South Indian Food)
A fried breakfast snack or evening Tiffin eaten with coffee or tea.
It is made using legumes paste such as chickpea, pigeon pea, and urad mung, etc.
Types of vadais -masala vadai, keerai vadai, and medhu vadas.
Served with sambar and coconut chutneys.
Masala Vadai
Otherwise known as "Aamai Vadai"(Tamil).
Masala Vadai is prepared with toor dhal.
Recipe:
Form a batter of soaked Toor dhal.
Next, add different vegetables such as mint leaves, coriander, chilies, spring onions, and onions to the soaked Toor dhal batter.
Use a frying saucer to give a rough shape and deep fry them.
It is served with green mint chutney or coconut chutney.
Recipe Video:
Keerai Vadai
Very popular and sold in small tea stalls and college canteens.
Healthy and nutritious.
Has a lot of spinach in it.
Recipe:
Make a mixture by grinding soaked chenna dhal with Toor dhal.
Add chopped spinach leaves to the mixture.
For high flavour, add grated ginger, onions, green chillies, etc.
Mix the ingredients with a certain quantity of water, turmeric powder, and salt.
Use a frying saucer to give them a rough shape and deep fry them in the oil.
Serve with dry chilli chutney.
Recipe Video:
Medhu Vadai
Medhu means"soft" in Kannada.
They are soft inside and crispy outside.
Recipe:
Soak the black lentils in water for many hours before frying.
For flour, add curry leaves, methi seeds, green chillies, and black pepper.
Give a doughnut shape to the batter and deep fry it in oil.
Serve hot with sambar and coconut chutney.
Recipe Video:
8)VATHA kuzhambu
A famous Tamil Nadu curry dish.
Served as a side dish for rice.
Main ingredients-vegetables and tamarind.
Other types of vathakuzhambu-mor kuzhambu, poondu kuzhambu, and kara kara kuzhambu.
Recipe:
Heat a pan with oil and mustard seeds.
Once the seeds start bursting, add Toor dhal, curry leaves, tamarind juice, and red chilli powder.
Mix the ingredients well.
Add chopped onion, tomato, turkey berry, and spices.
Stir well and eat it for twenty minutes.
Serve hot with rice, papad, and potato chips.
Note:
A curry dish high in nutritional values.
Recipe Video:
9)PAZHAM PORI(Best South Indian Food)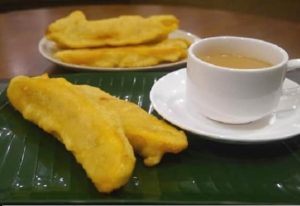 Ripe banana fritters.
A favourite snack enjoyed by Keralites.
It is also known as "Ethakka Appam".
It is a deep-fried banana dish served in many hotels, hostel canteens, railway platforms, roadside snacks stalls in Kerala.
Recipe:
For batter preparation, add maida, cumin, sugar, turmeric, rice flour, salt, and water.
Cut the riped bananas into slices.
Dip them in the prepared batter.
Preheat the oil in a pan and deeply fry each banana slices separately.
Cook till you see the crispy, outer coating(Pazham Pori).
Serve hot with coffee, milk, and tea.
Note:
It is also a preferred snack of Coimbatore people.
10)GONGKURA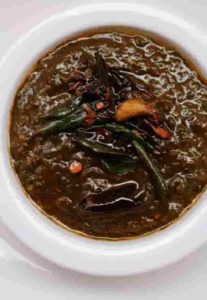 A traditional dish of Andhra Pradesh.
Popularly known as Gongkura chutney or Gongkura Pachadi.
Recipe:
In a hot pan, lightly fry red chillies, mustard seeds, garlic, cumin seeds, Gongkura leaves, and curry leaves in oil.
Bring it to normal room temperature.
Use a mixie and grind it to make chutney.
Served with Idly, dosa, and rice.
Recipe Video:
"Wake Up!! Its food o clock!!
Cook any one of these south Indian dishes and enjoy it with your family.
Hope this content is useful.
Thank You.
Stay Home!!!