Top 5 Best Delhi Street Food – If you're a food enthusiast and love going on food adventures, then Delhi is the perfect place for you. One of the great things about Delhi is its street food. No matter what the season, there would always be some delicacy that goes perfectly with it.
We bring you some of the best Delhi street food and the places which are famous for them.
Here is the list of top 5 best Delhi street food
MOMOS
Momos is not a dish but an emotion for the people of Delhi. No matter how far you move away from this place, momos will always bring you the feeling of home. There are infinite momo shops found everywhere in Delhi.
The varieties are also multiple. From tandoori momos to fried you can always choose the classic steamed momos. It is indeed northeastern cuisine, however, Delhi gives it a whole new meaning. This street food will always be at the top of our list.
There are some great places where you can find quality momos
1. Mom hand momos – Satya Niketan
The cheapest and the best momos you can find in Satya Niketan are here.
Address – Moti Bagh II, Satya Niketan, South Moti Bagh, New Delhi, Delhi 110021
2. Amar colony – If you're wandering in the streets of South Delhi, you have to give the momos of Amar colony a try. Our preference here is Hunger strike.
Address – C-9 Lajpat Nagar-IV Main Market, Amar Colony, New Delhi, Delhi 110024
Also Read: Chicken Biryani Recipe
CHOLE BHATURE
If you're a North Indian, especially if you're from Delhi, you can eat Chole bhature, any time any day. It is one of the favourite street foods in Delhi. It is an idol breakfast for every Delhiite. This dish is served with green chutney and pickle and can be found easily in most Delhi markets and restaurants.
The best place for Chole bhature in Delhi would be
1. Chache Di Hatti –  Aaloo stuffed bhature with onion rings, tangy chutney, and of course a bowl of delicious Chole. This place is where you should go when you're broke and really hungry. A budget-friendly place with amazing food, its located in the North Campus of Delhi University.
Address – D-33, Block G, Kamla Nagar, Delhi, 110007
2. Baba Nagpal corner – If you ask a foodie Delhiite for good chole bhature, they will definitely recommend this place. Amidst the chaotic and beautiful Lajpat Nagar, this place is one of the best for amazing chole bhature.
Address – 7/25 old double storyLajpat Nagar4Market, near Gurudwara, New Delhi, Delhi 110024
GOL GAPPE
Gol gappe is one of the street foods in Delhi and is known by different names in different cities. This crunchy and full of flavor ball is definitely the weakness of everyone. The water that fills it is a sweet-sour experience and the Meethi chutney is the absolute "sone pe suhaga".
1. Lala Babu Chaat Bhandar –  Here you will find the spiciest and authentic version of Gol Gappe. This roadside joint is every Gol Gappa lover's dream.
Address – Manohar Market, Hauz Qazi, Chandni Chowk, Delhi, 110006
2. Rasili chaat – This is a popular street food joint located near the vacant square mall in Vasant Kunj. This shop is primarily famous for its Gol Gappe.
Address – Central Park, Pocket 4, Netaji Nagar Market, Vasant Kunj, New Delhi, Delhi 110070
SAMOSE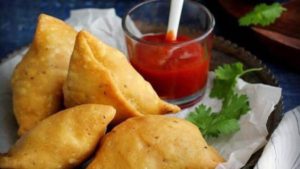 The ideal street food along with a cup of chai during the rainy season. It is the cure for all the blues. It is one of the most popular street food, the classic aloo samosa always has a special place, but now they come with a crazy variety, you can find Chill paneer, chili potato, chow Mein samosa too.
1. Kumar samose vaale – They sell 28 varieties of samose. If you're in the mood for some crazy varieties, this is the right place for you.
Address – 2/31 phase, 3, New Moti Nagar, Moti Nagar, New Delhi, Delhi 110015
2. Bangla sweet house – Considering that here you can buy samose in kilos, this is an addictive place for every samosa lover. Their matar paneer samosa and mini samosa are to die for.
Address – 115, 117, Bangla Sahib Rd, Sector 3, DIZ Staff Quarters, Connaught Place, New Delhi, Delhi 110001
KATHI ROLL –
These are the best go-to meals. Full of flavor fillings wrapper with flaky thin paratha gives you a whole different kind of trip. After a full day of work, Kathi rolls can be the best meal you can treat yourself with.
1. Chowringhee Lane– popularly known for its delicious rolls. Their double mutton seekh kebab rolls, chicken rolls, veggie rolls, and many more are to completely die for.
Address – 93, Opposite Venkateswara College, Satya Niketan, New Delhi
2. Rajinder Da Dhaba– It is every Delhiite's go-to place. Amazing fillings wrapped carefully around Rumali roti is served with onion and mint chutney.
Address – :  AB-14, Safdarjung Enclave Market, Safdarjung, New Delhi