Are you ready to make a tasty and delicious chicken biryani recipe? Now, the time has come for you. It is a fine day for you to spend some time to read this article and proceed with your preparation.
Before giving a detailed description of the chicken biryani recipe, let us know the meaning of the word"Biryani".
Meaning of Biryani
Biryani-derived from the Persian word"Birinj"(rice).
Difference between Pulao and Biryani:
Pulao
Less amount of meat and vegetables are added to rice.
Biryani
Layered and steamed rice.
Creates a beautiful variation in texture, colour, and flavour when combined.
Chicken Biryani
A south Asian tasty dish.
A favourite dish -preferred by elite members, middle income, and poor families.
Less expensive compared to mutton biryani.
TOP 5 BEST CHICKEN BIRYANI RECIPE YOU CAN TRY AT HOME
Chicken biryani is one of the most loved, tasty, and delicious rice dish.
Biryani Highlights
A mouth-watering food.
Prepared for all celebrations.
A rice dish consumed by the entire human race at the global level.
Tantalises the taste buds of many of us.
A pot filled with herbs and spices.
1)Murgh Koftey Ki Biryani Recipe(Chicken)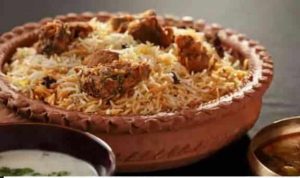 It is a highly irresistible, delicate, perfect, lavish dinner prepared at home.
Koftey Ki Biryani is prepared with spiced and minced chicken.
It is a North Indian dish. (Awadhi)
To add fragrance, it is prepared with basmati rice.
Mainly prepared for special festivals and celebrations at home.
Total cook time-1 hour 25 minutes.
Key Ingredients:
800 grams boneless chicken leg.
6 eggs.
8 chopped onions.
2 teaspoon chopped green chillies.
One teaspoon nutmeg powder.
3 teaspoon chopped ginger.
2 litres mutton stock.
Bay leaves-5.
Cinnamon sticks-3.
Black cardamom-6.
Whole mace-4.
200 grams-fat of the mutton kidney.
Green chilies-10.
Chopped mint-3 tablespoon.
Cumin seeds-1 teaspoon.
Brown onion-1cup.
Soaked basmati rice-400 grams.
Saffron-half teaspoon.
Yoghurt-1 kg.
Fennel seeds- 2 teaspoons.
Milk-one and a half cup.
Ghee-1 cup.
Cream-1 cup.
Preparation of Murgh Koftey Ki Chicken Biryani
Take a pan. Keep it on the oven.
Add boneless chicken leg, onion, coriander, eggs, ginger, mace powder, kidney fat, nutmeg powder, chopped green chillies, and mix well.
See that you will cool the cooked chicken and mince it.
Mix it well and rub it with salt.
Take the mutton stock in a pan.
Add mint, brown onion, slit green chillies, whole spices, and salt. Simmer it.
Try to make tiny balls with minced chicken and blanch in the stock.
For the remaining stock, add fennel seeds, a quarter teaspoon of saffron, yoghurt, and salt.
Simmer it well and add soaked basmati rice.
Cook it for some time.
Add brown onion, milk, ghee, mint, cream, and remaining quarter teaspoon of saffron.
Cook rice in dum and serve it with the chicken minced ball.
Now, your tasty Murgh Koftey Ki Biryani is ready!!! Enjoy and relish it!!!
Also Read: Top 5 Best Delhi Street Food
2)Kozhikode Biryani Recipe(Chicken)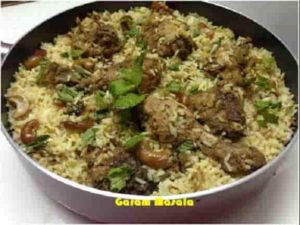 Origin-Muslim community, Mughlai, and Awadhi popular dish.
A southern style Kerala biryani filled with boiled eggs.
Kozhikode Biryani is otherwise known as Calicut chicken biryani. Calicut is a city in Kerala.
It tantalizes the taste buds with spices like fennel powder, green chillies, red chillies, and turmeric.
It is cooked with basmati rice, chicken, ginger, garlic, and tomatoes.
A rich and royal dish which is famous in Kerala.
Prepared during festival seasons.
Suitable for dinner and lunch.
Quick and easy preparation.
Total Cook Time-1 hour ten minutes.
Key Ingredients:
Small pieces of chicken legs-1kg.
Cinnamon sticks-2.
Green cardamoms-6.
Fennel seeds-10 grams.
Bay leaves-3.
Rice-400 grams.
Water-600ml.
Javitri-3.
Coriander-50 grams.
Onion-200 grams.
Red Chillie powder-50 grams.
Green chillies-20 grams.
Tomatoes-80 grams.
Ginger-50 grams.
Garlic-50 grams.
Oil-60 ml.
Mint-30 grams.
Garam Masala-15 grams.
Turmeric-5 grams.
Butter-30 grams.
Salt for taste.
Preparation of Kozhikodan Chicken Biryani
Take a vessel. Keep it on the oven.
Pour oil into the vessel and add whole spices and stir it well.
Add crushed onions, ginger, and green chillies slits.
Next, add garlic and ginger paste, coriander, mint, and stir it well.
Now, add red chillies, fennel powder, and turmeric.
Add small pieces of chicken legs with butter, chopped tomatoes, and water.
When chicken is cooked, add salt and rice.
Cover and simmer it.
Cut each egg into four pieces and garnish them on the rice.
You can serve the biryani with mint or raita.
Keep your Kozhikodan chicken biryani on the dining table and enjoy it with your invited friends and family members!!!
3)Hyderabadi Chicken Dum Biryani Recipe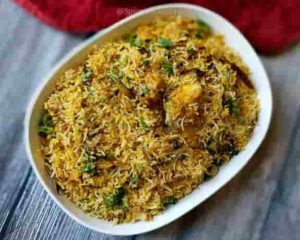 A special rice dish(famous dum chicken biryani from Hyderabad).
Served with cucumber raita, onion raita, or Kheera raita.
A traditional and authentic prepared tasty rice dish.
It is a time-consuming process(slow cooking process) but one of the easiest methods of cooking chicken dum biryani.
Prepared during special gatherings and celebrations.
A dish important for all Muslims during marriage ceremonies.
Another name for this dum biryani is "Kachi Yakhni Biryani"(Dum ki biryani).
It is not too spicy.
A special dish -Hyderabad nawabs.
Total Cook Time-2 hours 45 minutes.
Key Ingredients:
For the marinated chicken:
Large pieces of cut chicken-one and a half kg.
Turmeric powder-2 tablespoon.
Red chilli powder-2 tablespoon.
Ginger garlic paste-2 tablespoon.
Coriander leaves-1 bunch.
Green chillies (7-8).
Cloves (3-4).
Mint leaves-1 bunch.
Cinnamon sticks-2.
Caraway seeds-1 teaspoon.
Cardamoms(3-4).
Oil-1 tablespoon.
Yogurt-2 cups.
Fried Golden brown onions-2 cups.
Lemon juice-1 tablespoon.
Garam masala powder-1 teaspoon.
Black peppercorns(3-4).
Salt for taste.
For rice:
Basmathi rice-1 kg.
Cardamoms(2-3).
Cinnamon stick-1.
Cloves(2-3).
Caraway seeds-1 teaspoon.
Lemon juice-1 tablespoon.
Black peppercorns(2-3).
Boiled water.
Salt for taste.
For seasoning of dum:
Mint leaves-2 tablespoon.
Lemon juice-1 tablespoon.
Fried onions-2 tablespoon.
Coriander leaves-2 tablespoon.
Oil-2 tablespoon.
Ghee-1 tablespoon.
Saffron flavoured milk-1 cup.
Water-1 cup.
For garnishing:
Preparation of Hyderabadi Chicken Dum Biryani
Steps to marinate the chicken:
Wash the chicken pieces well with lemon juice and water.
Strain the chicken fully.
Add ginger-garlic paste, turmeric powder, red chilli powder, salt and mix it well.
Take a blender and add coriander leaves bunch, green chillies, salt, mint leaves bunch, and make the green paste.
Add the green paste to the marinated chicken.
Next, add garam masala and mix well.
Crush the onions and add them to the marinade.
Add beaten yoghurt and oil. Mix it well.
Next, add garam masala powder and lemon juice.
Taste the mixture.
Keep the marinated chicken inside the fridge for 45 minutes to 1 hour.
Procedural steps to cook the rice:
Wash the basmati rice and soak it for 35 minutes.
Take a cooking vessel and add water generously.
Into the vessel filled with water, add cloves, black peppercorns, cinnamon stick, cardamom, and salt for taste.
Boil the water.
When water boils, add soaked rice into it.
Cook the rice for six to seven minutes.
Strain the rice fully.
Steps to make dum:
Keep a cooking vessel on the oven and add oil and see that the oil spreads all over the base.
Add marinated chicken into it and spread it uniformly.
Add the cooked rice into it.
Spread the rice over the marinade.
Season the rice with fried onions, coriander, and mint leaves.
Add lemon juice, ghee, little water, and saffron flavoured milk over the rice.
Make a chapati dough.
Seal the lid and cooking vessel.
Switch on the flame.
Dum the biryani on sim flame for 45 minutes.
Now the Hyderabadi Dum Chicken Biryani is ready. You can serve this mouth-watering biryani on a plate and call your family members to enjoy and relish it!!!
4)Madras Chicken Dum Biryani Recipe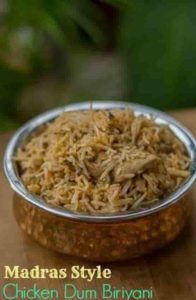 A specially prepared rice dish of the Chennai people.
It is a madras style spicy chicken biryani prepared by using the dum method.
It is very tasty and delicious.
Key Ingredients:
For cooking rice:
Basmathi rice-two and a half cup.
Water-3.75 ml.
Ghee-1/4 cup.
For gravy:
Chicken(bone)-1 kg.
Cloves-5.
Medium sliced onion-5.
Cinnamon sticks-3.
Peanut oil-4 tablespoon.
Cardamom-5.
Chopped tomatoes(medium)-3.
Slitted green chillies-5.
Garlic-2 pods.
Ginger -3 inch pieces.
Coriander powder-2 tablespoon.
Red chilli powder-1 tablespoon.
Yoghurt-1/2 cup.
A small amount of lemon juice.
Salt-1 tablespoon.
Herbs used for layering:
Chopped coriander leaves(6-7).
Orange Kesari powder.
Chopped mint leaves(15-20).
Preparation of Madras Chicken Dum Biryani
Soak the basmati rice in water for 15 minutes.
Cook the rice in a pressure cooker in a medium flame.
Switch of the flame after two whistles.
Release the pressure and cool it on a plate.
Mix some ghee into the rice.
Heat oil in a vessel and add cloves, cinnamon sticks, cardamom, and sliced onions.
Fry till it becomes soft.
Add chopped tomatoes and ginger-garlic paste.
Fry till the tomatoes are soft.
Add coriander powder, curd, green chillies, red chilli powder, and salt.
Fry them for one minute.
Add chicken pieces and cook them.
Don't add water.
Cook till the chicken becomes tender and gravy gets thickened.
Add lemon juice and switch off the flame.
Layer the biryani.
Take a big bowl and add a layer of chicken gravy.
Add a layer of rice and sprinkle some chopped mint and coriander leaves.
Repeat the process of layering till all the rice and gravy have been used.
Cover it with an aluminium foil and close it with a lid.
Heat the biryani bowl for 30 minutes.
Now serve this delicious Madras dum chicken biryani with chicken gravy!!!
5)Bamboo Biryani Recipe(Chicken)
A Southern-style biryani served on a banana leaf.
Bamboo biryani is long grain rice cooked with fragrant spices and chicken inside a bamboo which tingles the taste buds of the biryani lovers.
It is served with freshly prepared raita.
Note:
Bamboo is needed for this recipe.
Total Cook Time:1 hour 20 minutes.
Key Ingredients:
Chicken-500 grams.
Black pepper powder-1 teaspoon.
Cumin seeds-1/2 teaspoon.
Red chilli powder- 1 teaspoon.
Coriander powder-1 teaspoon.
Turmeric powder-half teaspoon.
Garlic cloves-10.
Biryani masala-1 teaspoon.
Ginger-2 inch pieces.
Green chillies-4.
A small amount of coriander and mint leaves.
Basmati rice-2 cups.
Ghee or oil-4 teaspoon.
Curd-1/2 cup.
Whole spices, saffron water, and fried onions in small amounts.
Preparation of Bamboo Chicken Biryani
Put the chicken in a mixing vessel.
Add turmeric powder, biriyani masala, red chilli powder, coriander powder, fried onions, ginger garlic paste, half lemon, mint leaves, yoghurt, coriander leaves, oil, garam masala, spices, and salt.
Mix it well.
Allow it to soak for one hour.
For rice marination:
Put raw basmati rice in a vessel.
Add oil, ginger garlic paste, garam masala spices, turmeric powder, red chilli powder, biryani masala, mint leaves, onions, green chillies, and salt and mix it well.
Soak the mix for one hour.
For Assembling the rice in bamboo:
Clean the bamboo until it is dustless.
Grease the bamboo's inner part with oil.
Add two spoonfuls of the chicken marinade and then four to five spoons of rice.
Repeat the process often.
Add one and a quarter cups of water.
Cover the bamboo with aluminium foil.
For Cooking Bamboo Biryani, pursue the following steps.
Set fire and place the bamboos.
Leave for 30-35 minutes.
Remove it from the fire and wait for 5-10 minutes.
Serve the hot bamboo biryani on a banana leaf to get a traditional feel!!!
You can also use banana leaves for serving which is highly healthy and nutritious and is mostly preferred by south Indians. Wash the banana leaf before serving.
"Chicken Biryani is less expensive and more economical compared to mutton biryani".
Is your mouth watering???
Don't waste your time!!! Hurry Up!!!

Try any one of these recipes at your home and improve your art of cooking during this lockdown.
Enjoy and relish it with your family members.
Thank You.
Stay Home!!! Stay Happy!!!