Best Places to visit in Delhi with Family & Friends – Traveling with family and friends in Delhi can be an exciting and memorable experience. The city offers a wide range of attractions and activities suitable for all ages and interests. You can explore historical sites like the Red Fort and Humayun's Tomb, enjoy a picnic at India Gate, or take a leisurely stroll in the beautiful Lodhi Gardens.
For those interested in shopping, Delhi's markets and bazaars, such as Chandni Chowk and Sarojini Nagar, are perfect for finding unique souvenirs and trying delicious street food. Additionally, Delhi has a vibrant cultural scene with theaters, museums, and art galleries that provide enriching experiences for everyone.
Whether you're visiting historical landmarks, savoring local cuisine, or simply enjoying each other's company, Delhi offers a diverse range of activities that cater to families and friends traveling together.
10 Best Places to Visit in Delhi
Best 25 Places To Visit In Delhi at Night
Best Places to visit in Delhi with Family & Friends
India Gate

Red Fort

Madame Tussauds Museum

Qutab Minar

Lotus Temple

Chhatarpur Temple
India Gate
Location:- Rajpath Marg, New Delhi
Ticket Price:- Entry Free 
Timings:- Open 24*7
The India Gate is a war memorial situated near the Kartavya Path, on the eastern end of the ceremonial axis in New Delhi, once known as Rajpath. This iconic structure serves as a tribute to the 84,000 brave soldiers of the Indian Army who sacrificed their lives during the period from 1914 to 1921. They valiantly served in various theaters of the First World War, including France, Flanders, Mesopotamia, Persia, East Africa, Gallipoli, and other regions in the Near and Far East, as well as during the Third Anglo-Afghan War.
The gate proudly bears the names of 13,300 servicemen, which includes soldiers and officers not only from India but also from the United Kingdom. It stands as a solemn reminder of their sacrifice and the significant role they played in these historic conflicts.
Red Fort
Location:- Netaji Subhash Marg, Lal Qila, Chandni Chowk, New Delhi
Ticket Price:- Entry Free for children below the age of 15, Approx. Rs. 10- 20 for Indian citizens (per Person) and Rs. 200-300 for foreigners (per Person).
Timings:- 9:30 am to 4:30 pm (Mondays closed)
The Red Fort, also known as Lal Quila, is a historic fort located in the heart of Delhi, India. It is an iconic symbol of India's rich history and cultural heritage. The fort was built in the mid-17th century by the Mughal Emperor Shah Jahan, who is renowned for his architectural marvels.
The Red Fort gets its name from the distinctive red sandstone used in its construction. It is a massive fort complex surrounded by high walls and features impressive Mughal architecture. One of its most famous structures is the Diwan-i-Aam, or the Hall of Public Audience, where the emperor would address the common people.
Madame Tussauds Museum
Madame Tussauds is a renowned wax museum established 188 years ago in 1835 by the French wax sculptor Marie Tussaud in London. Over the years, it has inspired the creation of similar museums in major cities across the globe. Originally, it was spelled as "Madame Tussaud's," but the apostrophe is no longer part of its name. In 1883, due to limited space at the original Baker Street location, Joseph Randall, Tussaud's grandson, commissioned the construction of the museum at its present site on Marylebone Road in London.
Qutab Minar
Location:- Mehrauli, New Delhi
Ticket Price:- Entry Free for children below the age of 15, Approx. Rs. 10- 20 for Indian citizens (per Person) and Rs. 200-300 for foreigners (per Person).
Timings:- 7:00 am to 5:00 pm
Qutub Minar, located in Delhi, is a remarkable historical monument and a UNESCO World Heritage Site. It is one of India's most famous landmarks and a symbol of Delhi's rich history.
This towering minaret stands at a height of 73 meters (240 feet) and is made of striking red sandstone and marble. It was constructed in the 12th century by Qutb-ud-din Aibak and later completed by Iltutmish. Qutub Minar is beautifully decorated with intricate carvings and inscriptions from the Quran.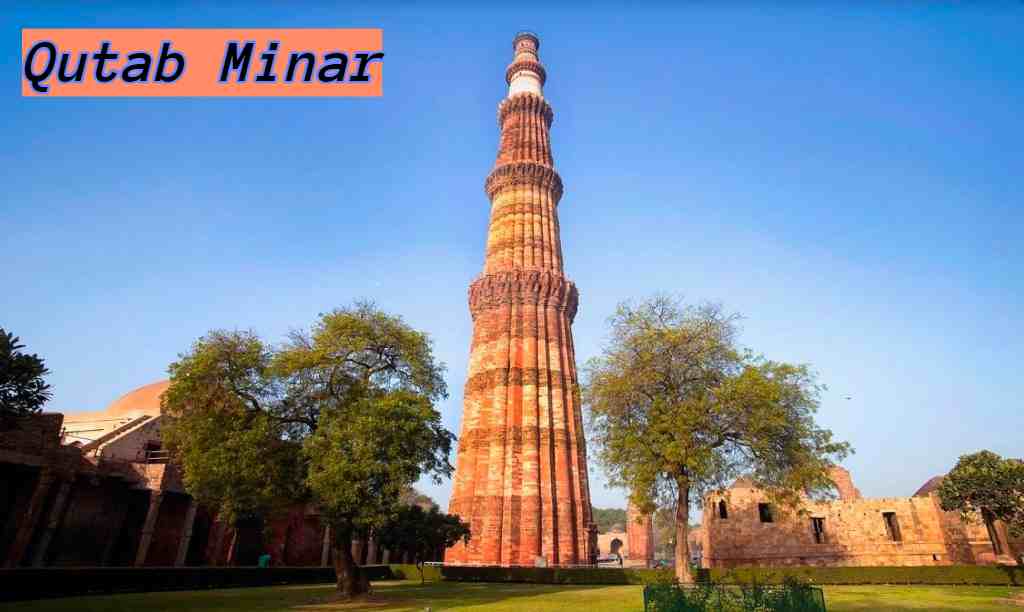 Lotus Temple
Location:- Lotus Temple Rd, Bahapur, Shambhu Dayal Bagh, Kalkaji, New Delhi
Ticket Price:- Entry Free 
Timings:- 9:00 am to 7:00 pm (Summers) and 9:00 am to 5:30 (Winters)
The Lotus Temple, located in Delhi, is a remarkable religious edifice known for its unique lotus-like architecture. This Bahá'í House of Worship is open to people of all faiths and serves as a place of meditation, reflection, and prayer.
The lotus flower design is not only aesthetically pleasing but also holds symbolic significance, representing purity and unity. Visitors are welcomed to enjoy the serene atmosphere, meditate, or simply admire the stunning lotus-shaped building. It's a peaceful oasis in the bustling city of Delhi and an architectural marvel worth exploring.
Chhatarpur Temple
Chhatarpur Temple is situated in the southern part of Delhi, India, specifically in Chhatarpur. This temple is devoted to Goddess Katyayani and occupies a vast area of 70 acres. You can find it in Chhatarpur, on the southwestern outskirts of New Delhi, just 4 km (2.5 mi) away from Qutub Minar, along the Mehrauli-Gurgaon road.
The temple was founded in 1974 by Baba Sant Nagpal ji, who passed away in 1998. His memorial shrine is located within the premises of the Shiv-Gauri Nageshwar Mandir, which is part of the temple complex.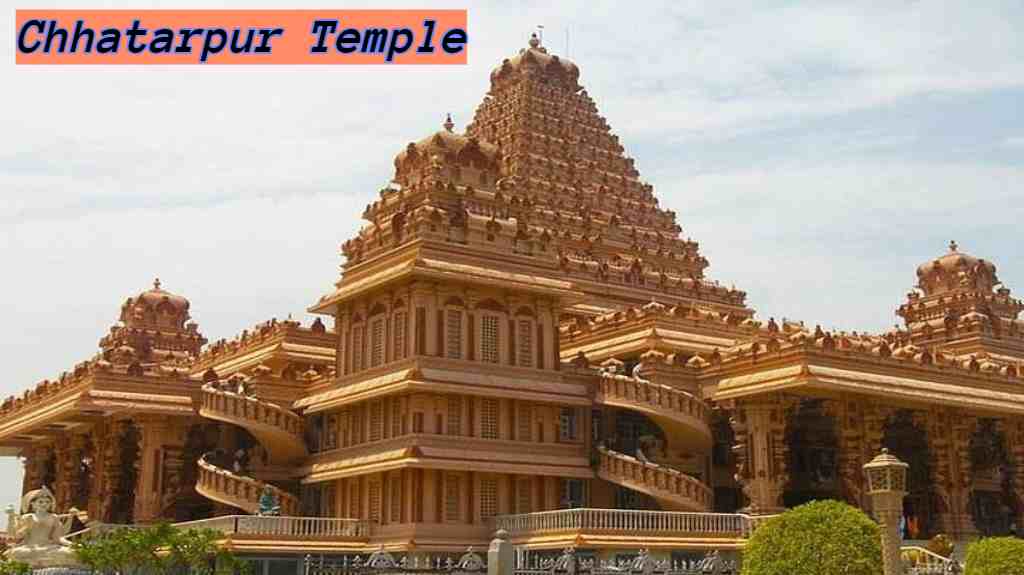 Read Also:- Top 10 Birthday Celebration Cafe in Bangalore for Couples