Hello dear friends! If you are looking for Best places to visit Kerala in April, you are at the right place. In this article, we have brought you complete details of the Top 15 Places to visit in Kerala. From Vagamon and Kumarakom to Wayanad and Munnar and Poovar, we've got all the details you need. Also, we will share information about Alappuzha (Alleppey) and more exciting best places to visit Kerala in April. So, let's get to know about these amazing destinations!
Kerala, officially known as Keralam, is a state located along India's Malabar Coast. It came into existence on November 1, 1956, through the States Reorganisation Act, by merging the Malayalam-speaking areas of Cochin, Malabar, South Canara, and Travancore. Covering an area of 38,863 square kilometers (15,005 square miles), Kerala ranks as the 21st largest state in India in terms of its geographical size.
Top 15 Best places to visit Kerala in April
Alappuzha (Alleppey)

Munnar

Vagamon

Kumarakom

Varkala

Thiruvananthapuram

Kasargod

Kozhikode

Wayanad

Thrissur
1. Alappuzha (Alleppey)
Alappuzha, also known as Alleppey, is a beautiful place in the state of Kerala, India. It's famous for its stunning backwaters, which are like calm and peaceful rivers that wind through green fields and palm trees. People often call it the "Venice of the East" because of these serene waterways.
One of the most exciting things to do in Alappuzha is to take a houseboat ride on these backwaters. These houseboats are like floating homes where you can relax, enjoy delicious Kerala food, and watch the picturesque scenery pass by.
Alappuzha is also known for its vibrant culture and festivals. The Nehru Trophy Boat Race, held on the Punnamada Lake, is a grand event that attracts visitors from all over the world. The traditional art forms, like Kathakali and Mohiniyattam dance performances, are a treat to watch.
The town has beautiful beaches where you can unwind and soak in the sun. The Alappuzha Beach is a popular spot for both tourists and locals.
If you're a nature lover, you'll be delighted by the Kumarakom Bird Sanctuary nearby, where you can spot various bird species in their natural habitat.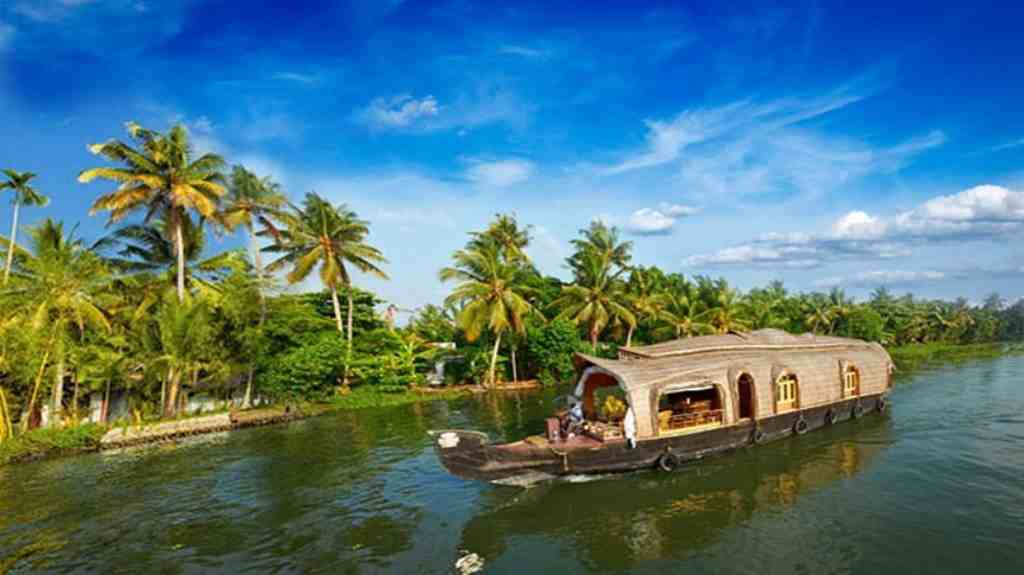 2. Munnar
Munnar, nestled in the state of Kerala, India, is a breathtaking hill station renowned for its lush green tea gardens and captivating landscapes. It's a paradise for nature enthusiasts and a cool escape from the heat of the plains.
The tea plantations in Munnar are a sight to behold. Rows of vibrant green tea bushes stretch across the hills, creating a mesmerizing pattern. You can visit tea factories to see how tea is processed and even taste some of the freshest tea in the world.
Munnar is also home to several beautiful waterfalls, such as Attukal and Lakkam, where you can relax and enjoy the cascading waters amidst lush surroundings.
For wildlife lovers, the Eravikulam National Park is a must-visit. It's the habitat of the Nilgiri Tahr, a rare mountain goat species. You can also spot various other animals and birds here.
The weather in Munnar is cool and pleasant throughout the year, making it an ideal destination for a peaceful getaway. You can take leisurely walks, go trekking, or simply enjoy the serene beauty of this hill station.
3. Kochi
Kochi, situated in the state of Kerala, India, is a vibrant and historic city known for its unique blend of cultures and scenic beauty. It's often called the "Queen of the Arabian Sea" due to its coastal location.
One of the highlights of Kochi is its rich history. The city has been influenced by various cultures over the centuries, including Portuguese, Dutch, and British. You can explore the historic Fort Kochi area, where you'll find charming colonial-era buildings, narrow streets, and the iconic Chinese fishing nets along the waterfront.
Kochi is a melting pot of traditions, and you can witness this diversity in its festivals and cuisine. The local food, especially seafood, is a treat for your taste buds. Don't miss trying out dishes like Kerala's famous "sadya" and the delectable "fish curry."
The city also has several cultural attractions, such as art galleries, museums, and the famous Kathakali dance performances, which showcase the region's traditional art forms.
If you're interested in shopping, Kochi offers a range of options, from bustling markets to modern malls. You can buy souvenirs, spices, and exquisite handcrafted items.
Kochi's backwaters are another must-see attraction. You can take a relaxing boat ride through the serene backwaters and witness the unique lifestyle of the people living along the water's edge.
4. Vagamon
Vagamon, located in the picturesque state of Kerala, India, is a hidden gem in the Western Ghats. This serene hill station is known for its lush green meadows, misty hills, and tranquil surroundings, making it a perfect retreat for nature lovers.
Vagamon's rolling hills and pristine valleys offer breathtaking views and plenty of opportunities for trekking and hiking. The Vagamon Pine Forest is a popular spot for nature walks, and you can even camp amidst the tall pine trees.
The town's cool and pleasant climate throughout the year makes it an ideal destination for a peaceful getaway. You can enjoy the cool breeze and escape the hustle and bustle of city life.
One of Vagamon's unique attractions is the Vagamon Kurisumala, a renowned pilgrimage center with a cross at its summit. It's a place of religious significance and offers a panoramic view of the surrounding hills.
Vagamon's beauty is not just limited to its landscapes; it also boasts lush tea estates and spice gardens. You can explore these plantations and learn about the cultivation of tea, coffee, and spices.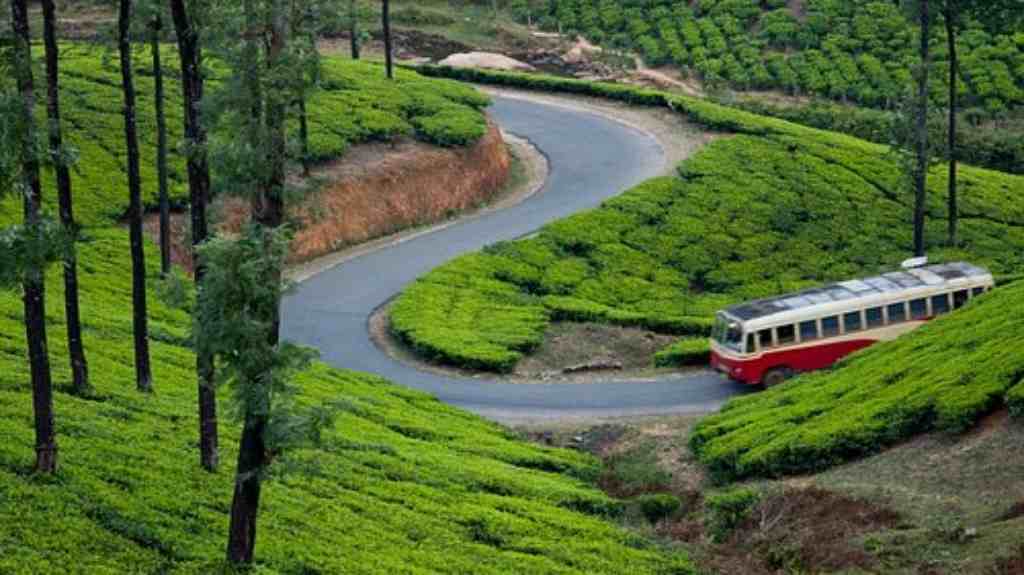 5. Kovalam
Kovalam, located in the captivating state of Kerala, India, is a renowned coastal town known for its stunning beaches and tranquil vibes. This charming destination is a favorite among travelers seeking sun, sand, and relaxation.
Kovalam Beaches: Kovalam boasts three beautiful crescent-shaped beaches—Lighthouse Beach, Hawa Beach, and Samudra Beach. Each offers a unique atmosphere. Lighthouse Beach, with its iconic red-and-white striped lighthouse, is the most popular and vibrant. Hawa Beach is quieter and ideal for a peaceful sunbathing experience, while Samudra Beach offers a serene escape.
Water Activities: Kovalam is a hub for water sports enthusiasts. You can enjoy activities like swimming, surfing, parasailing, and catamaran rides. The calm and shallow waters make it a safe place for swimming, even for beginners.
Ayurvedic Wellness: Kovalam is also famous for its Ayurvedic centers and spas. You can indulge in rejuvenating Ayurvedic treatments and massages, helping you unwind and revitalize your body and mind.
Lighthouse: Don't miss the chance to climb the Lighthouse at Lighthouse Beach for panoramic views of the coastline and the Arabian Sea. It's a rewarding experience, especially during sunset.
Local Cuisine: The town offers a delightful culinary experience with its fresh seafood and traditional Kerala dishes. Sample the mouthwatering seafood curries and savor the local flavors.
Cultural Experiences: Kovalam occasionally hosts cultural events and dance performances, allowing you to immerse yourself in Kerala's rich cultural heritage.
6. Kumarakom
Kumarakom, nestled in the lush state of Kerala, India, is a serene backwater destination known for its tranquil beauty and abundant birdlife. It's a place where nature thrives and offers a peaceful escape for travelers.
Backwaters:- Kumarakom is famous for its picturesque backwaters, a network of canals, lagoons, and lakes. You can explore this enchanting water world by taking a traditional houseboat ride. It's a unique experience where you can relax and soak in the scenic views of coconut groves and serene waters.
Kumarakom Bird Sanctuary:- This sanctuary is a paradise for bird lovers. It's home to a wide variety of migratory and local bird species, making it a great place for bird watching and photography. The best time to visit here is during the migratory season.
Vembanad Lake:- Kumarakom is located on the banks of the vast Vembanad Lake, the longest lake in India. You can enjoy boating on the lake and witness the captivating sunset views.
Ayurvedic Wellness:- Kumarakom offers Ayurvedic treatments and spa therapies to rejuvenate your mind and body. Experience the healing touch of traditional Ayurveda in serene surroundings.
Local Cuisine:- Don't miss the opportunity to savor the local Kerala cuisine in Kumarakom. Enjoy delicious seafood, coconut-based dishes, and traditional flavors.
Relaxation:- Kumarakom is the perfect place to unwind. Whether it's lounging by the lake, enjoying a boat ride, or simply taking in the natural beauty, Kumarakom provides a sense of calm and serenity.
7. Idukki
Idukki, located in the stunning state of Kerala, India, is a place of pristine natural beauty and lush landscapes. It is a paradise for adventure seekers and nature lovers.
Hill Stations:- Idukki is home to some of Kerala's most famous hill stations, including Munnar and Thekkady. These areas are known for their lush tea plantations, cool climate, and beautiful mountain scenery.
Wildlife Sanctuaries:- Thekkady, in particular, is renowned for Periyar Tiger Reserve. Here, you can spot diverse wildlife, including tigers, elephants, and various bird species. Boat safaris on Periyar Lake offer a unique opportunity to view animals in their natural habitat.
Dams and Reservoirs:- Idukki boasts several dams and reservoirs, including the Idukki Arch Dam, one of the highest arch dams in Asia. These structures not only serve as important water resources but also provide breathtaking views.
Spices and Plantations:- The region is famous for its spice plantations. You can visit spice gardens to learn about the cultivation of cardamom, pepper, cinnamon, and other spices that Kerala is known for.
Adventure Activities:- Idukki offers a range of adventure activities such as trekking, boating, and bamboo rafting. The natural terrain provides an ideal backdrop for outdoor adventures.
Idukki Wildlife Sanctuary:- This sanctuary is another wildlife hotspot, home to a variety of animals like deer, bison, and wild boars. It's a fantastic place for nature walks and birdwatching.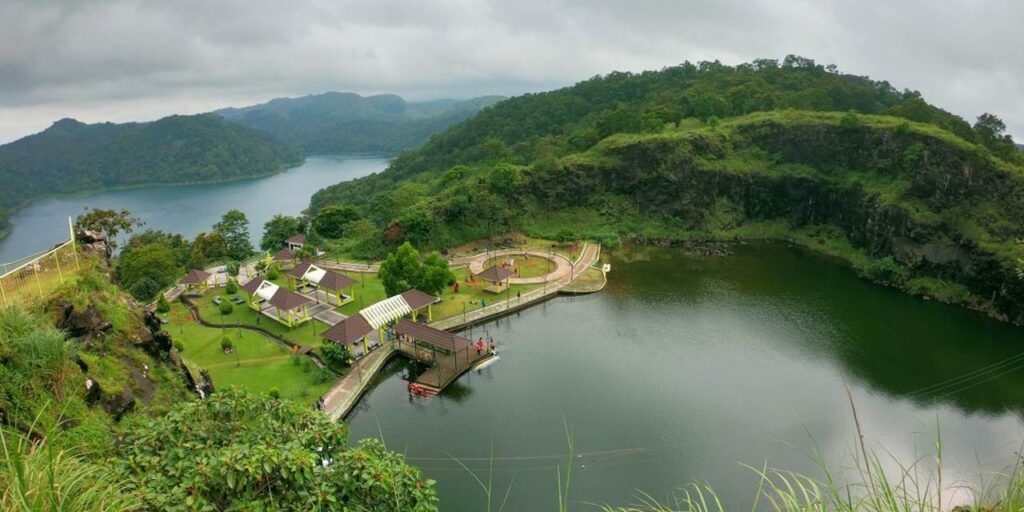 8. Varkala
Varkala, situated in the enchanting state of Kerala, India, is a coastal gem known for its stunning cliff-lined beaches and spiritual significance.
Cliff Beaches:- Varkala is famous for its unique cliffs that overlook the Arabian Sea. The main attraction is the Varkala Cliff Beach, where you can relax on the golden sands while enjoying breathtaking views of the sea.
Mineral Springs:- The town is renowned for its natural mineral springs, believed to have medicinal properties. Many visitors take a dip in these springs for relaxation and rejuvenation.
Janardanaswamy Temple:- Varkala is also a significant pilgrimage destination, home to the ancient Janardanaswamy Temple. This sacred site attracts devotees and tourists alike with its architectural beauty and spiritual ambiance.
Ayurvedic Healing:- Like many places in Kerala, Varkala offers Ayurvedic treatments and massages, allowing you to experience traditional wellness practices amidst serene surroundings.
Sunset Views:- The cliff-top locations provide the perfect vantage point for spectacular sunsets over the Arabian Sea. Watching the sun dip below the horizon is a must-do activity in Varkala.
Beach Activities:- Apart from swimming and sunbathing, Varkala offers water sports such as parasailing and surfing. You can also explore nearby beaches like Kappil and Odayam.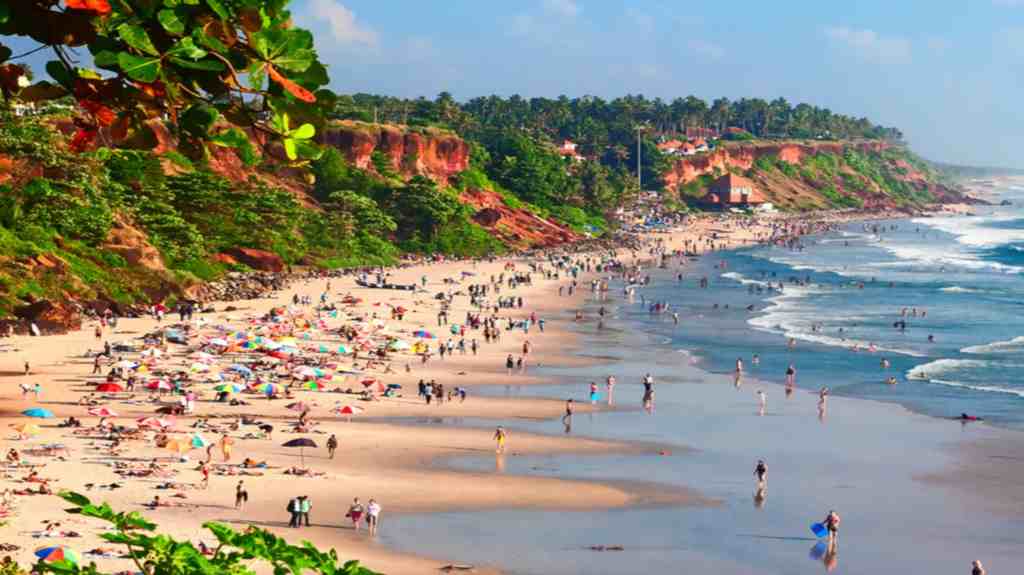 9. Thiruvananthapuram
Thiruvananthapuram, often referred to as Trivandrum, is the capital city of the beautiful state of Kerala, India. It's a vibrant and culturally rich destination with a mix of tradition and modernity.
Historic Significance:- Trivandrum is steeped in history and culture. The city has several historical landmarks, including the Padmanabhaswamy Temple, an ancient and grand temple known for its architectural splendor and religious significance.
Cultural Hub:- The city is a cultural hub with numerous museums, art galleries, and music and dance performances. The Napier Museum and the Kuthira Malika Palace Museum are notable places to explore Kerala's cultural heritage.
Government Center:- Trivandrum is not only the state capital but also the political and administrative center of Kerala. It houses the Kerala State Legislative Assembly and important government offices.
Natural Beauty:- Despite its urban character, Trivandrum is blessed with natural beauty. The city has lovely beaches like Kovalam and Shanghumugham, where you can relax and enjoy the coastal scenery.
Education and Science:- It is home to prestigious educational institutions and research centers, including the Indian Space Research Organisation (ISRO) and various universities and colleges.
Local Cuisine:- The city offers a rich culinary experience with its traditional Kerala cuisine. You can savor local dishes like Kerala Sadya, seafood delicacies, and the famous Kerala parotta.
10. Kasargod
Kasargod, located in the northernmost part of Kerala, India, is a lesser-known gem known for its unique blend of cultural diversity and natural beauty.
Cultural Diversity:- Kasargod is known for its cultural diversity due to its proximity to Karnataka and the influence of different communities. You can witness a rich tapestry of Malayali, Tulu, Kannada, and Konkani cultures.
Bekal Fort:- One of the main attractions in Kasargod is the Bekal Fort, a historic fort perched on the coastline. It offers panoramic views of the Arabian Sea and is a popular spot for picnics and photography.
Backwaters:- The serene backwaters of Valiyaparamba are a tranquil escape. You can take boat rides through the backwaters, surrounded by lush greenery and mangrove forests.
Beaches:- Kasargod boasts pristine and less crowded beaches like Bekal Beach and Kappil Beach. These sandy shores are perfect for relaxation and watching sunsets.
Yakshagana:- The town is famous for Yakshagana, a traditional folk art form that combines music, dance, and drama. You can watch live performances and get a glimpse of the local culture.
Ananthapura Lake Temple:- This unique temple is located on a small island in a lake and is believed to be the original seat of Anantha Padmanabha, a form of Lord Vishnu.
11. Kozhikode
Kozhikode, often referred to as Calicut, is a vibrant city in the southern state of Kerala, India, with a rich historical legacy and a lively atmosphere.
Historical Significance:- Kozhikode holds historical importance as the place where the famous Portuguese explorer Vasco da Gama first landed in India in 1498, marking the beginning of European maritime trade with India.
Beaches:- The city is blessed with beautiful beaches, such as Kozhikode Beach and Beypore Beach. These are popular spots for relaxing by the Arabian Sea, enjoying sunsets, and indulging in local street food.
Cuisine:- Kozhikode is renowned for its delectable cuisine. Be sure to try the Malabar biryani, a flavorful rice dish, and the sweet delicacies like the Kozhikode Halwa and banana chips.
Culture:- The city is a melting pot of cultures with a mix of Malayali, Arab, and Portuguese influences. You can explore historic sites like the Mananchira Square and the nearby town of Beypore, known for its boat-building traditions.
Shopping:- Kozhikode is a great place for shopping. Visit SM Street for vibrant markets offering a variety of goods, from textiles to spices and handicrafts.
Education:- The city is home to prestigious educational institutions and has a thriving academic environment.
12. Wayanad
Wayanad, nestled in the picturesque state of Kerala, India, is a lush and tranquil destination known for its pristine natural beauty and rich biodiversity.
Scenic Landscapes:- Wayanad is characterized by rolling hills, dense forests, and sparkling rivers. It offers breathtaking views of tea and coffee plantations, making it a perfect escape for nature lovers.
Wildlife Sanctuary:- The Wayanad Wildlife Sanctuary is a prominent attraction where you can spot various animals like elephants, tigers, and leopards in their natural habitat. Jeep safaris and trekking are popular activities here.
Edakkal Caves:- These historic caves are renowned for their ancient carvings and offer an intriguing window into the region's past.
Chembra Peak:- For adventure enthusiasts, Chembra Peak offers challenging trekking trails. The heart-shaped lake on the way to the summit is a highlight.
Pookode Lake:- This serene freshwater lake is perfect for boating, and its lush surroundings are ideal for a leisurely stroll.
Banasura Sagar Dam:- It's the largest earthen dam in India and offers a picturesque setting for picnics and boat rides.
Local Culture:- Wayanad is home to indigenous tribal communities, and you can explore their unique traditions and lifestyles. The Thirunelli Temple is another cultural attraction with a serene ambiance.
13. Thekkady
Thekkady, nestled in the captivating state of Kerala, India, is a picturesque destination known for its lush forests, wildlife, and serene ambiance.
Periyar National Park:- Thekkady is home to the renowned Periyar National Park, a haven for wildlife enthusiasts. Here, you can spot elephants, tigers, deer, and various bird species on guided safaris and boat rides along the Periyar Lake.
Boating:- Boating on Periyar Lake is a popular activity. It provides a unique opportunity to witness wildlife as animals come to the lake's edge to quench their thirst.
Spice Plantations:- The region is famous for its spice plantations. You can take guided tours to explore the cultivation of spices like cardamom, pepper, and cinnamon.
Trekking:- Thekkady offers excellent trekking opportunities with trails through dense forests and hills. The trek to the Kurisumala Peak is a favorite among adventure seekers.
Cultural Shows:- Don't miss the captivating traditional art performances, including Kathakali and Kalaripayattu, which showcase Kerala's rich cultural heritage.
Bamboo Rafting:- Bamboo rafting on the Periyar River is an adventurous way to explore the forest's beauty and encounter wildlife.
Scenic Beauty:- Thekkady's lush greenery and misty landscapes provide a serene backdrop for relaxation and nature appreciation.
14. Poovar
Poovar, nestled in the scenic state of Kerala, India, is a tranquil and lesser-known gem known for its serene backwaters and pristine beaches.
Backwaters:- Poovar is famous for its backwaters, where gentle waterways wind through lush green coconut groves. You can explore this tranquil world on traditional houseboat cruises.
Golden Sand Beach:- Poovar boasts a beautiful golden sand beach where you can relax and soak in the sun's warmth while enjoying the gentle lapping of the waves.
Estuary:- The meeting point of the Neyyar River and the Arabian Sea creates a unique estuary in Poovar, offering stunning views and a serene environment.
Floating Cottages:- Many resorts in Poovar offer unique floating cottages that allow you to stay right on the water, providing a peaceful and immersive experience.
Nature and Wildlife:- The region is also known for its rich biodiversity. The Neyyar Wildlife Sanctuary is nearby, where you can spot various bird species and perhaps even some wildlife.
Ayurvedic Wellness:- Poovar offers Ayurvedic treatments and spa therapies, allowing you to rejuvenate and relax in a natural and holistic way.
15. Thrissur
Thrissur, located in the vibrant state of Kerala, India, is a city steeped in history, culture, and festivities.
Cultural Capital:- Thrissur is often referred to as the cultural capital of Kerala due to its rich cultural heritage. It's a hub for traditional art forms like Kathakali and Mohiniyattam dance, and the city hosts the grand Thrissur Pooram festival, one of the largest temple festivals in India.
Vadakkunnathan Temple:- This ancient temple, dedicated to Lord Shiva, is an architectural marvel and a spiritual center. The annual Thrissur Pooram festival is celebrated with great fervor here.
Museums and Art Galleries:- Thrissur houses several museums and art galleries, including the Kerala Kalamandalam and the Kerala Lalithakala Akademi, showcasing the state's artistic and cultural achievements.
Zoological Park:- The Thrissur Zoo is a popular attraction, home to a variety of animals and a great place for a family outing.
Palaces:- Visit the Shakthan Thampuran Palace and the Padmanabhapuram Palace to explore the historical grandeur of the region.
Traditional Architecture:- The city is known for its traditional Kerala architecture, and you can see beautiful examples in its temples, churches, and homes.
Local Cuisine:- Thrissur offers a delectable range of traditional Kerala dishes. Don't miss trying the local delicacies like appam, stew, and fish curry.
How to Reach Kerala
By Air
Cochin International Airport (COK): Located in Kochi, it is one of the busiest airports in Kerala. You can find both domestic and international flights here.
Trivandrum International Airport (TRV): Situated in Thiruvananthapuram, it serves as another major international gateway to Kerala.
Calicut International Airport (CCJ): Located in Kozhikode, it handles domestic and some international flights.
By Train
Kerala has a well-developed railway network connecting major cities and towns. Some major railway stations include Ernakulam Junction (in Kochi), Thiruvananthapuram Central, and Kozhikode (Calicut) Railway Station.

Trains from various parts of India, including Delhi, Mumbai, Chennai, and Bangalore, connect to Kerala.
By Road
Kerala is well-connected by road to neighboring states. You can enter Kerala by bus or your private vehicle through various national highways and state highways.

Major cities like Bangalore, Chennai, and Coimbatore have regular bus services to Kerala.
Read Also:- Best Places Delhi for Couples | Hidden Places to visit in Delhi for Couples